Along Beverly Boulevard in West Hollywood, California, a string of high-end retail storefronts, designer showrooms, and chic restaurants generate a flurry of shopping and activity. But the corner of Robertson Boulevard, where Leica's new West Coast flagship store is located, marks what was a dead zone. IA Interior Architects developed a design solution for a completely transparent, glass-fronted façade that offers a panoramic view of an illuminated central stair that catches the attention of not only the design community at large, but a high volume of passersby. This May, the Southern California chapter of the International Interior Design Association (IIDA SoCal) honored the 8,000-square-foot retail project with the IIDA Calibre Award.
Celebrating a 100-year milestone in 2014, Leica is often credited with inventing the 35mm camera and supporting the development of digital photography. In addition to designing an iconic space that communicated the company's well established brand, the location at 8783 Beverly Boulevard also functioned as a global flagship location. Various programming requirements, including a retail showroom, gallery space, library, video presentation room, back-of-house support spaces, and a VIP Lounge—signaled by plush, leather Eames lounge chairs—all had to be accounted for. A furnished terrace for events is also part of the design.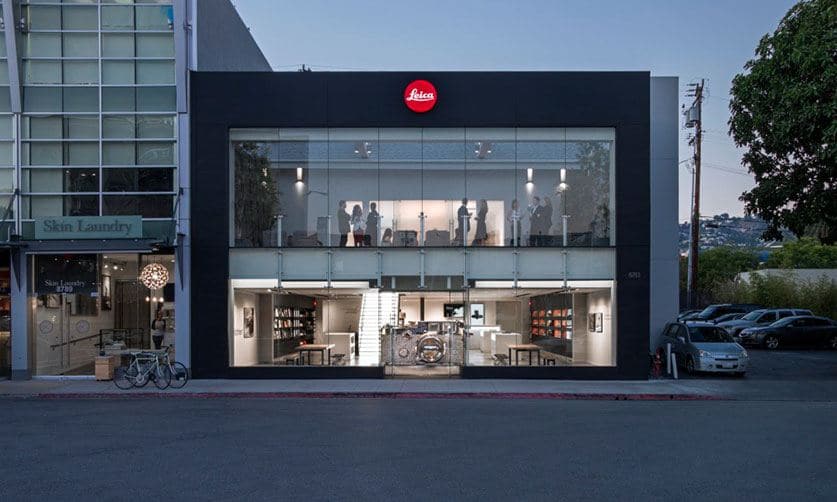 Leica sought a high level of detail and authenticity packaged in a straightforward and sleek design. Many of the custom elements were also manufactured in Germany, where Leica is globally headquartered, and required special coordination for timely delivery.
Construction was already underway when the client reconfigured its creative team and brought IA into the mix, which included LA-based designers Kirk Stewart, Mark Bryant, and Monica Duprey. In addition to arriving late to the party, IA had an aggressive schedule with high-profile, red-carpet events already scheduled in anticipation of project completion. Even with a complete redesign from a different architect midway through construction, the project team worked diligently to maintain scheduling and budget without delays.
The project was designed to appear straightforward. "We wanted to build the store like Leica would build a camera," says Kirk Stewart, project director from IA. The glass storefront is framed much like a viewfinder, enhancing interior views of a back-lit, glass-and-steel staircase, and a 770-pound Leica-style camera by Chinese artist Yibai Liao. The sculpture was assembled on-site from wood and clay, and sheathed in a layer of polished stainless steel.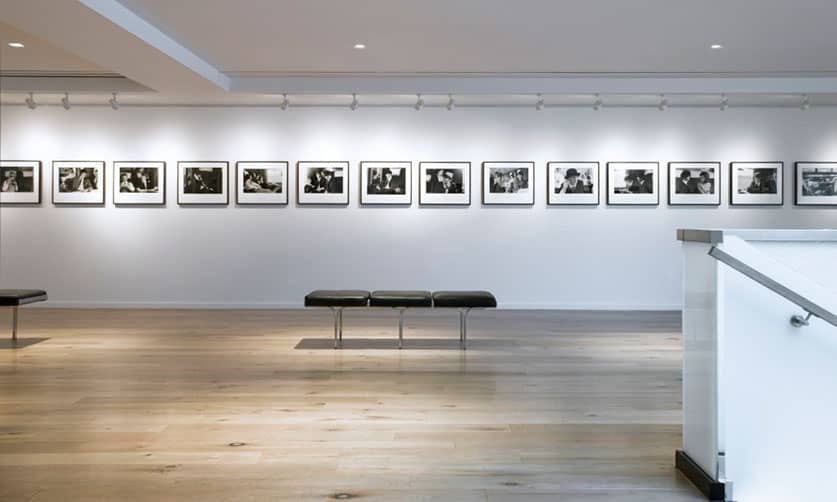 "The IIDA serves as the governing body of the interior design industry in not only Southern California, but across the world," Stewart explains. "It routinely selects the highest caliber of design talent to be celebrated for their achievements in design, so for IA to be included among the nominees, and then to win, was truly an honor."
The Calibre Awards were established to recognize and honor the work of project teams that have exceeded the expectations of the profession and bring design to life. Honored projects are nominated by a jury of design professionals who serve the IIDA SoCal chapter.