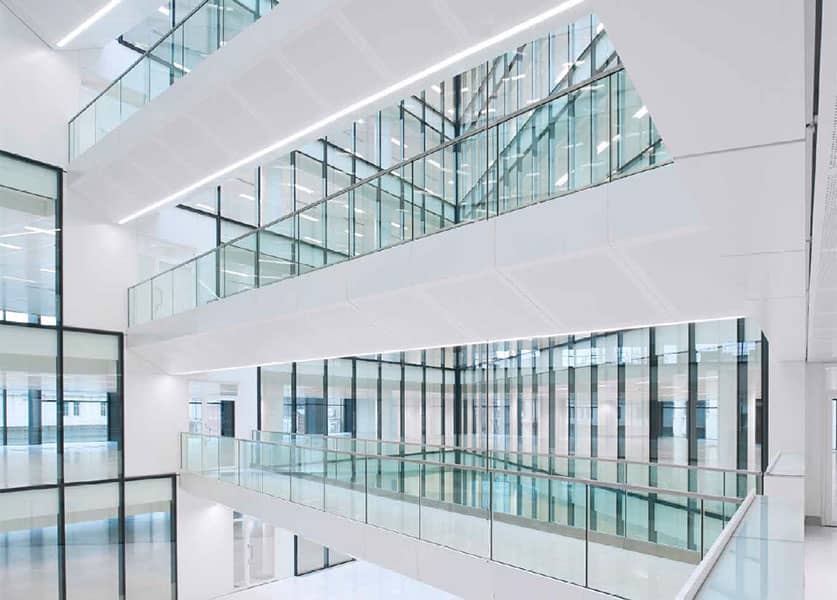 For nearly 100 years, the Regent Palace Hotel in London's West End, was home to global travelers who filled the hotel's more than 1,000 guest rooms until closing its doors in 2006. Following extensive renovations, the new Air Street Building is home to very different residents: retail, hospitality, and corporate tenants now populate the building's 180,000 square feet. Building rehabilitations by Dixon Jones and The Crown Estate include restoration of the original neoclassical facade while, at street level, a blue- and green-hued ceramic building envelope attracts area pedestrians to a bevy of retail outfits that ring the glass-enclosed, seven-story atrium and flood each level with natural light.
Following the renovation's recent completion, Twitter snagged the last remaining vacancies on floors 1 and 6, and assumed responsibility of enlivening the empty, glass-sheathed central space. As a public interface for the entire building, Twitter sought to create an environment for the enjoyment of everyone—employees and visitors alike.
"We were charged with creating something 'playful, impactful, and fun,'" says Gillian Burgis, London-based Design Director and Workplace Strategist with IA Interior Architects. Because the atrium is central, public, and part of the building's fire escape strategy there were restrictions imposed by local building codes: All materials had to be non-fire rated, and nothing could be installed permanently.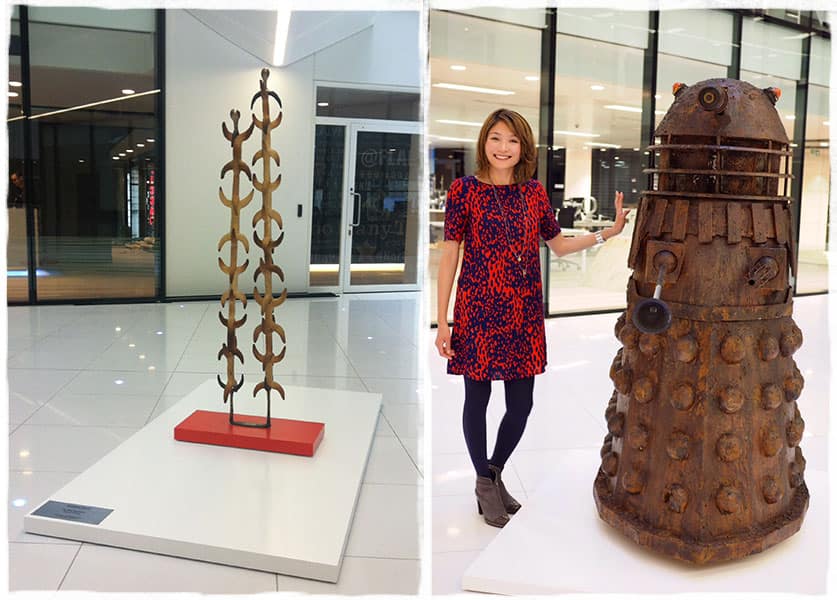 A newly established, local artists' collective, London Sculpture Workshop, was an ideal partner to help realize a flexible and dynamic program that resonates around corporate responsibility. According to LSW Founder and Director Jessica Mello, the nonprofit workshop was established in partnership with UK-based charity Crisis to provide a physical space for recent fine arts graduates to continue creating after their academic facilities were no longer available. "We want to keep artists making," Mello explains. Despite an accelerated delivery schedule timing was fortuitous, as London's finest art and design schools were hosting graduate shows to showcase each institution's best and brightest. Mello, and the workshop's Marketing Director Mel Fong Brown, curated a selection of three-dimensional works to launch the atrium's sculpture program.
On June 16, the Air Street Art Atrium's inaugural show opened with Accidental Icon by Giles Corby, and three pieces from recent Slade graduate Bea Bonafini. In addition to Corby's work, Missing Lover, Giantess, and Rising Duo were selected for their resonance with the curators, as well as the viewers. Tech savvy tenants took to Twitter and Instagram to share the new building additions.
New office has A FREAKING DALEK! I die. http://t.co/DjVicNLjNy

— Lynsey Gray (@knittingsquids) June 16, 2014
To support the sculptures, and building code mandates, IA's design team installed simple plinths that can be rolled to suit new exhibitions and presentations from very important tweeters—VITs—or requisite safety drills. "Twitter dynamically supports independent voices around the world every day, so the program of showcasing young and emerging artists is very on-brand," Burgis says. "LSW works across the board in digital arts, graphics, and sculpture, and commissioning this type of program will keep the atrium dynamic and interesting."