IA's architectural design for the creative agency earns ASID Georgia's Gold Design Excellence Award for Corporate Office Under 25,000 square feet.
For SapientNitro's office in Southern California, IA Interior Architects renovated a 15,000-square-foot, 1970s industrial structure to house creatives and coders for the Web-2.0-storytelling agency. Located in one of the most fashionable neighborhoods of Los Angeles, the office embraces low-key, SoCal culture with casual workspaces, authentic materials, and a floorplan that embraces the outdoors. The adaptive reuse of what is now SapientNitro's Santa Monica office earned IA a Gold Design Excellence Award for a Corporate Office Under 25,000 square feet from ASID Georgia.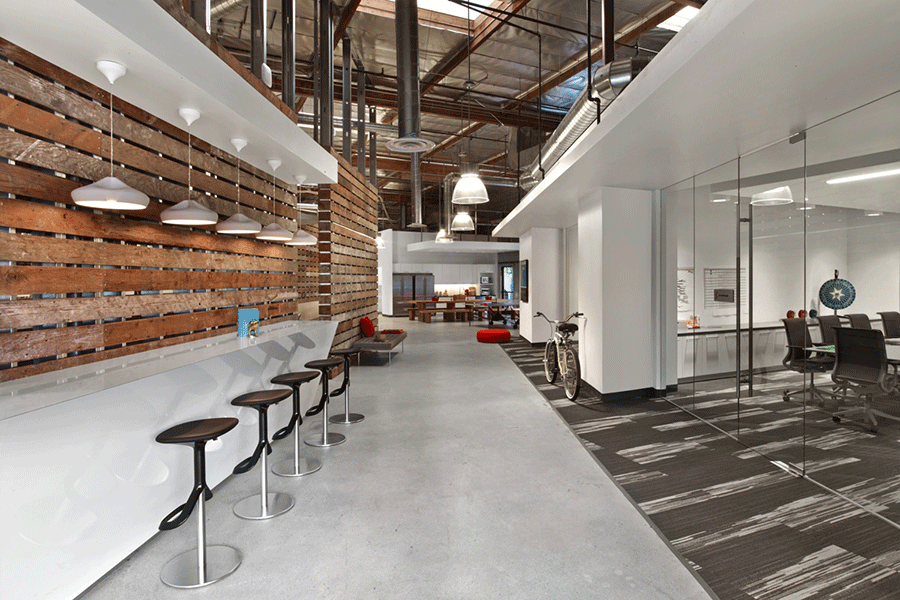 "SapientNitro is a great client that has afforded us the opportunity to design projects for them throughout the world, each office tailored to address the local flavor and culture," says Taylor Yarbrough, IA design director in Atlanta. "We really dug into how this Nitro team works and plays, how they wanted to use both indoor and outdoor space, and identify the drivers and subsequent tools needed to succeed."
Before SapientNitro moved in the warehouse had been used as a sound editing facility, divided into a maze of 9-foot walls. The design team reconfigured the infrastructure with an open floor plan and exposed ceiling joists, concrete floors, and reclaimed wood. "Our challenge was to transform a great envelope with lots of potential," Yarbrough says. "The building wasn't falling down but it wasn't sound either: There was lots of work to be done to get it up to code."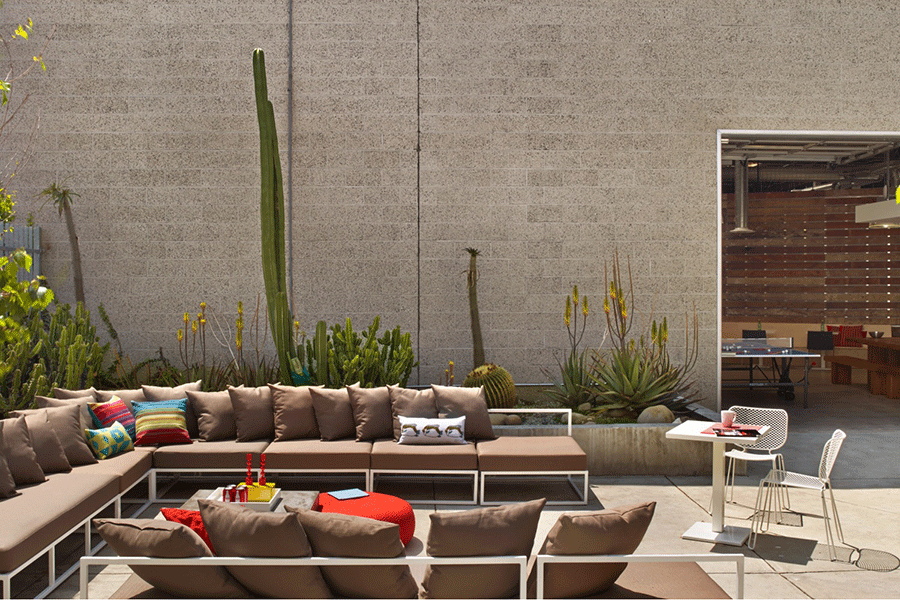 What were site challenges became opportunities to highlight some of the client's requested features. In an effort to bring in more natural light, the team exposed an existing skylight and punched out windows, which led to greater exterior updates. The team used the expanded exterior scope to establish an outdoor courtyard with lounge space and tables for meetings al fresco. Additional bathrooms were required for state code compliance, but opportunity was seized with the inclusion of showers and lockers to support the physically active workforce, many of whom bike to work. A sculptural bike rack is integrated into the exterior hardscaping.
Project teams at SapientNitro are comprised of equal parts engineers and creatives, so open benching –in both standard seated and standing heights—facilitates open communication across teams. To delineate work and play zones in the open floor plan, locally reclaimed wood planks stack horizontally to form partitions. Clear writable surfaces are applied over the top, maintaining the character of pronounced grain while maximizing function. To introduce height variances within the 18-foot ceilings, soffits provide more formal meeting areas and sound abatement.
"Our team agrees that while existing conditions and stringent local codes were challenging, this was truly a fun project both in design and execution," Yarbrough says. "The ASID Georgia Design Excellence award, in addition to a 2014 IIDA Georgia award for SapientNitro's Atlanta office, is another step in how we engage, listen, and provide outstanding solutions to meet our clients' needs as we set the bar for design excellence."