IA'S DESIGN FOR RUBY RECEPTIONISTS IS RECOGNIZED IN THE CORPORATE CATEGORY OF THE IIDA OREGON 2016 DESIGN EXCELLENCE AWARDS.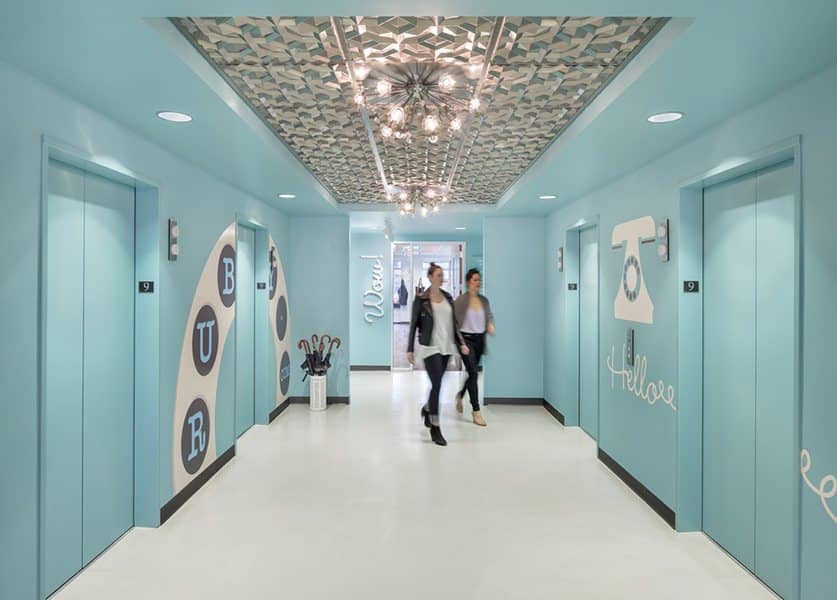 As staff and visitors approach the Ruby Receptionists headquarters in Portland, Oregon, the first thing he or she notices is pronounced curvature on the north side of the facade. The curved building, which stands out in a sea of super-white, uniform buildings, beckons visitors and employees and foreshadows the playful-yet-sophisticated interior space designed by IA. Culling from curvaceous exterior design cues, the IA design team incorporated a variety of angles and curves that reflect Ruby's brand position throughout the interior workplace.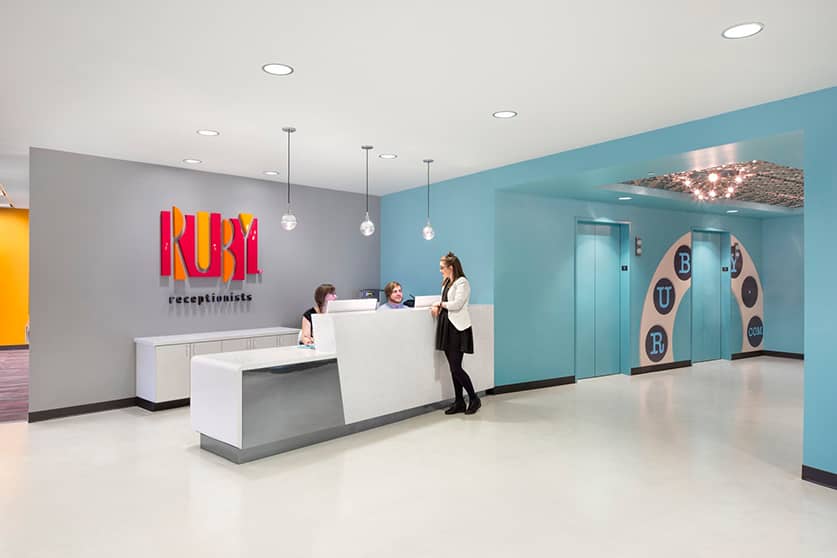 Upon entry to the 20,000-square-foot office via the elevator lobby, visitors and employees are greeted with a warm color palette and creative graphics, such as the brand's signature "Hello!" rotary phone graphic and the arched Ruby brand-name graphic. These bold and welcoming design details play off Ruby's core value of "wowing" it's clients.
"We have designed for programmers, engineers, sales, hospitality virtual concierge, and all awesome Rubies, to wow their clients and colleagues every day," says Richelle Nolan, IIDA, managing director at IA in Portland. "The Ruby Receptionist workplace features integrated identity expressions, and helps showcase who they are."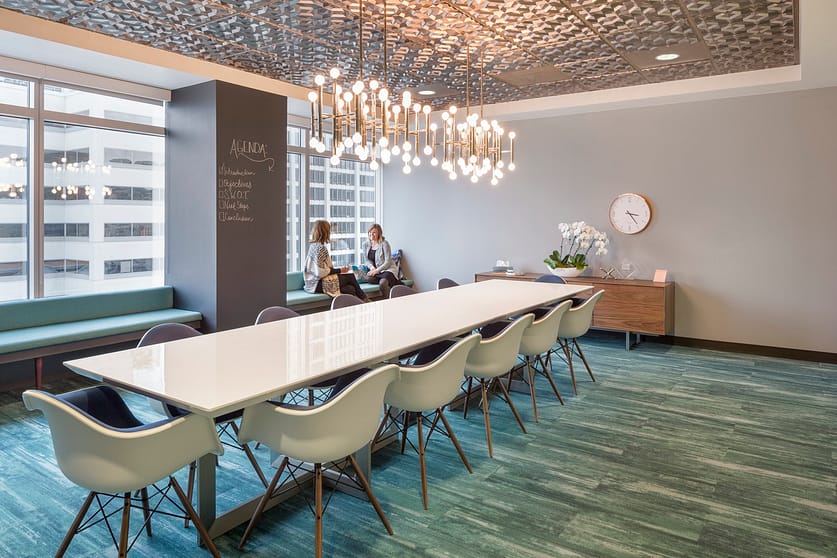 Leaving the lobby, visitors and employees can make their way into the retro-inspired conference room, open workspaces, or the break room with a spectacular view of Mount Hood. All interior spaces incorporate virtual hospitality features and a fun, unique aesthetic, which mirrors Ruby Receptionists' anticipation of client needs before they are identified.
To support the company's commitment to exceptional service, the office features "WOW" stations which are programmed much like huddle meeting areas. These creative areas allow Ruby employees to step away from their desks and connect with clients on a more personal level with the creation of customized care packages.
On October 21, Ruby Receptionists received an honorable mention in the corporate category of the IIDA Oregon 2016 Design Excellence Awards. The award highlights exceptional interior design work in the Pacific Northwest.
"We had so much fun working with Ruby Receptionists and designing the Portland headquarters," says IA Designer Emily Phillips. "This acknowledgment is a great recognition of the clients' brand focus throughout the process and, ultimately, a successful design outcome."