Life experiences from some of the world's brightest minds recharged my approach to the practice of workplace design.
I was invited to attend the TEDWomen 2015 conference from May 27 to 29 in Monterey, California, and the experience was unlike any other professional conference I've ever attended.  I went fully expecting it to be interesting, inspiring, and food for the mind.  What I didn't expect was to be as touched by the stories of the speakers and the bravery that they each exhibited in making a difference in their respective fields. Of the approximately 50 speakers over the course of the two day conference, the following five were my favorite because they each presented lessons on life, not only personally but professionally.
Lesson 1:   Emotional Capital is Often an Untapped Corporate Resource
"Companies don't have ideas. Only people do. And what motivates people are the bonds of loyalty and trust they develop around each other." —Margaret Heffernan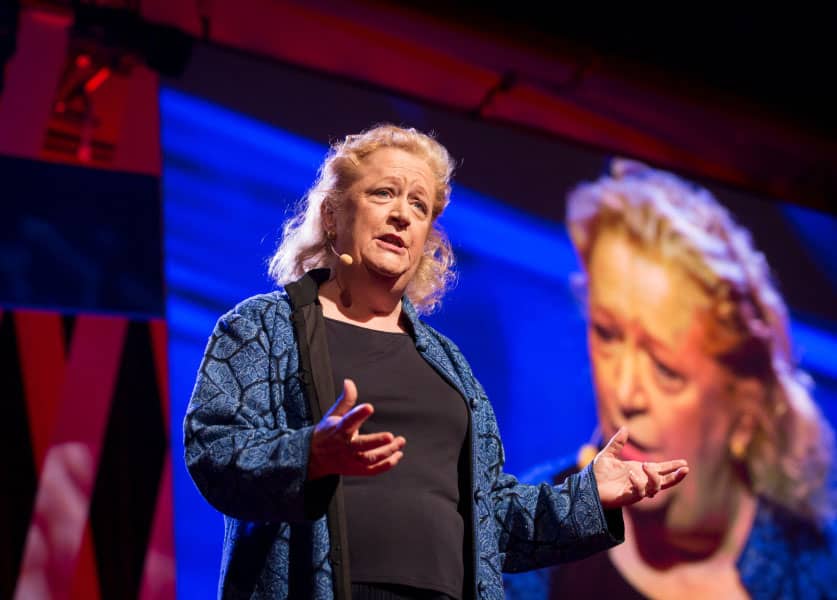 Heffernan is an author who gave an incredible talk about fostering corporate culture. She posits that social connectedness is a proven attribute of high-functioning organizations, and that members must feel secure about asking for help in order to succeed. Using an example of what she called "super chickens," she explains how six generations of chickens were selectively raised with the aim of creating a generation of productive superior chickens.  In evaluating the results, the researchers came to the conclusion that the original group of chickens were healthier, happier, and produced the same amount of eggs as the "super chickens" that had pecked their lesser peers to death.  Aggression and dysfunction were the outcomes of suppressing the productivity of others, and the same lesson applies in business. Companies that excel have a high collective emotional IQ and share time together as a group, and typically these organizations have more women.
Heffernan cited Arup and SAP as organizations that have excelled by investing in their employee's time together and creating opportunities for people to know and trust one another. This type of confluence doesn't happen by chance. They each invest in workplace design that enables connection between all levels of staff in an ongoing effort to enact a people-first strategy to improve lives as well as work results.  This is also, I'm sure, one of the criteria that has led many companies to reexamine mobility and strive for better on-site balance.
Lesson 2: Good Leaders Know When to Take a Stand
"We cannot train women and forget about the men. We should train men to know the potential of women ." —Sakena Yacoobi
The selfless & dedicated Dr. Sakena Yacoobi CEO of http://t.co/17unpHGAL6 #TEDWomen2015 #education #Afghanistan pic.twitter.com/t8Aea7OleN

— Bita Milanian (@BitaMilanian) May 29, 2015
This was a dramatic story of standing up, with one's own life in the balance, when someone needed to make a difference. Yacoobi, a powerfully quiet and reserved speaker, was dressed in black with only her face showing, her age indiscernible. An Afghani native, she attended university in California during the time that the Russians invaded her home country but, she explained in her talk, her heart remained in Afghanistan. She returned to an Afghani refugee camp of 7.5 million, mostly women and children, and realized that education was the first step to leaving the camp: She established 25 schools and enrolled 15,000 refugee students in just one year.
One day the Taliban raided the camp to punish her for educating female wards of the state. But instead of fleeing, which her staff did, she confronted them head-on. The young Taliban men told her they knew she was running an illegal school, she looked around and said, "I don't see any students here; I don't see a school. I see a house". As she talked, she would pause for emphasis with a sly smile and twinkle of the eye.  We all knew she was risking her life by defying the Taliban.
Her education program continued and expanded into the mountains. During a drive out to one of the remote schools, nine young Taliban men stopped her driver and car at gunpoint. When her male staff asked what they wanted, the Taliban responded, "We don't want you, we want her."  Yacoobi stepped out and asked, "What do you want?" with knees shaking, sure that this was it. She was dead. To her surprise they told her they wanted an education. This segued to establishing the Afghan Institute of Learning, which brings education and health services to girls, and boys, in both Afghanistan and Pakistan. Where most diplomats and humanitarians are cautious not to mess with the Taliban, it was the Taliban who couldn't mess with Yacoobi.
In today's corporate world, good leadership steps up to instigate change.  It may not have life and death implications but the financial health of a company rests with smart investments and decisions. We see this in our design practice when an enlightened CEO leads employees into innovative and collaborative workplace settings. Though facing many risks, a good leader can balance the sails and steer a company though change to a happy and productive workplace.
Lesson Number 3: Good Leaders Know When to Deny the Status Quo
"This is a moment when millions of girls worldwide will be able to say, 'I will marry when I want.'" Memory Banda
Banda is a tiny young woman from Malawi, who opened her talk with a poem titled "I Will Marry When I Want." She wrote the poem at 13 years of age when her 11-year-old sister was impregnated at a girls' indoctrination camp, which teaches young girls how to "be" with a man and culminates with one man selected from the village to "visit" them. These children leave camp either pregnant, HIV positive, or having contracted various other STDs. Her sister, now aged 17 years, has three children.
Banda, however, refused to join the camp. "I said no because I knew where I was going… I imagined myself as a lawyer," she said. Women in the village shunned her, citing a lack of respect for her own culture.  But she stood strong, and established a writing workshop that documents the perspective of these children being molested. She has since become a lobbyist to raise the legal age of marriage in Malawi to 18, which after five years of work, passed in February 2015.  The audience jumped to its feet and cheered when she made this statement. Memory is now 18 years old.
In the 30 years that I have practiced corporate design I have seen a shift where women are taking a leadership role and affecting change. Not only are women more prominent figures in design, they're breaking through the glass ceiling in fields like tech (Marissa Mayer and Sheryl Sandberg) and politics (Margaret Thatcher and Angela Merkel). At the end of the day, the story about women's equity is powerful, but the courage of truly innovative leaders is what really resonates.
Lesson 4: Good Leaders See Differences as Opportunities
"I think in pictures, not words." Alix Generous
Generous is a 22-year-old college student. She entered the stage wearing what looked to be a blue prom dress with a shrug. She started speaking in a fairly monotone voice; noted her lack of modularity and stated that her voice is great if you're a GPS—by the way, she gives great directions. We laughed, unsure where her story was going.  And then she stated that she has Asperger's syndrome. She told the story of being bullied most of her life, raped in high school, and her experiences in therapy. At age 19, she won first place in a national competition for her work in quorum sensing and coral reefs. Generous has been a youth delegate for the UN Convention of Climate Change, and is currently the co-owner of AutismSees, which develops technology tools to help all kinds of people give presentations and communicate. While she develops apps to help people with Asperger's and autism improve conventional communication skills, she considers the syndrome to be a gift. "It allows me to think innovatively," she says.
I am inspired by what Generous shared, and by IA's client, SAP, which has been lauded for its forward-thinking practice of seeking professionals who test on the autism spectrum. "By thinking outside of the box and doing things that maybe other people didn't do, or didn't think of, cultivating these employees strengthened us," SAP CEO Bill McDermott recently told Forbes. The DSM IV characterizes autistic individuals with social and communicative impairments, but those individuals are often highly detail focused due to a "persistent preoccupation with parts of objects." To SAP's advantage, a propensity for meticulous processes has been identified as a hallmark of successful engineers and developers.
Lesson Number 5: Good Leaders…Lead!
"If I'm going to push my students toward their dream and purpose in life, I have to get to know who they are." —Linda Cliatt-Wayman
She strode onto the stage in a pink dress with the force of a hurricane. Cliatt-Wayman shared how she, as principal of the impoverished Strawberry Mansion High School in Philadelphia, instigated dramatic change at the low-performing school that was classified as "persistently dangerous."  She followed three mottos that she shared, (and I am guessing she has numerous others).
"If you are going to lead, lead." This extended to changing light bulbs; designing efficient schedules for aids, teachers, and security; and deploying a "non-negotiable" disciplinary program with the help of her students.
"So what. Now what?" She refused excuses and demanded calls to action. In one year, this philosophy yielded literature scores up by 107 percent, and algebra scores that had grown by 171 percent.
"If nobody told you they love you today, remember I do." Cliatt-Waymann says the real secret of her success at Strawberry Mansion is that she truly loves her students, and "believes in their possibilities unconditionally." She spends one-on-one time with as many students as she can every day.
Leading sometimes seems so obvious when looking at situations from afar but when you are in the middle of trying to impart change, it may not seem so obvious.  This talk was so empowering about looking at things in a fairly black and white point of view in order to strategically assess how leadership needed to step up, and would utilize often untapped resources—namely students and staff—and how to keep it human, and show empathy for those living the change.  As we talk about change management or workplace strategy these are key considerations: Where are we going? Where are the gaps? What tools do we have and have we used everything in that toolbox?  How do we make those transitions positive and help staff embrace that journey with us?
As I was driving back to San Francisco from Monterey, my mind raced with ideas sparked by the incredible speakers, as well as others which included Jimmy Carter and Billie Jean-King.  It hit me that the common attribute to each speaker was that they stood up to make a difference. They decided to lead, whether it was bucking convention or a life-or-death situation. Each speaker saw something that wasn't obvious to others and stepped up to provide clarity and action.