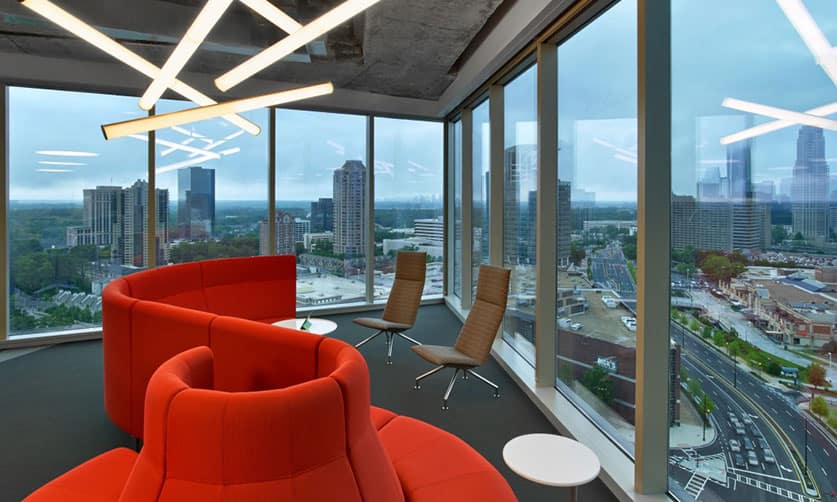 Advertising agency SapientNitro contracted IA Interior Architect's design services when the team moved from an uninspired, second-hand facility in Atlanta, to a 20,000-square-foot first-generation office space. The design team—which included IA's Atlanta-based designers Angelo LeBron, Keith Conn Scott, Alexandra Miller, Gretchen Lotz, and Christa Markey—delivered the company's brand identity as "idea engineers" to the built environment, while facilitating communication and creativity for both employees and clients, all on a moderate budget in just under six months.
For IA's successful design, the Georgia Chapter of the International Interior Design Association (IIDA GA) honored IA with its 2014 b.o.b. Award for Small Corporate projects, or those that measure less than 35,000 square feet.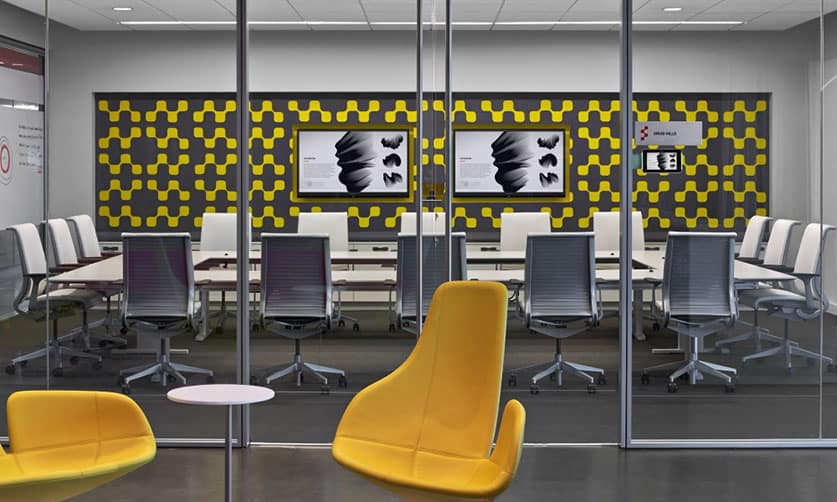 The design team employed inventive, yet cost-effective material solutions to realize a custom, on-brand message that supports the company's brand and ethos. MDF panels surfaced with high gloss laminate provide writable surfaces across the building's interior walls, and effectively encourage communication and environmental interaction. The occupants of the space were engineers and campaign developers, so the design was intended to fuse the polarized hitech/lotech disciplines.Sketches, notes, and ideas are scrawled across most vertical surfaces.
Glass-enclosed conference rooms and private offices are also sheathed in a writable film, maximizing functionality as both a work surface and sound barrier while permitting natural light to penetrate the floor plate. For variation, laser-cut, repeating brand logos define a brightly colored feature wall at the building's core. Existing industrial elements, including raw concrete ceilings and polished concrete floors, were cleverly incorporated into the interior design. Brightly upholstered furniture in unique shapes punctuates work areas. A serpentine sofa from Moroso twists through open-plan work areas, and low seating along floor-to-ceiling windows preserves views over Atlanta.
To communicate the client's technological work, the team designed a custom reception desk fronted with customizable screens. They company builds technology campaigns and engineers new programs and platforms, both in real life and online, so technology saturation of technology was an important aspect of the client facing experience. Visitor messaging, project information, and SapientNitro campaigns all support a constantly evolving interior environment.
The project was deemed a success by not only IIDA GA, but also the client. "A post occupancy survey revealed that 94% of employees felt strongly that their office reflects their business culture," says Alexandra Miller, senior designer with IA. This was the first Sapient project completed under IA's master service agreement with the agency. Since the Atlanta project's completion nearly one dozen others have been completed or are currently underway throughout North America, South America, Europe, and Asia.
The b.o.b. Awards are the highest honor IIDA GA bestows in recognition of its members' design excellence and promotion of creativity which strives to continuously push boundaries.