IA designers and architects from New York, California, Oregon, and Washington, DC shares views and processes behind some of their favorite hand-drawn sketches.
Cologne Cathedral by Allison Kramer
"It took me ten hours to finish this sketch over three days at the Cologne Cathedral in Germany," Kramer says. "My friend and I stuck it out through rain and even humored tourists taking pictures of us."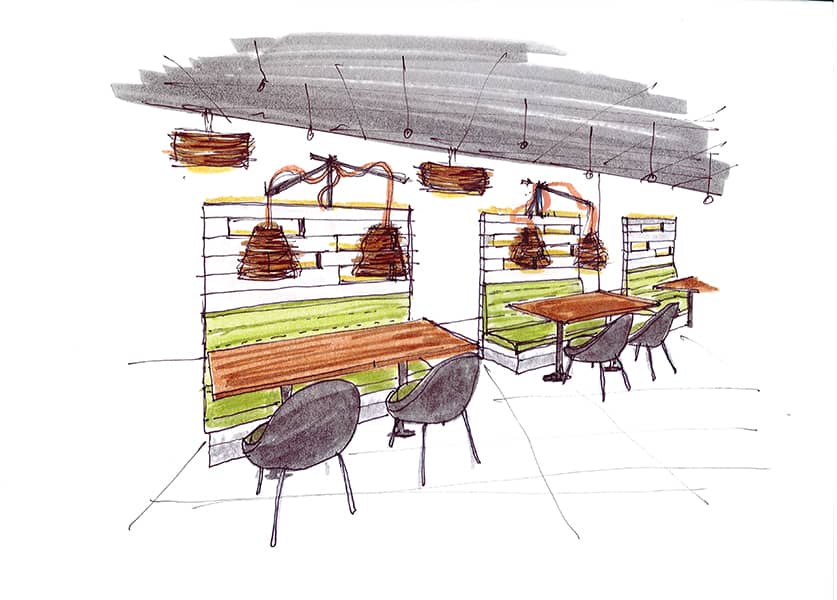 Cafe Seating by Elsa Long
This hand drawing is one of several studies for a cafe in a corporate project. "I like to think in sketch mode before I bring the design process into a digital mode," Long says.
Great Room by Guy Messick, AIA
"The technique for this sketch was to model the design in CAD, print out a perspective on vellum, overlay with Mylar, and ink it with all the cool stuff and the accurate 3D model in perspective guiding me," Messick says.
Training Room Studies by Brie Samyn
"I enjoy hand sketching because it makes me unplug, step away from the computer, and express my creative process in a more personal way," Samyn says. And because sometimes you need a super hero-themed corporate training room in the office.
The Neighborhood by Pietro Silva
A dynamic environment that combines active work and play.
Subway by Kristi Buchler
This sketch was done on the NYC MTA subway: "A part of my attempt to sketch habitually and be inspired by the ordinary," Buchler says. "This scene is something so ubiquitous and everyday, but so important to the pulse of the city."
Alteryx by Luke Kinne
A Volkswagen bus will serve as an enclosed meeting space in an open lounge area for an upcoming project in Orange County, California.