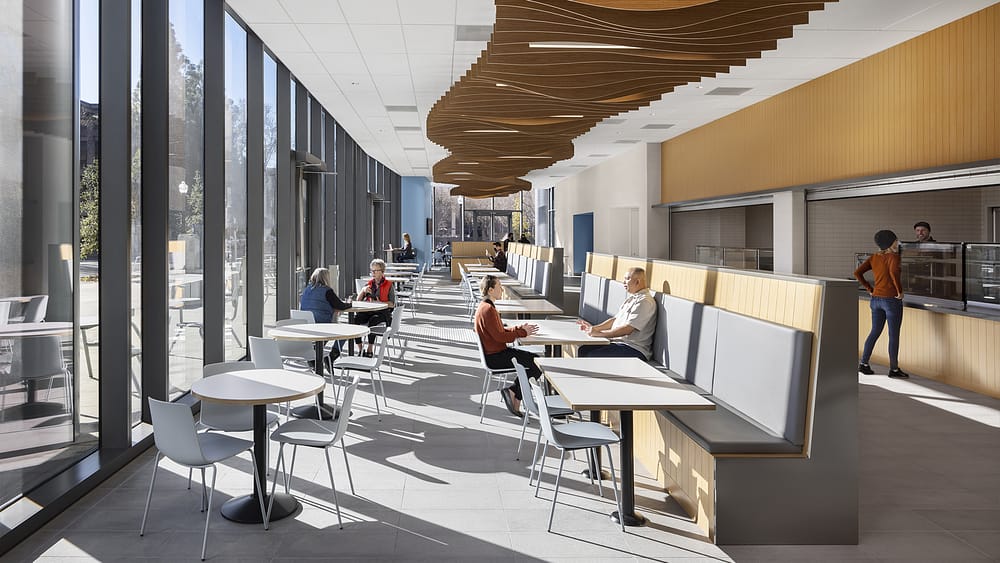 The image of a government agency as progressive is not the norm in the public imagination. But the General Services Administration (GSA) is just that. Established in 1949 by President Harry Truman as an independent agency of the United States government, GSA consolidated several agencies, including the Public Building Administration and Federal Works Agency, to administrate supplies and provide workspaces for federal employees. Evolving in that mission, GSA today, among a legion of responsibilities, continues to provide the workplace for government agencies by managing and constructing over 371 million square feet in approximately 8,600 buildings for more that 2,200 communities nationwide, which includes the preservation of existing historic government-owned buildings and the leasing and management of commercial real estate.
In its stewardship of these assets GSA has long been a leader and early advocate of workplace innovation, initiating and adapting methods and approaches now common practice in the design industry, and continuing to push boundaries today through the GSA Workplace Innovation Lab and the Workplace 2030 program discussed later in this post. To augment the expertise of its in-house professionals, the agency routinely contracts with the private sector for services, equipment, supplies, and technology to promote best practices, innovate, and further the efficiency of government operations. Under this arrangement, IA has partnered with GSA for over 20 years and today enjoys a preferred provider status.
Navigating Challenge Through the Years
Conscientious and well aware that taxes are funding government workspaces, GSA's design excellence program was begun in the early 90s to focus on best practices and achieve lasting design value for government-owned buildings as well as leased properties that often involve a commitment of 15 to 20 years. Toward that effort through the years, GSA has consistently reimagined and evaluated the future of work supported by pilot projects, user feedback, and surveys.
As with any organization, the challenges to innovate has been and remain significant. In this regard GSA has displayed a consistent sensitivity to user comfort, encouraging client agencies to adopt new workplace scenarios by skillfully nurturing a change in mindset. To enhance the evolution of federal government work environments, GSA may work with outside consultants, IA for one, to study a client agency's way of working, initiate visioning sessions and surveys, and determine what workspace design will best fit its needs—an exercise that also nudges agency employees towards forward-looking design options. When a lease renewal is on the horizon this is especially helpful. In advance, agencies can consider the advantages of staying, renovating, or moving to a smaller or larger footprint or even reimaging work processes.
A few years back, for example, when an agency downsized from 500,000 square feet to 400,000 square feet and transitioned from primarily offices to a balance of offices and workstations, GSA moved a group of users into a pilot space for an immersive experience of the new design and to elicit valuable feedback to tweak the design for greater efficiency and comfort prior to implementation. In another instance, an entire floor was built as a pilot space where different groups worked for a month or two and offered their feedback, with additional groups touring the space to see firsthand how it supported alternate ways of working.
GSA as Pioneer
Few people realize that early in the 90s GSA spearheaded the move to LEED certification, holistically thinking about the whole building, its users and workspaces, materials, and how those factors effect human health and wellbeing. The agency also recognized the importance of conserving energy and water, considered how buildings and the way we use them affect the environment, and implemented sustainable requirements that continue to inform their building strategy today and evolve as environmental conditions and the urgency to address them become known. In this respect, the government has been a strong influence on the private sector's approach to sustainability, GSA leading the charge and the private sector following.
GSA was also instrumental in developing the Fitwel parameters which launched in 2016. LEED focuses on construction or renovation, but what about spaces currently in use? Fitwel provides the means to audit those spaces at a reasonable cost, evaluate their performance for sustainability and wellbeing, and specifically outline what and where they can do better.
In 2002, aware that the nature of work was rapidly shifting to teaming and advancing technologies, and with an increasing geographic distribution of team members, the agency-initiated Workplace 20-20, a research and development program that involved over 11 different federal agencies on 40 projects to realign work settings and processes in response to new challenges. Ultimately, six projects were selected for an in-depth post-occupancy review focused on planning, design, delivery, utilization, and physical performance, culminating in a report of findings and recommendations.
And through the years, the GSA has conducted multiple studies, including the GSA Workplace Matters publication series that considers topics such as acoustics, change management, and technology, and extensively explored activity-based planning in 2020.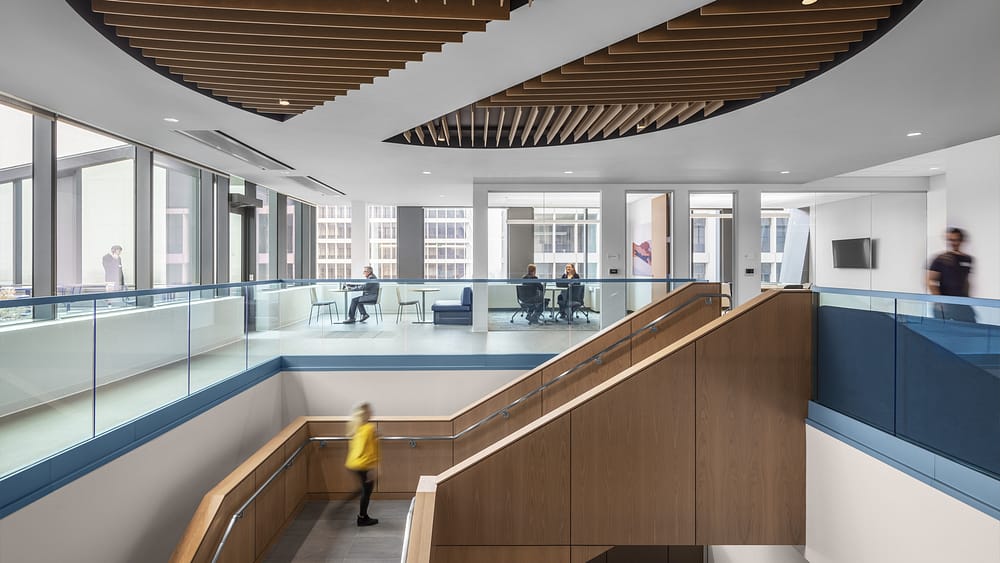 Current Agenda
Workplace 2030 is GSA's program to lead the federal government in returning to the office and creating the future of work through the development of services for federal agencies focused on distributed work, shared space, hybrid work, and custom implementations. Over 100 experts from 18 federal agencies, as well as private-sector and government thought leaders, met to share insights, participate in work sessions, and make recommendations to guide the program, identifying key program commitments: environmental stewardship; representation and workplace equity; the well-being of federal employees and their customers; and economic growth.
In January 2023, the agency opened the GSA Workplace Innovation Lab at its headquarters in Washington, DC, occupying approximately 25,000 square feet divided into six suites, each featuring a different layout and furniture solution. There federal agencies, prior to decision making and purchases, can interact with the latest workplace innovations, settings, equipment, and technology (all provided by multiple vendors) to enhance individual and team connectivity and efficiency in line with the President's Management Agenda for workforce priority and to reimage the future of federal work. Solutions towards GSA goals for sustainability are emphasized, including a range of technology advances from power-over-ethernet cabling to replace expensive steel cabling to solar-powered light fixtures.
Aware of its huge opportunity to affect multiple levels of change in the workplace and the experience of federal employees, GSA strives to innovate, inspiring an understanding of what a workplace can be. And while remaining cognizant of long-time workplace habits and comfort levels, the agency is currently experimenting with co-working as an option for underutilized federal space.
Conclusion
Innovation drives change and GSA understands that it is not easy for users to make the huge shift to new workplace processes and environments. Taking time up front to engage and survey users at little expense, analyze their feedback, and layer in change management is time well spent before full project ideation takes place. Bringing along others, not just making decisions from the top down, is crucial. As a senior GSA decision maker recently noted, were he to add a new standard to the GSA process it would be to allow more time for the preliminary project planning stage.
The years of commitment to workplace innovation and the honing of best practices realized through research and user engagement witness GSA's on-going but little touted role in shaping the way we work now and will in the future, which is surely a model for the private sector. GSA's thoughtful and studied approach to shaping the workplace in response to current and anticipated challenges is itself innovative, which makes GSA an exciting workplace thought leader to partner with.