From trading floors to tellers to bank cafes to in-house software labs, IA's portfolio traces more than 30 years of evolving financial services design.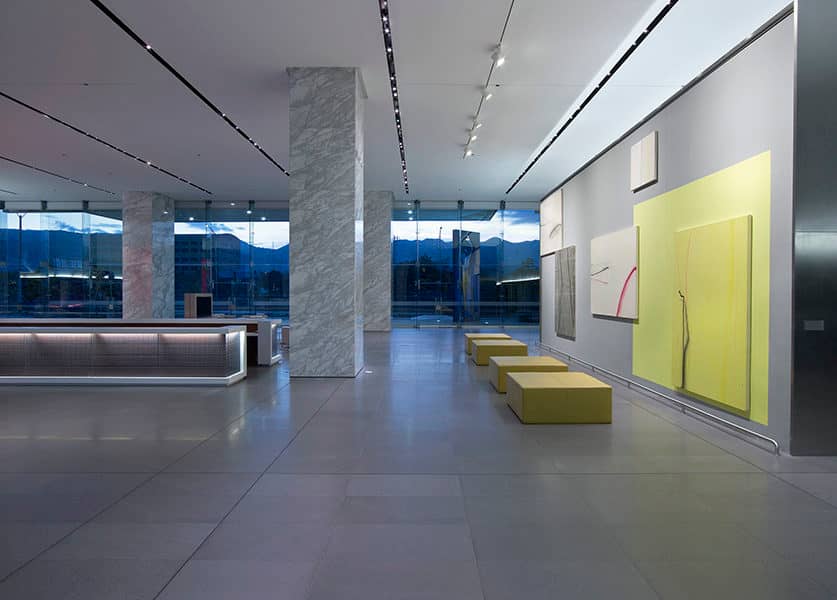 The financial industry has undergone a seismic shift since IA first started working with banking clients, in 1984. The aesthetic traditionalism and private offices favored three decades ago has given way to today's more open-plan, multitasking, high-tech spaces. Even the process by which design services are procured has changed. IA has supported its financial clients through successive cultural and technological evolutions, helping them create a better user and customer experience.
Rewind to the 1980s, a time when San Francisco was the financial capital of the west and it was common for large banks to have an in-house architecture/design department dedicated to executing workplaces and retail branches. Though offering some advantages, this organizational structure was less responsive to market conditions. Much of the design department's time was inevitably spent putting out fires, reconfiguring offices to accommodate mergers and acquisitions. Plus it was challenging for localized staffers to realize projects across the country—and, indeed, the continents, a necessity in an increasingly globalized economy.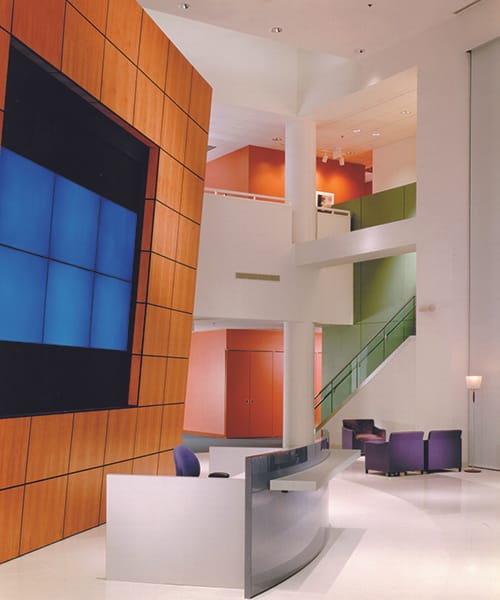 IA founder David Mourning sensed an opportunity to deliver thought-provoking design to the financial sector, and to do so in a novel and highly efficient way. As a young designer working on the IBM account, he learned about the new "on-call" contract (now known as a global services agreement) and realized the model was particularly applicable to financial clients. Outsourcing design in this manner to a single pre-vetted firm promised to radically streamline project delivery and enable simultaneous completion of projects in multiple locations. Struck by the concept's potential, Mourning explained its merits to—and was soon retained by—four of the five banks then headquartered in San Francisco: Wells Fargo, Crocker Bank, Dean Witter, and Bank of America.
With this innovative approach, IA quickly became the industry leader and was instrumental in defining the form and function of modern financial interiors. "Financial services projects served as our backbone in the early years and was also the catalyst for our initial global work, beginning with Citibank and Merrill Lynch in Asia, and continuing with Merrill Lynch throughout EMEA," says principal John Miesner, an architect with the firm for more than 25 years. "Our history is interlinked with modern bank design—and vice versa."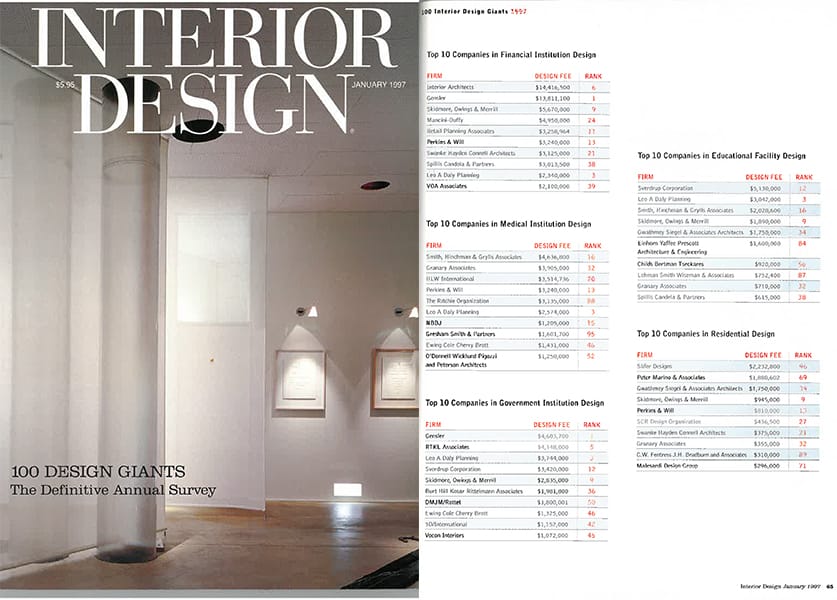 The media took note. A 10-page feature in the February 1994 issue of Interiors magazine touted the firm's success with private and public clients including Offit Bank, Skandinaviska Enskilda Banken, and Visa. IA was the top-ranked Interior Design Giant for financial-institution work for five consecutive years, from 1997 to 2002. [Editor's Note: the magazine no longer tracks financial sector work.]
IA's track record tells a similar story: over 800 projects for Bank of America, over 200 for HSBC, over 1,000 worldwide for Merrill Lynch (prior to acquisition by Bank of America), over 600 for Washington Mutual (now Chase), and over 325 for American Express. Through the years, the firm has also completed myriad projects—on all continents—for prominent names including Citi, Wachovia, Fidelity, Paine Webber, Dean Witter, GE Capital, iStar Financial, Union Bank, Lehman Brothers, Bank of the West, First Midwest Bancorp, Mesirow Financial, JP Morgan Chase, TD Ameritrade, Wells Fargo, Banca Civica, and Bancolombia.
In the 1980s, banks favored what we recognize today as "traditional" office design: private offices for a large majority of staff, high-paneled cubicles for more condensed planning, and common spaces designed to exclusively support meetings. At the advent of the Digital Revolution, office footprints remained large in order to accommodate bulky personal computers and data equipment. As computers shrank, so did square footage allocated per person. Technological advancements continue to alter customer-facing retail, explains Don Lam, Managing Principal of IA's San Francisco office. "Retail branch banking offices are evolving into spaces that invite the public to sit, relax, work, and enjoy fresh coffee and pastries. Criteria for successful financial institution design today include words like flexible, collaborative, friendly, comfortable, warm, and inviting—terms that were once anathema for entities that needed to project authority and a strong foundation."
IA helps clients reconcile those divergent needs and over the decades, the firm has executed the full gamut of financial-service topologies: corporate headquarters, trading floors, portfolio restacks, check-cashing facilities, customer-service centers, retail banking and branch offices, data storage, loan centers­, bank cafes, and in-house software development labs. IA has designed the first in-store banks (for Bank of America), integrated ATMs (for HSBC), and eliminated teller windows (for CBB Bank).
As the need to better support customers gives birth to new industry sectors such as FinTech, IA has been a key partner in helping companies navigate the many challenges and achieve their goals.