We must design offices and work environments that support innate distinctions of human evolution.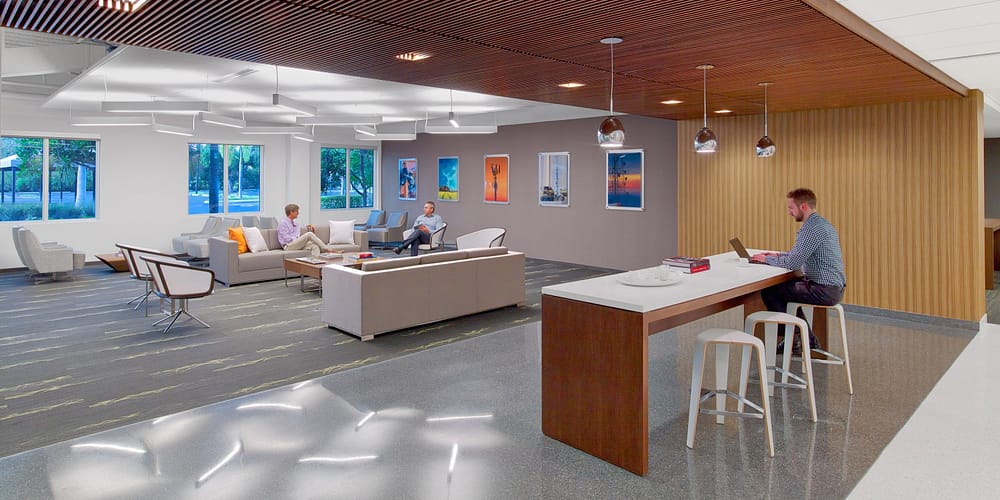 Good news! According to a recent IA survey, most workers are not marooned in interior offices without any access to what's happening outdoors!  Eighty-five percent of respondents to our interiors questionnaire reported they know whether it is raining without standing up from their desk.  For millennia, our very survival has depended on our understanding of environmental cues, and we continue to have a natural interest, in and connection to, what is going on outside.  Awareness of the natural world is an innate component of health and well-being, and workplaces, retail spaces, and healthcare environments can benefit from providing a window, skylight, or other means of connection to the outdoors. Providing a space that affords views of natural light and natural elements is an important component of the psychological and physiological exposure that we require to feel comfortable and engaged in our place of work.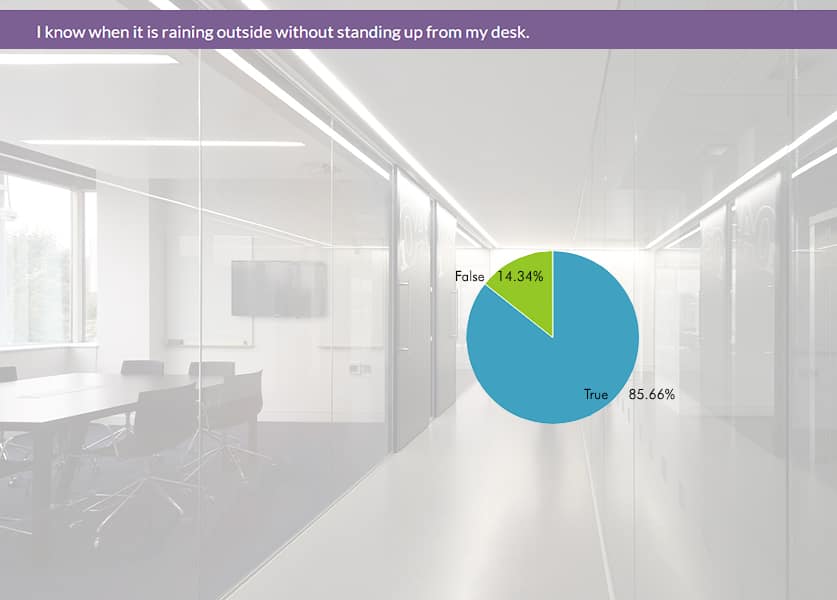 To that end, 80 percent of survey respondents said they would like interior lights that mimic natural lighting cycles when it comes to color and intensity.  For nearly 70 years office workers have functioned under fluorescent lighting – an energy efficient solution with unintended consequences.  When you spend time in a space with lighting that provides static, unchanging, and sometimes unnatural levels of illumination, it can disrupt our normal, healthy rhythms. Think of the difference between the warm, relatively dim glow of a sun rise compared to the bright, blue light of noon.  We have evolved to understand the passage of the sun across the sky, and thus the passage of time, in relation to these varying hues and intensity of our sunlight.  But spending hour upon hour in space with unvaried light stresses our bodies and minds in subtle yet persistent ways.  Lighting has a dramatic impact on our well-being, as it effects our circadian rhythms, our hormone levels, our sleep-wake cycles, and ultimately our level of alertness.
Other factors of comfort, beyond connection to the natural world and synching our systems with the passage of the sun across the sky, have a sizable impact on our sense of wellbeing. Our survey respondents indicated only a two-thirds to three-fourths satisfaction overall with the noise level, temperature, and air flow in their work environment.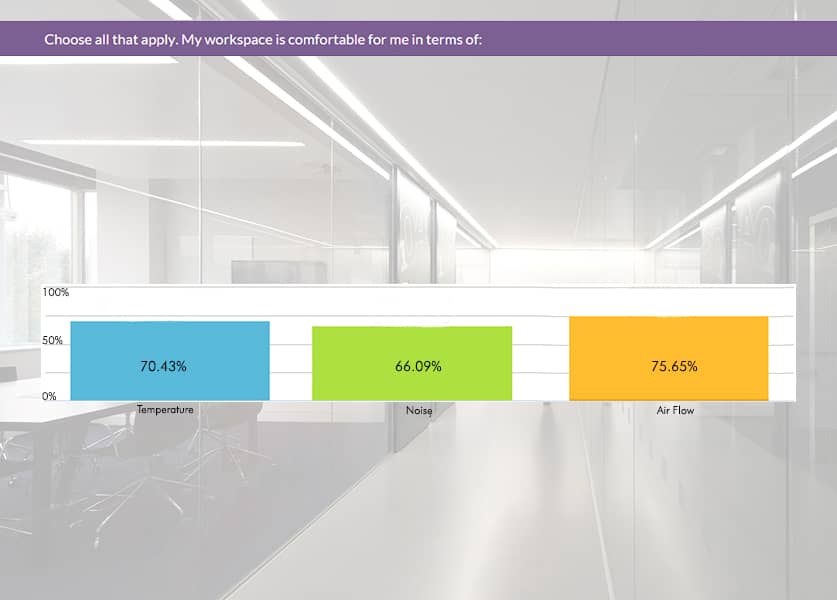 Noise, of course, is one of the most popular complaints in the modern workplace: The loss of productivity due to interruption and distraction is both profound and pervasive.  And because the very definition of "noise" can change from person to person, even from company to company, this is a difficult problem to address universally.  Cultural sensitivity, sound masking, and providing appropriate areas for quiet and social activities helps to mitigate bothersome noise. Of course, temperature and air flow are also important to consider, as there is typically some disagreement about what the "right" temperature should be. Employees who work under negative stimuli are more likely to suffer decreased job performance from distractions caused by their physical discomforts, but in the long term they can also become physically stressed. 
Why not allow employees to shift their location throughout the day – free address seating gives people the opportunity to move to the "warm" side of the building in the afternoon, for instance.  This also helps with the noise complaints, as staff will naturally cluster together according to activity levels (and if by chance a noisy person sits among the quiet folk and disrupts them, you can bet they will let them know, either by moving en masse to another location, or mentioning that this is the "quiet zone" and they need to keep their voice down.)
It is obvious that we need to pay close attention to the design of our environments in order to encourage health, comfort, and well-being of the building occupants. Supporting wellness through the design of our workplaces, where we spend nearly 90 percent of our time, is a giant step in that direction.
Diane Rogers is a Bay Area native; a licensed architect and interior designer; and a WELL accredited professional, who enjoys both good design and communing with nature in the majestic redwoods of northern California. After days spent working on projects for tech clients in Silicon Valley, she prefers to unwind by putting her phone in a drawer and connecting with her housemates in the real world – her husband, her cat, and her 6-foot iguana.