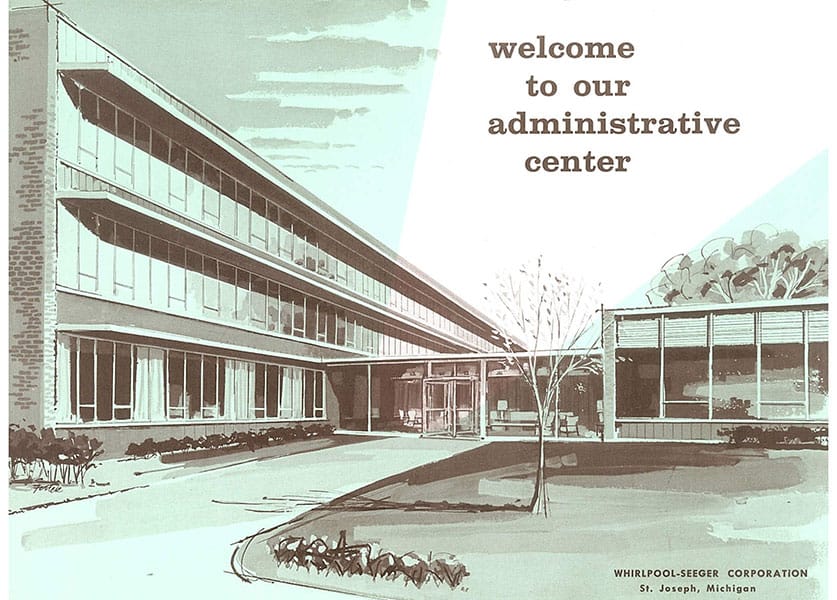 IA's first phase of renovations at Whirlpool' Corporation's Global Headquarters North in Benton Harbor, Michigan, was certified to the US Green Building Council's LEED Silver standard earlier this month. The project standards were developed from the prior Whirpool Riverview Campus project in Benton Harbor, Michigan, which was certified LEED Platinum. "LEED certification on this phase was sort of a given," says John Hopkins, Chicago-based design director with IA Interior Architects. "We carried over our goals but realized them through new ideas and solutions." IA partnered with Epstein on the project.
In Global Headquarters North, which houses the corporation's administrative functions, the design directive was to significantly reduce private offices and provide democratic access to views over Lake Michigan. All meeting and support areas are located around the building core, and work stations capitalize on the site's views. Similar to Whirlpool's North American headquarters, private offices couldn't be eliminated entirely so C-suites were grouped into a separate wing. Depending on occupancy, this tactic helps reduce heating, cooling, lighting, and related power needs; quartering areas that are only in partial use reduces power loads, rather than sprinkling secluded, and often unused, spaces throughout areas of constant use.
Part of the building's renovation included a brand new HVAC system, which left a 10-foot-by-30-foot void where there had once been a mechanical shaft. To promote active design principles, the design team inserted a staircase that connects three levels. A clerestory light was also installed in place of former intake louvers to bring daylight further into the building's core.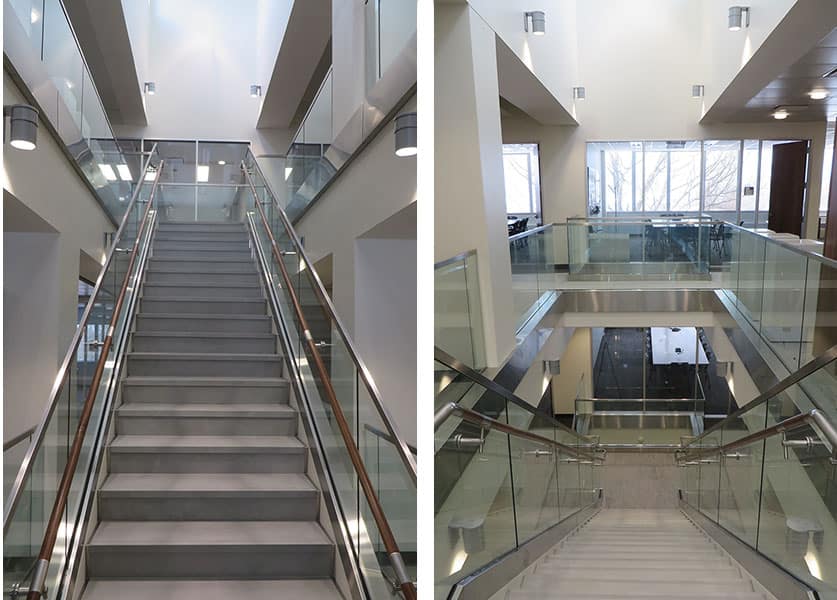 The original building and finishes from the 1950s were unique, and had great potential for repurposing, Hopkins says. Instead of sending 30 louvered, solid teak transoms to the landfill, they were deconstructed and reassembled as three 12-foot-by-9-foot room divider screens. Not only does the material's new function provide transparent separation, it connects occupants to the building's history.
[twentytwenty]


[/twentytwenty]
There were also plans to repurpose old doors and wall paneling from meeting rooms; many of the doors were repurposed as sliding space dividers in Whirlpool's innovation incubator facility, also located in Benton Harbor. The construction team on the project, Pepper Construction, also works with IA to send reusable fixtures and finishes to the firm's preferred building material diversion warehouses, like Rebuilding Exchange. "Our contractor was great about reducing trash and waste," Hopkins says. "They applied lots of lessons from the Riverview project."
Among the building features are:
297.02 kGal calculated annual interior water savings
1001.31 MMBtu calculated annual energy savings
500.03 tons total construction waste diverted from landfill
"Taking on LEED from the beginning of the design process supported an integrated team approach and being able to take advantage of the same design and construction team throughout all stages of the project," says Elizabeth Roberts, LEED AP, BD+C, senior sustainability analyst at Epstein.
See the project's LEED scorecard at the USGBC website.