The newly designed space in Chicago will display furniture from Allsteel and Gunlocke, and textiles from HBF.
On June 15, Allsteel and Gunlocke will reveal a new IA-designed showroom for NeoCon in Chicago's Merchandise Mart. Allsteel, which designs and produces contract furnishing and finish solutions, has been identified as one of the Mart's premium tenants with a long-term commitment to the show as well as the larger design community.
IA designed an update for its existing 16,000-square-foot space on the 11th floor that showcases Allsteel products, furniture from sister brand Gunlocke, and textile brand HBF. Among the challenges to IA's design team was a charge to improve the showroom's extant layout, and create separate entrances for Allsteel and Gunlocke. "It was confusing for visitors upon entering to try to find the brand of each location," says Adrienne Harbarger, a designer on the team that redesigned the showroom.
Using Allsteel's Beyond movable glazed walls, the team defined separate entrances for the furniture brands to direct visitors to two distinct showrooms. "It defines separate entrances for each company and helps guide visitors directly to the greeter desks," Harbarger explains. A former entry lounge that was typically overlooked by visitors, and underutilized, is transformed into a central touch point for work or conversation that anchors the entry point.
To reinforce individual brand attributes, complimentary color and material palettes were developed for Allsteel and Gunlocke. Timber tones and wood finishes are embellished with textured green and teal HBF textiles to reinforce a tactile experience.  At Gunlocke, an updated palette was inspired by timeless men's tailoring; a three-piece suit with pop of color in the tie or pocket square. This translates to a finish palette of saturated brown and gray tones pop against marigold and magenta. The classic inspiration came directly from the client: "Gunlocke's request was to celebrate its heritage while featuring its new lines that address today's office needs, such as its new line of conference furniture," Harbarger says.
To visually connect the complimentary showrooms, environmental graphic design elements establish repeated themes in both spaces and reinforce way finding. Variations of chevron and herringbone repeat across vertical and horizontal surfaces. Custom graphic film embellishes glass walls and a flag wall showcases finishes from both Allsteel and Gunlocke.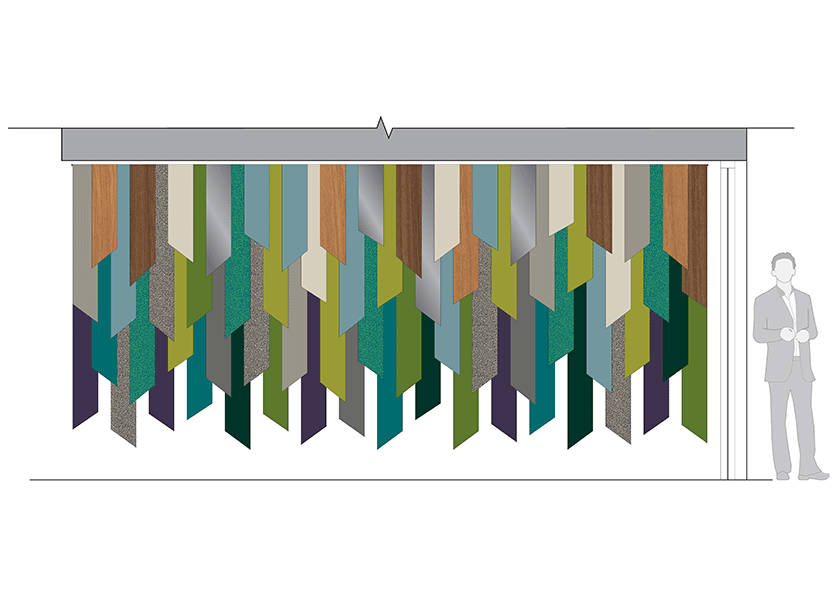 "We wanted customers to connect with our brand in an emotional way," says Jodi Dykstra, division manager, North Central at Gunlocke. "We're proud of our heritage and passionate about the future, and that's communicated through our new environmental graphics."