IA designs a statement location in Chicago's Merchandise Mart for a textile and wallcovering company.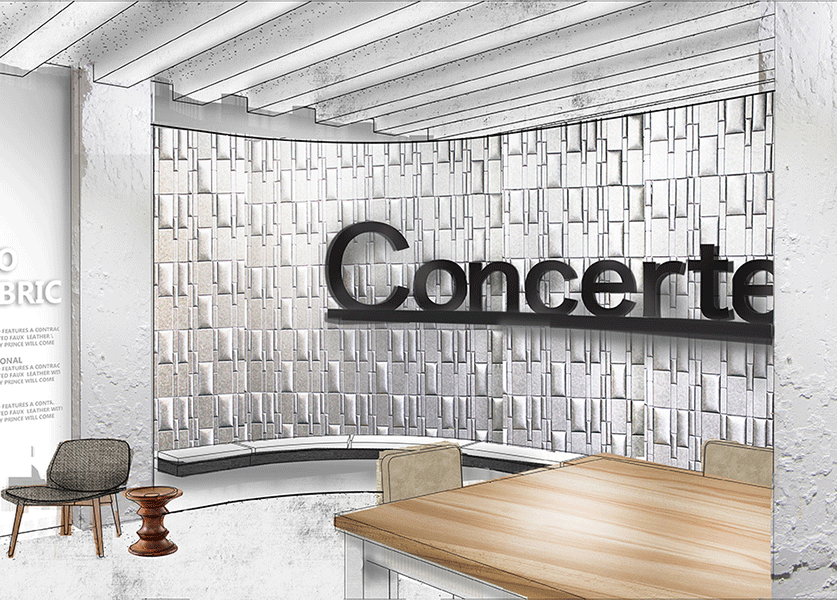 At NeoCon 2015, Concertex will unveil a new, IA-designed showroom in Chicago's Merchandise Mart. The textile and wallcovering brand has maintained a well-established presence in the hospitality market for the last four decades: The new showroom will expand the company's reach into the corporate design market, as well as healthcare and education sectors.
"We wanted a showroom to reflect our focus on material innovation and design-centric style," says Hoe Jung, Director of Concertex. "IA was able to help us work through many of the different concepts we provided for a space that not only showcases our vast line of products in a limited space, but also pushes our brand identity."
The project had four primary goals, says Bridget Schmitt, a designer based in IA's Chicago office. The new space had to showcase the brand; highlight new productions and innovations; illustrate the breadth of the product line, and demonstrate Concertex products' durability. In addition to showcasing product during NeoCon, the space will also function as a product library and event space for the local sales force.
At just 700 square feet of programmable space, the IA design team was challenged to exhibit an expansive product line as a singular, focused brand message. Working with several inspirational images from the Director of Concertex, the team developed a concept that was attractive—both aesthetically beautiful and captivating to NeoCon attendees.
[twentytwenty]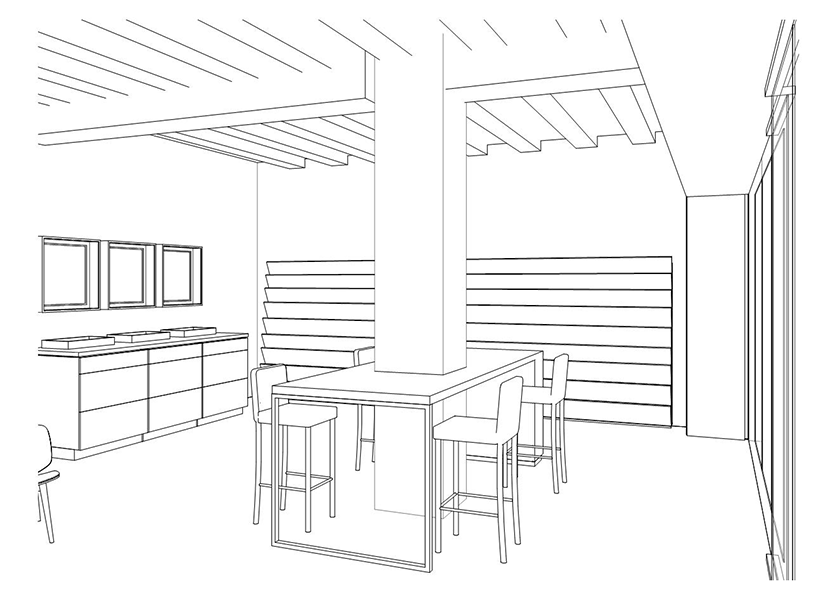 [/twentytwenty]
"The analogy we used is that of a painting in a gallery," Schmitt says. "We want the showroom to be the painting that, among a hundred other beautiful neighboring pieces, has the qualities that draw you into that one and, most importantly, keeps you mesmerized."
A portal frames the entrance with tone-on-tone, angled vertical logos that direct visitor attention inward. A neutral backdrop of white and gray tones offers flexibility for rotating product collections to be highlighted without competing for attention. Black frames hold varying products, displayed as if in a gallery. The high-contrast black frame material is repeated across the showroom in shadow boxes, benches, and table legs. An immovable, existing column—located centrally in the floor—was embraced as a design opportunity. A work surface wraps around the column as the focal point of a central conversation table. The team also retained its original, rough texture to contrast against surrounding smooth finishes.
Concertex's Nappa Tile, a fabric-wrapped dimensional wall covering, sheathes a feature wall to promote the brand's technical capabilities and design sense. From a distance, the treatment appears as an expansive, custom installation with parametric precision. Up close, a shimmering high-performance textile provides a warm tactile experience.
"The key to our design was 'minimal but memorable,'" Schmitt says. "Concertex had high expectations from IA, so we worked hard to achieve elegant statements that are quietly impactful."