Editor's note: Bridget Schmitt, a Senior Designer in IA's Chicago office, was recently selected and honored as a 2017 American Society of Interior Designers (ASID) 'Ones to Watch' scholar. To learn more about the program, click here.
Bridget, first off, congratulations on being selected for this honor! can you tell us a little about your background and what drew you to a design career?
My mother was a graphic designer early in her career and I absorbed her infectious love of art and design. In high school, I shadowed her best friend, a healthcare interior designer. But I first became aware of the field of architecture as a 6th grader, when my technology education teacher wrote a letter to my parents that noted my aptitude for architecture and suggested it might be a future career option for me.
At college, I was drawn to design by the delight and confidence I felt in combining right and left-brain thinking and the excitement I felt about shaping the physical world. Architecture and interior design create "place." The results are tangible, functional, emotional, and beautiful. That's powerful! At the University of Cincinnati a co-op program allowed me to gain experience practicing retail, hospitality, and workplace design while earning my degree. I graduated with 18 months of work experience from three different firms in three different cities, as well as a study abroad program in Copenhagen. It was thrilling to test my interest and be exposed to different ways of practicing.
I graduated in 2009, held a few contract positions in interior design, and joined IA's Chicago office in 2010. Over the last seven years, IA has provided a remarkably supportive environment for my growth towards a leadership position.
According to the program's descriptions, "emphasis will be placed on participants whose backgrounds are currently under-represented in management roles in the interior design industry, including women, members of racial and ethnic minority groups, LGBTQ, and persons with disability."  how important is it to have diversity among leadership within the interior design industry?
A creative field like interior design demands diversity and inclusiveness. I heard in a TED talk that called creativity "applied imagination," and that really resonated with me. Great design problem solving requires an open mind that welcomes diverse ideas.
Different solutions have to be pushed, pulled, twisted and tested until one emerges as best to meet the challenge. To move forward, leaders in our field should have a unique personal vision but also value the views of colleagues. I am excited that ASID is leading our industry to greater inclusiveness through this program.
What do you hope to learn from the program? and, at the end of it all, what do you hope to take away from the program?
I want to hone my skills as a designer and a businessperson. At this point, I'm beginning to focus on both mastering my skills and my impact on my colleagues, projects, clients, and the industry. I'm considering how best to use my strengths to map my career and maximize a positive influence.
Focusing on diversity in management positions is particularly exciting. I'm eager to learn how others leverage their unique perspectives to be better leaders; I want to  do the same. Expectations about female leaders are different from those for male leaders. Women are often seen as dependable, less often as visionaries, and we tend to be less comfortable with self-promotion. We're not socialized to be unapologetically competitive. I want to challenge those notions through my actions and learn from other female leaders in the field.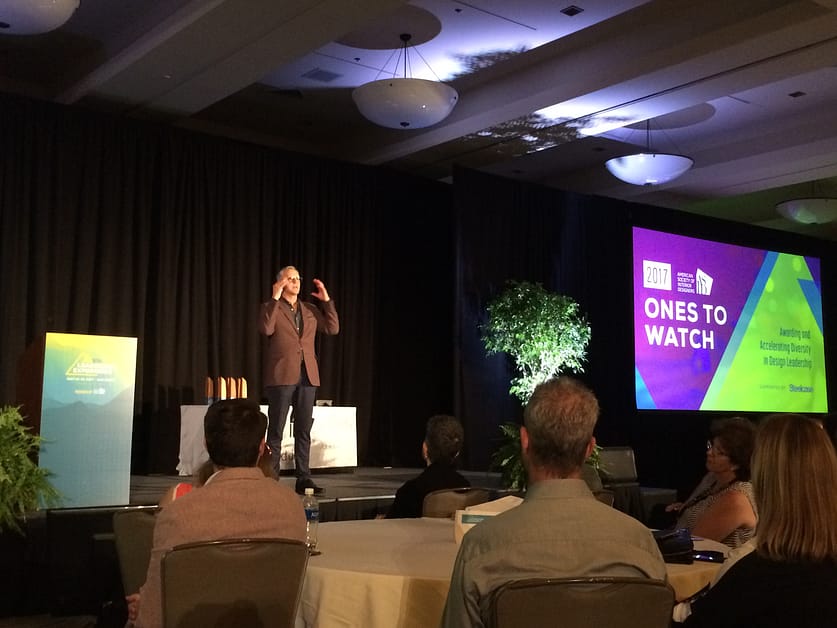 Can you explain how workplace design, at its core, improves the lives of those who inhabit the space?
Two key areas where workplace design has an enormous impact on users are individual health and as an interface with the organization. Since many of us spend more waking hours at the office than at home, the design of the workplace significantly affects our physical, emotional, and mental wellbeing. For example, the workplace can encourage movement and provide sit-stand desks to help foil respiratory illness, and it can provide natural light with views for mental health. It can offer options for a balance of stimulation and focused work. A well-organized space contributes to mental clarity and fulfillment through productivity. Smart functionality empowers us and helps us align personally and as a community with the mission, culture, and goals of the organization.
From an introspective view, why does design matter to you?
Design has provided me with fabulous opportunities to travel and has introduced me to very smart, fun, creative, and passionate people. It has given me the opportunity to create for others and to see the physical results of what I do. I continually reinvent and evolve my work with each new client. I can't say every day is fresh, but it's pretty close. I'm continually inspired and challenged!
More...
Want to Learn About Joining IA?
Visit the "Join Us" page to learn about job openings, benefits, and the culture that makes IA such an amazing place to work.
---
IA is a global firm of architects, designers, strategists, and specialists .We focus exclusively on environments through the lens of interior architecture—a radical idea in 1984, when IA was founded. We are highly connected agents of change, committed to creativity, innovation, growth, and community.
---
---
---
It's no secret that the secret to IA's success is its employees.