Many companies are striving to achieve climate neutrality, which involves bringing their greenhouse gas (GHG) emissions down to net zero on an annual basis. But most cannot immediately reduce their emissions to that level and will need several years to invest in the required technology as well as change their energy use practices. In the meantime, a company may buy carbon offsets—funding projects by others—to offset their GHG emissions through a carbon crediting program and balance their emissions to achieve net zero.
However, the current means to achieve that goal are challenging for many reasons. First, the quality of currently available offsets is often low and the offset market continues to struggle to establish reliability and transparency. Second, and more fundamentally, because offsets do not address the root causes of a company's carbon emissions and they therefore cannot contribute to a complete solution. Furthermore, offsets may prove a poor economic choice in the long run, as companies are committed to paying offset costs every year, as opposed to implementing more long-term solutions.
To be clear, the most important thing a company can do is directly reduce GHG emissions from its operations and supply chain. Purchased offsets should only be an option of last resort. They may be beneficial to companies seeking early claims of carbon neutrality, but choosing offsets only delays the more immediate and long-term actions a company must take to achieve carbon neutrality.
Drawing on shared knowledge and many project collaborations, Brightworks Sustainability and IA Interior Architects in this post consider some of the common misconceptions about carbon offsets and identify opportunities for realizing a carbon-neutral building or building portfolio. Importantly, there are reasons for optimism since available solutions are ready to scale.
Why Carbon Offsets?
To prevent the worst future impacts of climate change, companies are urgently pursuing reductions in GHG emissions. The science clearly shows that to avert the devastating outcomes of climate change and limit global temperature increase within 1.5°C above pre-industrial levels, as called for in the Paris Agreement, emissions need to be reduced by 45% by 2030 and reach net zero by 2050. GHG emissions cuts of 90-95% before 2050, crucial for net-zero targets to align with science, have been presented to companies participating in the Science Based Target Initiative corporate standard.
In terms of development cycles, as a rule of thumb to put climate action into timescale perspective, a commercial or residential project can take two to four years to design and build, which means that over the next 27 years there will be only seven to 14 project cycles for designers, builders, and developers to transform their portfolios to carbon neutral. This timeframe for transformation also applies to existing buildings and tenant-lease spaces. Some companies will not make that transformation fast enough. Others may want to accomplish it faster. In either case, purchasing offsets may become part of a project's or portfolio's carbon-neutral strategy.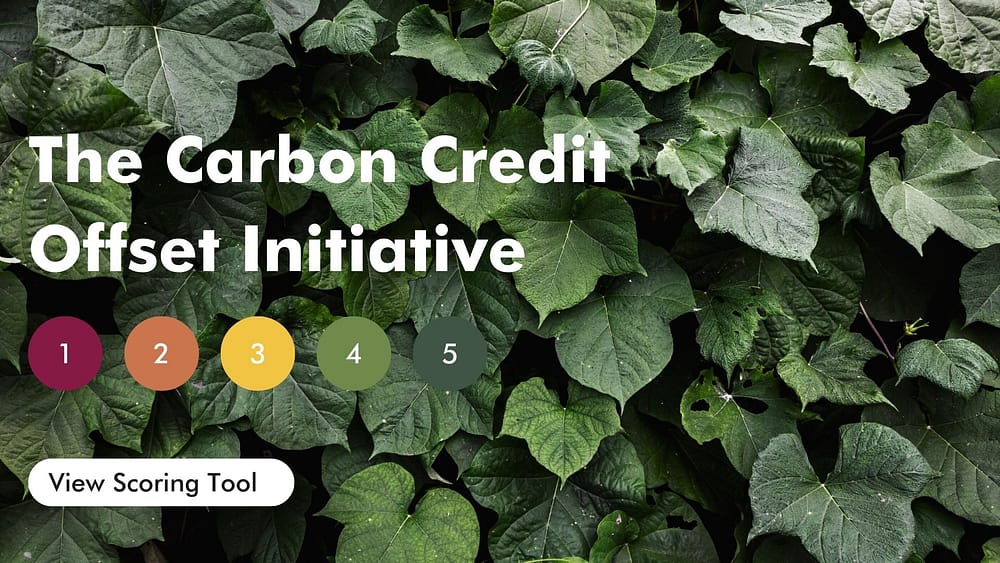 Low-Quality/High-Quality Offsets
Types of carbon credits according to the Carbon Credit Quality Initiative (CCQI), which provides transparent information on the quality of carbon credits, are defined by a combination of components including project activity (for instance, reforestation or the installation of solar panels) and the particular carbon crediting program that issues the credits. The CCQI assessment methodology then identifies and weights which of these factors are most significant for carbon credit quality.
Some credits score high in quality for being permanent and delivering positive environmental and social impacts, for instance, the installation of solar panels for low-income, elderly communities on fixed incomes. Some credits score low in quality due to the high risk of losing their underlying climate benefits, for example, reforestation in a region prone to wildfire. Higher quality offsets tend to be more expensive with lower quality offsets less. Buyers must beware.
Alternatively, companies that invest comparable funds for GHG direct reduction opportunities for the design, construction, and operation of their building should see a return on that investment each year, increasing profitability. There is no such return on investment for carbon offset purchases.
Direct Reductions
Most direct GHG emissions-reduction projects for buildings have a high level of permanence, can be quantified and accounted for—information that company emissions reporting increasingly requires—and will create additional environmental and social benefits. For instance, installing EV charging stations and bicycle commute amenities in a building may also reduce employee commute emissions and help attract employees back to the office. And replacing older inefficient fossil-fuel heating equipment with electric heat pump systems may lower energy costs and will improve employee comfort through effective heating and cooling.
Reputational Risk
A company that is not fully transparent about its emissions, carbon neutrality claims, and offsets makes its progress difficult to verify and invites reputational risk. But a third-party verification based on established standards and protocols for measuring and confirming reductions can determine if a company is genuinely carbon neutral. The Task Force on Climate-related Financial Disclosures (TCFD) sets such standards to improve the quality and comparability of information from companies on emissions sources and reductions. IA Interior Architects and Brightworks Sustainability use these standards to account for clients' GHG emissions and to model solutions over time, including costs and benefits, in developing a plan for a building's or portfolio's carbon neutrality goals.
Direct Investment Opportunities and Factors
Investing in new technology and materials to pursue carbon neutrality can sometimes (but not always) be costly. But such investments will reduce costs in the long run while providing a range of additional benefits to increase property value, attract users, and contribute to a positive public image. Carbon neutral fit outs are designed to be highly energy efficient. They will reduce energy consumption and lower energy costs over time when constructed with features like high-performance insulation, efficient HVAC systems, and energy-efficient lighting.
Any cost increase for more efficient energy systems should be evaluated through the lens of economic savings, ease of maintenance, and durability. The total cost of ownership can be analyzed and calculated using energy modelling and standard accounting tools which are increasingly routine practice in the design process.
But carbon emissions also come from building materials and features such as concrete, wood, steel, flooring, cabinets, and equipment. Paying attention to building materials, companies can realize additional cost savings, efficiencies, and healthier products. Case in point, replacing cement with pozzolan (recycled powdered glass) in certain concrete pours will significantly reduce embodied carbon emissions as well as having a lower cost than the cement it replaces without compromising performance. Companies need to assess a range of environmental, social, and economic impacts—reduced water usage, a change of energy supplier, supply chain factors, local community support—for a holistic approach to sustainability.
Understanding the size and scope of the company's carbon footprint is critical. If a company wants to be carbon neutral, it needs a detailed understanding of its operational GHG emissions for heating, cooling, and lighting, as well as the emissions embodied in manufactured materials.
The Value of Leading in Sustainability
In the absence of regulations and standards, some companies have made unsubstantiated claims about their carbon neutrality. This, of course, is greenwashing—eco-friendly marketing that appeals to consumers without a basis in significant changes to operations. Understandably, this has contributed to hesitancy among some investors who want certainty that the rewards of their undertaking will justify the risks. But, as noted above, assurances are available and there are tangible benefits to being a leader in sustainability within your respective field.
For landlords and property owners those benefits translate to increased property value and rental income; for tenants they lead to opportunities for growth, increased staff retention, and shareholder value, as well as improved supplier relationships. Carbon neutral buildings are becoming more attractive to buyers and tenants, who seek energy-efficient and environmentally friendly buildings. Per a recent study, 64% of Millennials will only work for a company with a strong corporate social responsibility policy. Employees and stakeholders want to associate with companies that are part of the solution, and investors value the proactive risk management. Carbon neutral agendas help companies build a positive public image, especially when their emissions and sustainability performance is publicly reported and verified via a qualified external organization.
Future-proofing your organization now against anticipated legislation to restrict GHG emissions that will surely be more costly is a wise move. As more governments and municipalities implement carbon taxes and other fees to reduce GHG emissions, carbon-neutral companies and their portfolios may be exempt from those charges. And, investing in sustainable energy sources can be a safeguard against energy volatility, ensuring a reliable supply as a hedge against sudden increases in fossil-fuel energy costs, supply chain problems, or market volatility. 
Conclusion
It is critical and smart for organizations to directly reduce their GHG emissions, avoiding the use of carbon offsets. The benefits for cost savings, staff retention and wellbeing, operations, and company reputation are obvious. And achieving carbon neutrality is not arbitrary. It will be legislated. But more importantly, it must be achieved to contain global warming, support sustainability, and ensure the health of the planet. We have the knowledge and means to meet the challenge. Our resolve is the key.