With the calendar flipped to 2023, many property owners and managers as well as tenants of office buildings are asking, "Finally, is this the year people come back on site?" While nostalgic memories of fully occupied buildings crowded with people every day may be a bit excessive, most properties saw very modest occupancy during 2022, anywhere from 40%-60% on peak days. This was later in the year after the summer slowdown, as many organizations issued return policies and tested or incorporated more long-term hybrid and distributed models. Savvy property owners acknowledge the role a base building plays in attracting and maintaining occupancy, but the traditional playbook that counts on leveraging a lobby renovation, public area refresh, or amenity addition to lure workers back to the office is proving less and less relevant and effective. So, what works?
For Starters, Tackle the Arrival
The lobby has long served as a security gateway, often designed to impress, even intimidate. Yet access-control systems are increasingly digital, supporting easier end-user interaction via smartphones that allow smooth, seamless building access. As a result, the security guard, no longer needed for the most part to secure the building from unauthorized visitors nor positioned behind a massive stone reception desk, is now free to meet and interact with lobby users more like an ambassador or even a concierge in a comfortable, inviting lobby zone. Transitioning this role to one of welcoming is a significant first step in developing the experience and power of the lobby—the  first of many programmatic evolutions the lobby desperately needs.
There are others, including how to invite/inspire building occupants and guests to stay in the lobby longer, use it, feel comfortable there, and enjoy this key experience of the property. A new furniture grouping alone will not encourage that level of engagement. Furthermore, most lobby seating groups are planned to only provide for a momentary touch down. Furnishings that create entirely new zones for extended periods of use are needed, where users can work in lobby locations as an alternative to their upstairs offices (especially if it is a quiet day at the office and they prefer a buzz) and groups can congregate and function in brightly daylit spaces, while off to one side individuals work undisturbed though visually connected to the life of the property and that of the streetscape. With the generous space typically allotted to lobbies, these spaces can easily be reimagined to support more developed programming, innovative design, and use.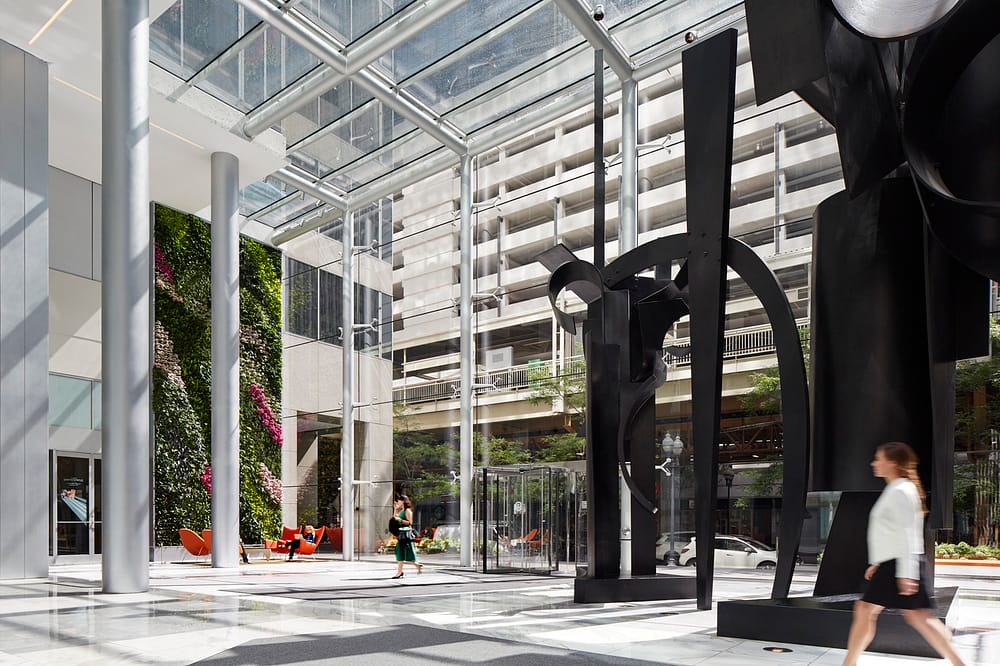 Reprogram For User, Community, and Streetscape Interaction
Functionally, rotating doors and small vestibules serve to lock conditioned air in, keeping out hot or cold external air. Yet their proportions are typically dwarfed by the larger lobby space, and they offer only the smallest opportunity to connect inside with outside, something a fully sealed building with no operable windows direly needs. The reinvention of these pinch points for a more meaningful indoor/outdoor connection is driving the creation of intriguing prototypes that provide open-air amenity spaces, weather permitting, as welcoming zones for users that are great for buildings with little or no rooftop space nor access to green space.
And a welcoming entrance can lead to better engagement with the community at a time when many local vendors are struggling to regain  economic footing post-pandemic. Office facilities that share urban blocks with retailers and restaurants can create fluid partnerships with those businesses, contributing to their recovery by making space for rotating amenities within the lobby. Sidestepping a commitment to permanent building amenities like fitness centers, sundry shops, or cafes is cost saving, and building owners can create new experiences and conveniences for users by working with local business partners to provide desirable offerings. Instead of a cafe, for instance, creating a light food service area that supports a hot-food vendor in fall and winter or an ice cream vendor in spring and summer, as well as introducing a pop-up medical provider offering vaccinations during the pre-flu season, will benefit building management, vendors, surrounding retail businesses, and users. Designing a lobby that offers a constant flow of engaging amenities keeps buildings relevant and exciting with users coming back repeatedly for the overall experience.
The Lobby as Differentiator
Commercial base buildings have a hard job: they must offer a distinct, quality product to tenants yet stay generic enough not to overshadow tenant brands. The downside of this approach is that very little sets them apart from other buildings to make them memorable to prospective tenants. When touring proposed properties with clients, after visiting only two or three buildings, we regularly hear that the properties all blend together. Few are distinctive.
Building owners with properties that attract attention and create a strong desire for engagement and participation are moving away from such neutral statements, forging ahead with their own brand, voice, and experience to attract users. The process starts by leveraging an understanding of the user experience as well as design methodologies that identify target user personas to create spaces and moments supporting their wants and needs. A lot of those wants and needs have to do with expecting more from the workplace as a destination—not just the office suite, but from the moment they approach and set foot on the property.
A building's brand has to be human-centric. Users need to relate on a personal level to the look, feel, and messaging of  the property—ideally feel a part of it. Properties that create amenities along experiential pathways that can be communicated via apps, marketing materials, or graphics educate users and potential tenants about the impressive features and opportunities the property offers and how they provide personal benefit. Sites that tout workspace options across the property, e.g., a variety of wellness features, support for multimodal transportation, or extend the experience before and after traditional office hours via amenities and programs, signal that this property offers a host of choices and options for engagement unavailable at more traditional buildings. And it all commences at the lobby as building owners and management lean in to provide meaningful experiences.
But despite all the excitement around bringing users back to workplace, there is no denying the current economic headwinds clearly felt throughout the marketplace. The good news is that the possibilities suggested here need not require a huge budget or years to execute. Given that financing and investment in building improvements has become more challenging, timing and speed to market are critical. With strategized planning underlying key decisions and educated investments, there are plenty of opportunities to infuse properties with new life, especially for those willing to radically rethink the lobby as a catalyst to tenant engagement and community connectivity, for a  memorable building-brand experience that achieves what we all want, a better place to work, interact, and innovate. The lobby door is open!