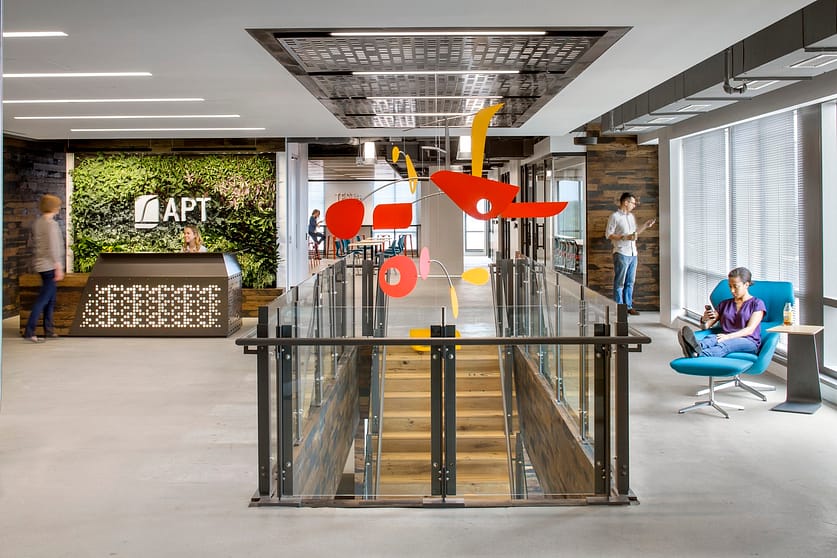 Software company Applied Predictive Technologies empowers organizations to make data-driven decisions through analytics.  At its new three-and-a-half-floor headquarters in Arlington, Virginia, the firm's passion for data and predictive analytics is on display throughout.
Riffing on the overarching theme data is beautiful (and fun), IA's experiential graphics and design teams utilized a variety of natural materials to create custom features and patterns that represent data collection and analysis. A four-story interconnecting stair is the main thoroughfare and heart of the new space, surrounded on each floor by a social gathering area, pantry, and tech stop (the aptly named Byte Bar). Above the stair, a custom light fixture at the ceiling features a backlit aluminum sheet perforated to mimic a binary pattern. Nearby, the reception desk is sheathed with a backlit steel replica of the pattern. Suspended over the stairwell, components of a large mobile configure the firm logo when the air currents are just right.
Company-wide riddles, puzzle solving, and friendly competitions are daily, data-driven events; some are showcased as interactive, branded elements. A hands-on, interchangeable string graphic lets staff plot changing data about fun subjects like the number of employees that attended various universities, favorite Game of Thrones character, or the number of states where employees have lived. Staff can vote on weekly trivia questions using oversized candy dispensers or pin recent travel destinations and photos on a world map graphic.
On the public-facing glass wall of a large conference room, brightly-colored starburst beams show the headquarters' location in relation to international cities. The wall of another conference room displays decorative circles relative in size to the scale of local parks.
APT's rapid growth drove the move to the new headquarters while future growth posed a design challenge. To address this dichotomy, IA devised an inventive solution: team rooms were positioned along the perimeters to break up inbound office layouts and a floating huddle room was born, playfully dubbed a "folly." Each folly, strategically positioned in an open area among lounge and collaboration zones, can easily transition to an office as the firm grows. Lounge areas can also become offices or huddle rooms. Follies, clad in different materials for interest and variety—corrugated metal, polycarbonate, patterned wallcoverings, chalkboard paint, and reclaimed wood—shape the interior landscape, create destinations, and determine paths on both sides of the core.
During my tenure at APT, I have had the pleasure of seeing the organization evolve and achieve significant growth. Our new office reflects the culture of APT and provides the space for continued expansion.

– Dan Cregger, Senior Vice President | APT
IA's design of the new headquarters relies on a natural palette to complement the bright branding features. Raw concrete adds authenticity, while reclaimed wood, steel, and a green wall add warmth. The result is a clean aesthetic that combines a startup sensibility with a Fortune 500 sophistication, punctuated by experiential graphics and interactive features for a vibrant and highly productive space.