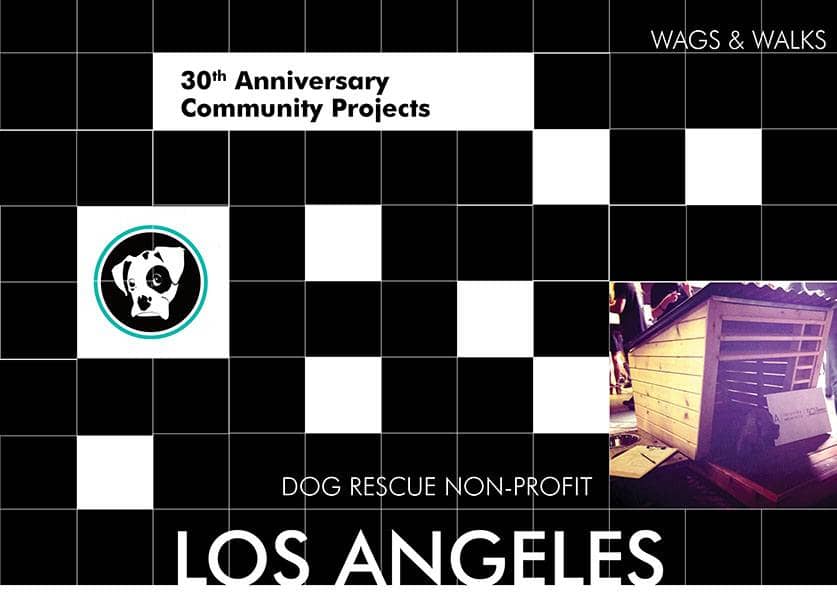 When IA Interior Architects was established in Los Angeles in 1984, the city had just undergone a transformation for the Summer Olympic Games, Michael Jackson had released his first album, and the economy was booming. Though much has changed over the last 30 years in the City of Angels, residents still enjoy nearly 300 days of sunshine, making it the perfect place to participate in outdoor activities, from surfing to biking to dog walking.
IA's Los Angeles office is comprised of many enthusiastic pet owners and animal lovers, so when the team considered local, charitable organizations to which it could donate for the firm's 30th anniversary, a pet rescue organization was an unopposed choice. In Los Angeles, IA offered its services to Wags and Walks, a 501(c)3 non-profit organization that rescues family-friendly dogs from shelters and finds  permanent homes through adoption, advocacy, and education. IA associates attended a number of Wags and Walks' 2014 fundraisers—from a black tie gala to bingo night—and worked the No Kill Los Angeles Super Adoption event. A team of IA architects also designed and built a dog house to be auctioned for profit that goes to Wags and Walks.
"This was our first time working with architects," says Kimmy Kovac, director of partnerships at Wags and Walks. "Both the founder, Lesley, and I noticed everyone's passion—both about their jobs as well as their desire to help the dogs in our community."
The Wags and Walks mission resonated so deeply with IA team members that IA's Director of Business Development in Los Angeles adopted a 9-month Australian Shepherd mix named Finley from the agency. "I grew up with dogs, but this is my first pet adoption as an adult," says Brandi Mayo, assoc. AIA. "Having met with the folks at Wags and Walks through our 30-year anniversary initiative, they had a pretty good understanding of what kind of dog would be right for me. The pairing couldn't have been more perfect." Because the organization aims to find "forever homes" for its pets, consideration is extended to not only the viability of an adopter's home life, but also the temperament of the pairing.
It's not uncommon for animal rescues to deploy a lengthy interview process, but this can deter eligible and loving adopters. "I have heard that if there is one thing they don't like, for example an applicant works long hours, rescues won't give applicants an opportunity to adopt," Kovacs explains. "At Wags and Walks, we know that loving homes come in all shapes and sizes so we don't discriminate for long hours or an apartment versus a house. Instead, we use that information to ensure we are finding them the dog that is the perfect fit."
For one lucky canine, the Los Angeles design team also donated their time and resources to designing a dog house. "This was truly a design-build project, because we needed to design and build at the same time," says Gary Bouthillette, AIA, LC, lead architect on the project. Likening the experience to building a really big model, Bouthillette found the size of a doghouse well-suited to that kind of hands-on approach, which was fun for his team that included Angela Lee, May Luxenburg, Carlos Guitierrez, Lawrence Wong, Natt Puapornpong, and Sara Laurence. The three-foot-by-five-foot-by-three-foot house was constructed from rot-resistant cedar and corrugated composite. Fixed louvers provide natural ventilation, as well as natural light at the right time of day.