Design Leaders in Seattle, Chicago, and New York weigh the factors shaping the workplace design of today's technology innovators.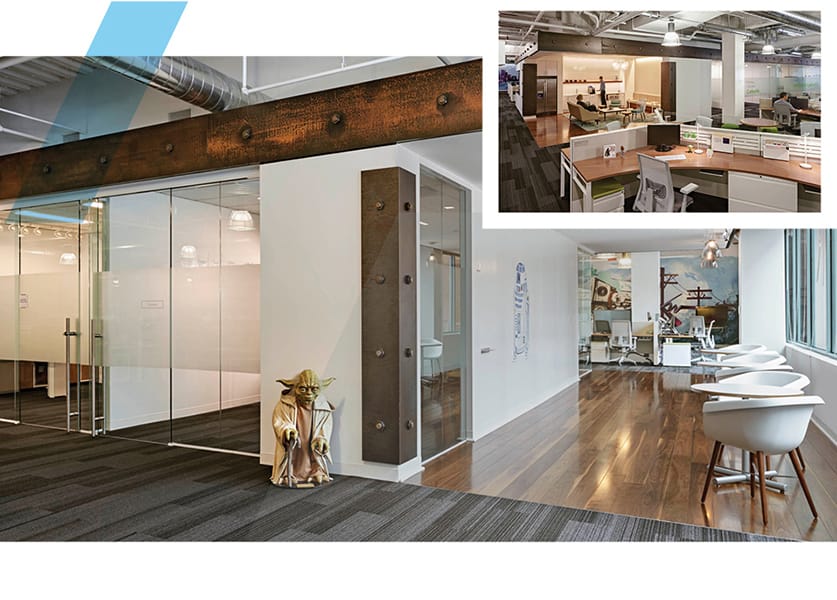 In early August, a few of our designers convened for the first-ever IA Tech Design Summit – a roundtable discussion about the future of tech workplace design. The designers who participated represented a geographical cross-section of IA: Dave Kutsunai, Managing Director and former Design Director, Seattle; Scott Delano, Design Director, Chicago; and John Capobianco, Design Director, New York.  While offering a unique perspective on each of their tech design experiences, both regionally and conceptually, there was a lot of crossover on opinions and predictions. Below are the highlights of our discussion, one which touched on a large array of topics including mobility, branding, co-working spaces, millennials, maturity, and inspiration.
The conversation began with a hypothetical look to the future of the tech office, and our group saw it going in the direction of wistfulness for the past in the age of complete technological integration. Scott saw the possibility of nostalgia playing a big role in design, much as it does now. "It's not a reaction to work specifically but a reaction to the artifice technology has provided. Technology allows us to have conversations with people who aren't there in person. Rustic features make us feel real in relation to that technology." Capobianco saw this more as the desire to replicate a genuine experience – the authenticity that today's technology workers crave. "We have seen, recently, that clients want to illustrate a specific culture within their spaces. An example is the Williamsburg coffee shop. It's overused but much loved – I think that in the future, this could continue."
Start Ups Grow Up
A trend that our designers noticed over the past few years is that as tech companies continue to grow and mature, so does their desire for more sophisticated workplace design. "As companies mature, their story is also maturing, and the office becomes a lifestyle. There is a blending of work and home that makes Gen Xers uncomfortable, but seems to be perfectly fine for millennials," states Capobianco. A natural extension of this maturity has been co-working spaces. Delano, referencing Chicago's 1871 Think Tank co-working space, said that, "Using co-working spaces like 1871 as a model, we are developing locations within offices themselves that can serve as hotbeds of innovation and incubation." This is an important distinction as it relates to the evolution of the workplace, especially considering how prolific co-working spaces such as Regus and WeWork have become.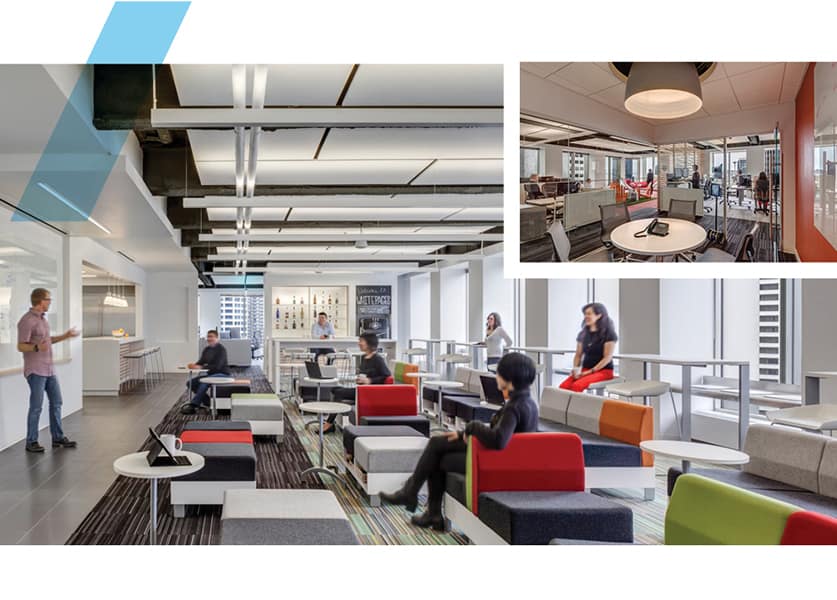 What we have started developing for our clients is a variety of alternative working spaces within an office, something that caters to the needs of the current workforce, where the lines between the office and the home are blurred. Kutsunai notes, "this is directly related to the recruitment and retention of top talent. HR has a big voice in the game here, and—at certain firms—plays a role in determining the design of that organization's workplace.  The new workforce, fresh out of school, is less looking to join companies for what they do, but to join companies that will give them the lifestyle that they want to live." Kutsunai thinks that it's not just about the quantitative aspects, the metrics that we work on with our workplace strategies team. "The pendulum is swinging to the qualitative aspects of design – what is the experience, lifestyle, amenities that you want within your workplace? This new workforce gets to choose." Something to keep an eye on is a potential backlash to this; the question becomes, how soon will society will desire more of a separation between work activities and life activities?
Workplaces for Retention
All three of the designers agreed that branding of the space plays an important role in retention of this new, mobile workforce who will so easily jump from job to job. Environmental graphic design (EGD) is an important piece of this branding puzzle.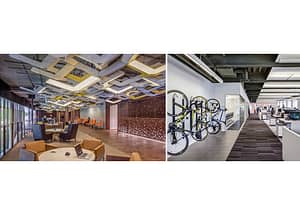 "We have to help the client provide what today's workforce are looking for, and EGD is a strong component of that," tells Kutsunai. Delano agrees, saying "One of the hallmarks of the tech office worker is that they don't just want a good job; they want a good job that is meaningful to them. They want to feel like it is something that is part of their life's path." This ties closely into Kutsunai's concept of "Space + Spirit = Place." This means, according to Kutsunai, that "all of the practical concepts that go into design, and the quantitative strategic ideas create a place that works, but it's not yet a place until the design brings the spirit to it."
Referencing our earlier conversation point about nostalgia and authenticity, Kutsunai notes that "all of those notions speak to the spirit portion, which are usually specific to each organization. As designers, what do we bring to the design equation that will help to embed spirit into a space and provide an experience that is memorable and meaningful? It could be the use of reclaimed materials from a previous building on the site, or leveraging environmental graphics to tell stories of their culture and their people, or even the repurposing of meaningful artifacts for clever new uses."
Our clients are getting savvier about this, notes Capobianco. "It's a lot more tied to an organization's brand, and the perception of the organization, and what they want to project.  The message is turning into this mashup of your traditional brand strategies."
Because tech companies are innovative by nature, they are driving us to be better architects and designers.  If a tech company isn't constantly reinventing themselves they most likely won't survive in the marketplace.  This reinvention is informing what the future of design will be. "The evolution is happening naturally, and we're working with some of the top of the top in the industry —Google, Dropbox, LinkedIn," states Capobianco.   They expect the same of us; through their own processes, they encourage our innovation."
Reflecting on their own experiences, each designer gave us a few words how our tech clients inspire them and their creativity.
Delano: "The most inspirational thing about our clients is their story, and helping them to express that story in the space."
Kutsunai: "Tech companies are inherently built on innovation; that is their business. They expect that with everyone they deal with. The opportunities that have been leveraged in our design practice have played that out. Workplace strategies, facilities management, global workplace guidelines services, EGD and building design and repositioning consulting services, are all in support of not just the design of better facilities but now have influence in the development of smarter buildings and neighborhoods."
Capobianco: "It's a hybrid of what Scott and Dave said. Basically, we aim to provide innovative design solutions; our clients are the inspiration for this because they are coming up with the newest and brightest ideas. They are already so forward thinking, and they bring out the best in us."
At the end of the conversation, Kutsunai took a moment to put his futurist hat on. "One could argue that the more we automate, the less of a workforce we will need. If this plays out, a shrinking workforce will need less office space. If we need less office space, what will then become of office buildings in our cities? How do we repurpose existing buildings or help to design smarter buildings that can morph for multiple uses over its life? This could push architectural innovation forward and becomes an intriguing thought for an interior architect and what our role can be."