IA's design for a Westminster, Colorado office is recognized by IIDA's Rocky Mountain Chapter in its annual awards program.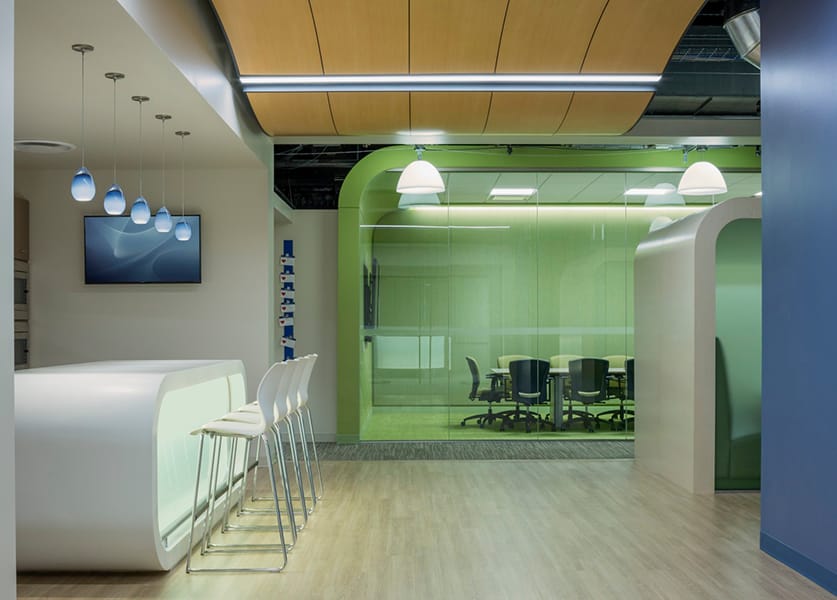 For the Westminster, Colorado office of the Reed Group, a company that develops employee absence and healthcare technology solutions, IA was tasked with designing an office that would enhance the client's recruiting and retention efforts. The solution earned IA's Denver design team the International Interior Design Association (IIDA) Rocky Mountain Chapter BESTaward for Workplace: Office Environments Over 50,000 Square Feet.
"All employee spaces were of equal priority; from the call-center where the price of employee churn can be so high, to the executive offices that were centrally located to message approachability and transparency," says Courtney Harms, project manager for the Reed Group workplace. "It was of high importance to ensure that views to the exterior and natural light were accessible to everyone."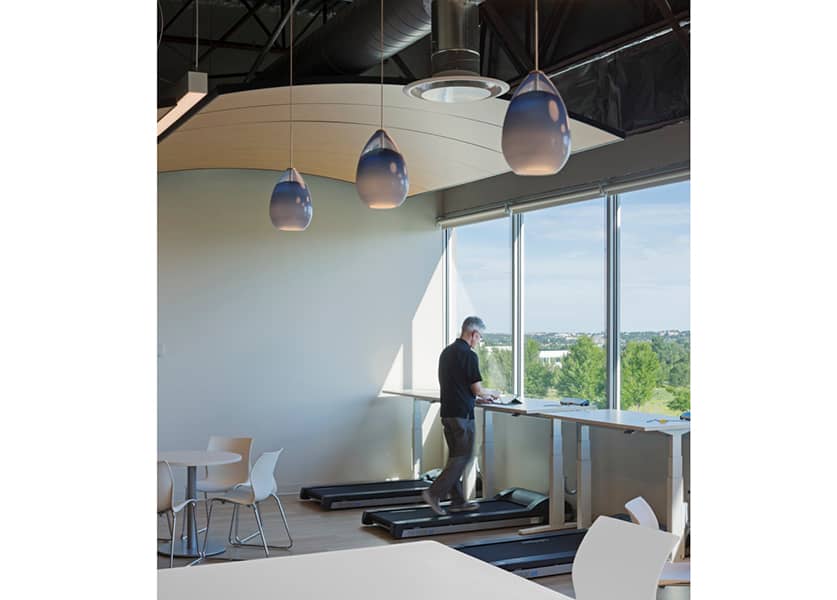 The design scheme juxtaposes raw materials and exposed building structures with soft lines and a soothing color palette. A wave ceiling installation spanning the building entry frames the volume and structure of the entry point of the ground-level floor plate. Organic lines compliments the building's exposed, industrial materials. According to Harms, the curved elements of the design reflect the curves in the logo, which tie back to the company's philosophy of compassion.
Access to views of the Colorado foothills and natural light are paramount through common areas, which include a break room, booths, lounges, and work stations. Active design features are applied through treadmill stations, height-adjustable desks, and an interstitial staircase connecting the lobby to the second level. LED lighting helps prevent eye strain.
"The greatest reward when a project is completed is having a client who is nothing but ecstatic with what they have received," Harms says. "They were very excited that their project won this award."
Project highlights:
Frameless glass throughout
Curved glass reception desk
Formal and informal collaboration areas
Private and open office
Training center
Briefing center
Natural stone finishes
Custom banquettes with maple veneer surrounds
Key Team members:
Richard Smith, design director, IA
Country Harms, project manager, IA
Swinterton Builders
BCER Engineering
Rimrock Technology
CBRE Project Management