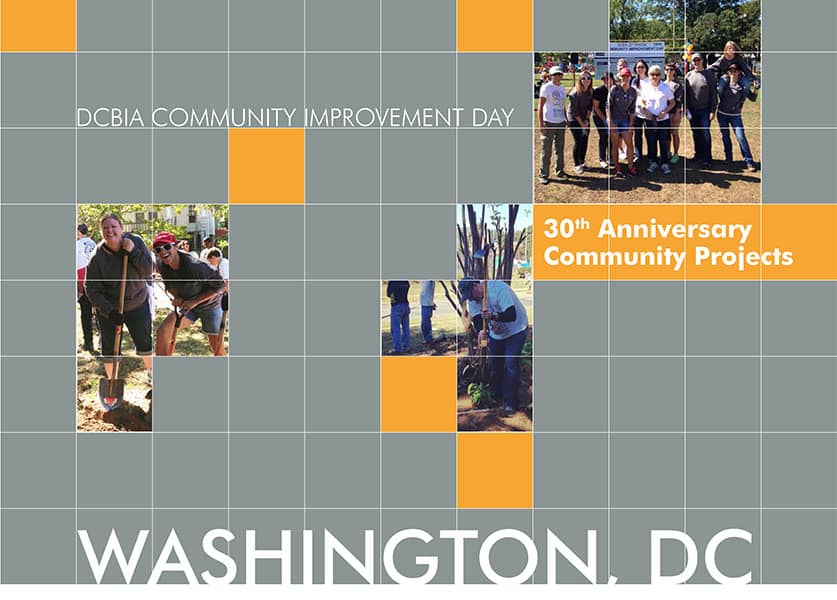 This fall, IA's team in Washington, DC joined the District of Columbia Building Industry Association (DCBIA) to contribute to the revitalization of the Dwight A Mosley Sports Complex at 20th and Otis Streets in Northeast DC. According to Danielle Melus, director of community service programs, volunteers from design, construction, and real estate donated design services and labor valuing more than $500,000 to improve a community park in Ward 5. In addition to extensive landscaping and gardening, teams repaired and built new seating, picnic tables, an outdoor exercise station, and signage. New outdoor art installations, donated by professional artist Fabiano Amin, were secured throughout the park, and an outdoor classroom was also renovated.
"Designers are crucial to carrying out the project, meeting the budget with spaces that are new and exciting, and combining all those skills in a limited time frame," Melus says. "We rely on their talent and commitment to community service, and every year they top themselves."
"We made a difference and I believe gave back to the community, which is what the anniversary is about," says David Bourke, executive director of IA Interior Architects. "I was very proud of our people."
IA team members appreciate the local impact they achieved working with DCBIA. "Neighborhoods in Washington, DC, are distinguished by their history, culture, architecture, demographics, and geography, and like many neighborhoods in the city, Ward 5 has seen significant revitalization in the past decade," explains Holly Briggs, managing director of IA in Washington, DC. "For me personally, I attended college in this neighborhood and it was rewarding to see the real estate community come together to rejuvenate the functionality of this community amenity within the fabric of the neighborhood."
For an architecture firm that specializes in interiors, the opportunity to improve an outdoor space was a fun event for IA team members. "Since IA's expertise covers all aspects of the built environment, it was a rewarding opportunity to put our skills to use by helping DCBIA revitalize an outdoor sports complex in Ward 5 of Washington, DC," says Kirsten Streeter, IIDA, senior associate at IA in Washington.
The IA team was delegated to clearing brush and overgrowth, and planting new perennials. "We arrived early to the sports complex, and while searching the park for our team leader—the park was really quite large—we found the executive director of the firm, also early and already hard at work with a group of other volunteers," says Katrina Reid, IA's director of global marketing who participated in the event. "We all jumped in and joined him."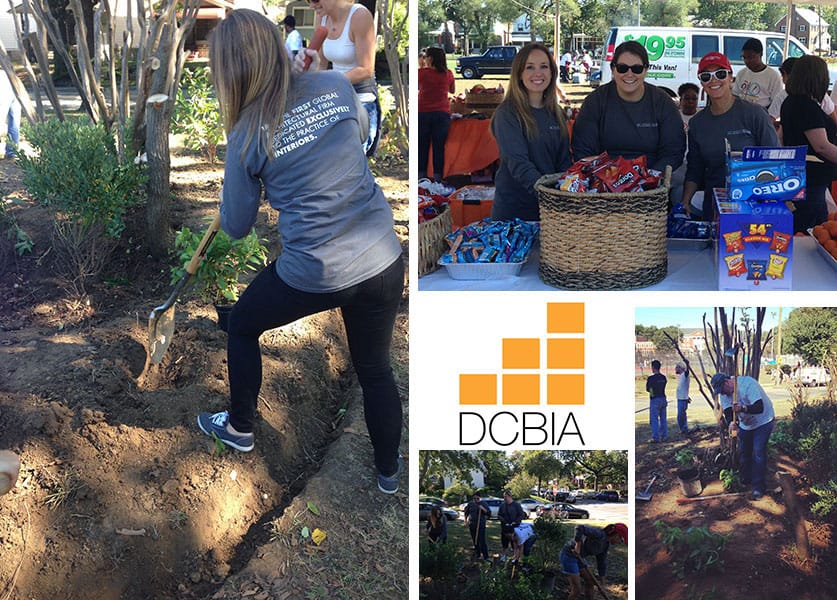 IA volunteers recall not only the hard work and results they achieved, but the fun and strong sense of community fostered by everyone's combined efforts. While painting posts, local school children couldn't resist the opportunity to turn from post-painting, to face-painting. "They had painted a wall, one of the girls told me, but it looked like they also painted each other!" says Ursula Finley, a project manager at IA who organized the event. "It was obvious they had fun."
Participating in the DCBIA event has encouraged IA associates to volunteer their time again in the future. "I volunteer at church, but it's usually about giving in terms of charity—the church providing food to the poor," says Jin Han, LEED AP, a technical designer with IA in Washington. "This event was giving in a different way: Improving a park provides means for an active lifestyle, beauty, leisure, improved neighborhoods, family bonding, and social activities. This is more than charity."