The twin forces driving today's strategic design—and what they mean for our clients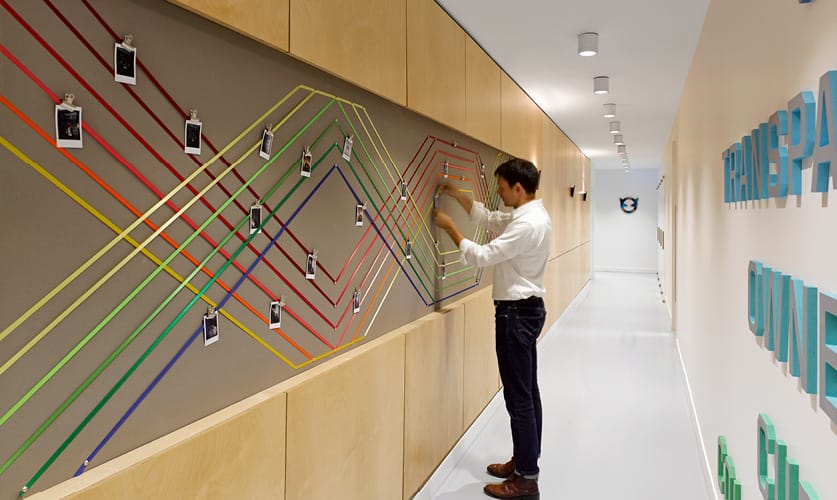 As a global firm that works across all continents and market sectors and that boasts in-house expertise in varied specialties—including interior design, architecture, strategy, experiential graphics, architectural lighting, and creative technology—IA has strategic insight into the forces propelling culture forward. A key facet of a designer's job is being a futurist, identifying common threads that manifest somewhat differently in each industry and region. At the beginning of every year, IA's practice group leaders muse on the common trends and themes we expect to define the next 12 months, as seen on our blog. In the following paragraphs, we connect the dots on those individual pieces.
Lately, we've noted twin drivers influencing our work across the spectrum, from FinTech and legal to healthcare and retail: inclusivity and hybridization. IA defines the former term as design that accounts for the needs and viewpoints of everyone involved, regardless of race, gender, class, sexuality, disability, and beyond. We define the latter term as the integration of and fluid boundaries between residential, commercial, hospitality, retail, and healthcare design. This includes environments that serve more than one function; consider as  prime examples our design for Trunk Club, a combination workspace, clublike lounge, and customer-service hubspace, and also our design for the Jamba Juice Headquarters in Frisco, TX, which contains a retail space, a test kitchen, a sensory lab, and typical workspace.
But hybridization is also a philosophy, a truly integral way of designing, with all the disciplines aligned and synergizing. Inclusion, meanwhile, is a human-centered and empathic approach, one that expands on the hot-button topic of workplace diversity to address employee engagement, purpose, and choice. Ultimately underlying both these concepts is a shift toward more optimized and resilient, real-time responsive environments. Here's a brief overview of what we're seeing, and what implications they hold.
Inclusivity
"When we create a place of purpose, people understand the need to contribute and bring their skills and knowledge to the table. We design for inclusiveness: to empower staff to share their ideas and experiences with the extended team. Peers need to feel their ideas are heard and respected, no matter what their generation, ethnic background, sexual orientation, or cultural experience." Neil Schneider, Design Director, Principal
Clients in all industries are increasingly focused on diversity as a policy that is both ethically sound and good business. Research demonstrates that curating a diverse workforce positively impacts creativity, problem solving, and ideation, which then boosts the bottom line. But having a staff that represents racial, gender, demographic, and economic diversity is only part of the puzzle. For a company to reap the benefits of a diverse workforce, it's vital that employees of all stripes feel relevant and included. A sense of belonging largely derives from feeling connected to the organizational mission, and believing that all employees recognize the value they bring to the table.
The design of the workspace can support those efforts. At IA, we create environments that foster inclusivity in various ways. For one, we embrace universal design principles stipulating that spatial features, from furniture to experiential graphics, should be intuitive for all types of users including those represented by the Americans with Disabilities Act. Another means is by recognizing the fact that the workplace is a community of individuals who have unique abilities, needs, and preferences—which the design must accommodate.
Anticipating the many and diverse users of a space means being sensitive to a broad generational mix. Indeed, many preferences break down along demographic lines: Gen Z likes free-address, Gen X-ers prefer assigned seating, etc. But people are more than just a generational label. Personality type, background, and degree of intro/extroversion have a just-as-strong bearing on individual preferences. This is why IA's workplace strategists conduct in-depth engagements to identify the full spectrum of individuals within a company.
Similarly, in retail environments, customers want to feel welcome and attended to—preconditions for brand loyalty. These and other clients are taking cues from coworking spaces as exemplars of flat, nonhierarchical environments that foster a sense of welcome, community, transparency, and collaboration.
A workplace can also be inclusive by offering employees choice: about where to sit as well as key aspects of their surroundings. With activity-based models and thermal adjustment via apps like Comfy now commonplace, the next wave of user control is a more sophisticated calibration of lighting levels, guided by factors including the type of work an employee is doing (paperwork, screen time) and their age (older adults are more sensitive to glare).
Choice as an agent of empowerment is an important component of other typologies as well. The healthcare sector is being transformed by the push for customization and convenience. With consumers having more say in how and where care is delivered, wellness can be better integrated into daily life. Although virtual care is ascendant (think telehealth portals), the two biggest healthcare trends riff on physical location: the community wellness center is a hyperlocal facility that meets consumers where they are, while larger medical centers are increasingly collocating with other services and even residential complexes. Ultimately, these shifts help remove barriers—both physical and mental—to optimizing wellness.
Hybridization
Look no further than the newest entrants to the workforce, Gen Z, to get a sense of what the future holds. This is a generation that multitasks more effectively than their predecessors, and that covets the ability to work across multiple industries simultaneously. A multitasking age demands multitasking spaces, and IA is delivering with workplaces that double as wellness centers, corporate headquarters that serve as incubation centers for other companies, and all manner of mixed-use complexes. New types of working have spawned new types of facilities, such as ideation centers and creative suites, within the officescape, while bricks-and-mortar retail destinations are incorporating showroom and lounge features to seduce customers.
The face of healthcare is also changing, with facilities now geared for one-stop shopping. Collocation with other amenities and a club-like atmosphere are other characteristics of the hybrid health space. Our clients desire environments that are aesthetically hybrid, too, for instance, retail destinations that are carefully tailored to the brand identity—and yet a blank slate ripe for frequent reinvention.
In the hybrid model, space is often treated as a sort of living, breathing organism that can be reworked, redesigned, and adjusted on demand. Today, we want and need our work, shopping, and wellness environments to be responsive and resilient—both in the moment and over time. These are exciting challenges for us as designers, and have led to novel approaches and solutions that break new ground and support humanity.
Conclusion
High-performance expectations have birthed a whole industry dedicated to collecting and measuring worker performance data. The spaces in which we work, create, ideate, and heal are likewise expected to perform, and data collection and analysis is allowing us to calibrate and fine-tune our designs to that effect. Both hybridization and inclusivity speak to the desire to optimize performance and creativity via a resilient workforce and a workspace that's responsive to our minute-by-minute needs.
Contemporary culture is also fixated on control. End users want and expect to control their surrounding environment, their health, and how, when, and where they work and shop. But the next frontier might be to surrender some of this control to smart environments capable of anticipating our needs and preferences better than we can, based on data about our habits. The trends toward hybridization and inclusivity seem to be leading us to such anticipatory, optimized, on-demand adjustable environments that do some of the thinking for us—freeing up our minds to focus on the bigger picture, to perform and create.
Heard of the Shift Series?
If you enjoyed this article, you'd probably enjoy learning about our annual shift series, and other research that we perform with the help of industry partners and clients.
---
IA is a global firm of architects, designers, strategists, and specialists. We focus exclusively on environments through the lens of interior architecture—a radical idea in 1984, when IA was founded. We are highly connected agents of change, committed to creativity, innovation, growth, and community.
IA is a global firm of architects, designers, strategists, and specialists. We focus exclusively on environments through the lens of interior architecture—a radical idea in 1984, when IA was founded. We are highly connected agents of change, committed to creativity, innovation, growth, and community.
---
In IA's latest research exploration, we delve into accessible signage and wayfinding. Our experts discuss how truly accessible signage goes beyond ADA safety regulations to help close the large gap between minimal technical requirements and a more holistic, accessible wayfinding experience. Get Access Nearest IA Studio Please Select One AtlantaAustinBostonCharlotteChicagoDallasDenverDublinHoustonLondonLos AngelesMiamiMinneapolisNew YorkOrange CountyPhiladelphiaRaleighSacramentoSan FranciscoSeattleSilicon ValleyTorontoWashington DC I consent to having my …continued.
---
The Profitable Property: An Unlikely Repurposing In a bold move, Bank of Montreal (BMO) is relocating 3,000 employees working in business and personal banking throughout Toronto to a single location atop four floors at Eaton Centre, one of Ontario's largest shopping malls in the city's downtown area.The new 346,401-square-foot workplace, a former Sears store with …continued.
---
To Hotel or Not to HotelBy John Hopkins, Design Director & Cara Rooney-Fields, Senior Designer To hotel or not to hotel? That is the question currently confronting many law firms. Why? The answer lies in the increasing acceptance and appreciation of the hybrid work model by lawyers and their colleagues. This now commonplace approach has impacted the …continued.
IAQ - The quarterly report from Interior Architects.