A newly established legal services firm defines brand through its IA-designed workplace.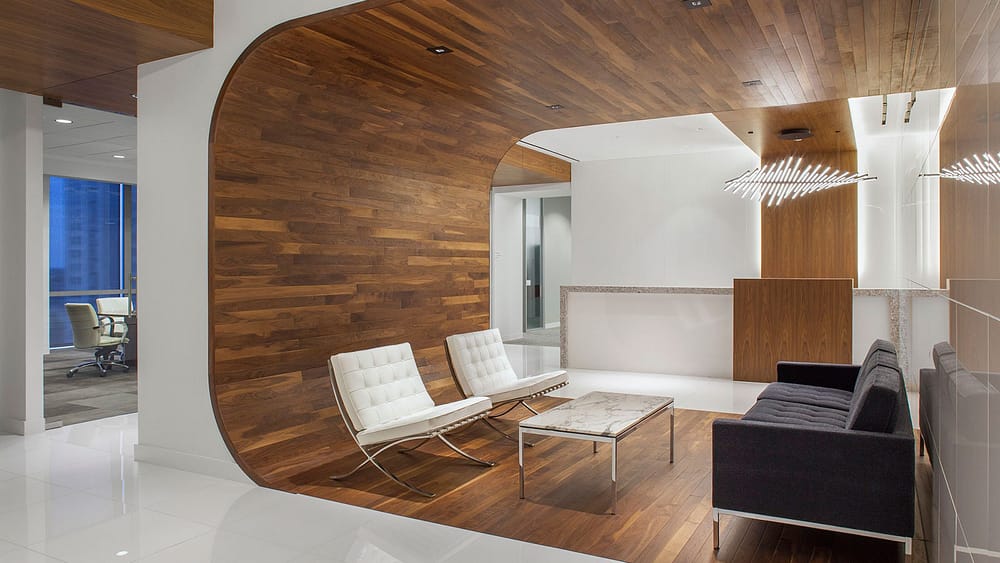 Progressive law clients have been requesting less formal and more multi-purpose spaces for several years, but when Dallas-based law client Cassady Caldwell & Curry (CCC) requested that, plus "baller status," IA's design team recognized this was not a predictable law firm. "They were a younger client that had just established their firm," says Zach Weihrich, IA's Dallas designer who led the project. "When they weren't being serious lawyers, they made a lot of jokes about Top Gun and Batman. Someone threw the idea of a shark tank into the brainstorming mix early on, and that really stuck." Despite the infeasibility of installing a shark tank—the office measures 10,000 square feet in total and the building does not house a water treatment facility—the shark theme manifested itself as an expression of status.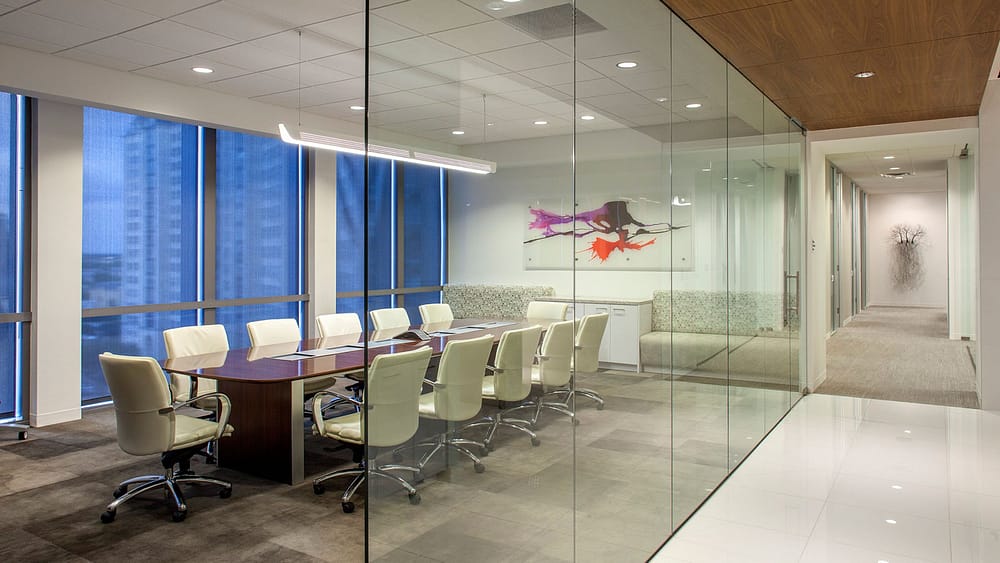 During client interviews, Weihrich learned Cassady, Caldwell, and Curry also had a mutual love for hip hop. In an interview that recently published in Forbes, the team shares their rap-influenced past with writer Shawn Setaro:
Despite being based in Dallas, the trio of Brad Caldwell, Jason Cassady, and Austin Curry are huge fans particularly of West Coast rap. They used to jokingly refer to themselves as "214," a nod to both their Dallas area code and, more importantly, the Snoop Dogg/Warren G/Nate Dogg trio 213. Warren G's classic 1994 debutRegulate…G Funk Era is a particular touchstone for the partners, and an album they still listen to in order to get through long nights of trial preparation.

"There's a whole bunch of good stuff off that album," said Caldwell. "I used to have the entire 38 minutes memorized."Curry is, he readily admits, the "biggest Tupac fan" of the trio. "If I have control over the music, I'll probably put on [Pac's 1996 album] All Eyez On Me," he told us. "The ringtone in my office is'Picture Me Rollin'.'" For Caldwell, another Pac tune is key. "'All Eyez On Me' is pretty representative of being at the podium at trial," he explained.

…In another nod to the music they love, all of the office's conference rooms are named after famous rappers. The Wallace (named after Christopher Wallace, a.k.a. The Notorious B.I.G.), the Carter (after Shawn Carter, a.k.a. Jay Z), and the Broadus (Calvin Broadus, better known as Snoop Dogg) not only are named after rap greats, but the rooms also include artist-appropriate ringtones and screen savers.
Architecturally, certain components of the office fit the legal mold: Private offices are utilized to protect CCC clients' interests and work stations are provided for legal aids and secretaries. A pantry and lounge area that runs the full perimeter of the back of the office breaks from the tradition. "There was an emphasis on entertainment space, so this lounge is a place where everyone can spill out," Weihrich says. "They wanted an area to play football late night, too, so low profile furniture maintains clear sightlines."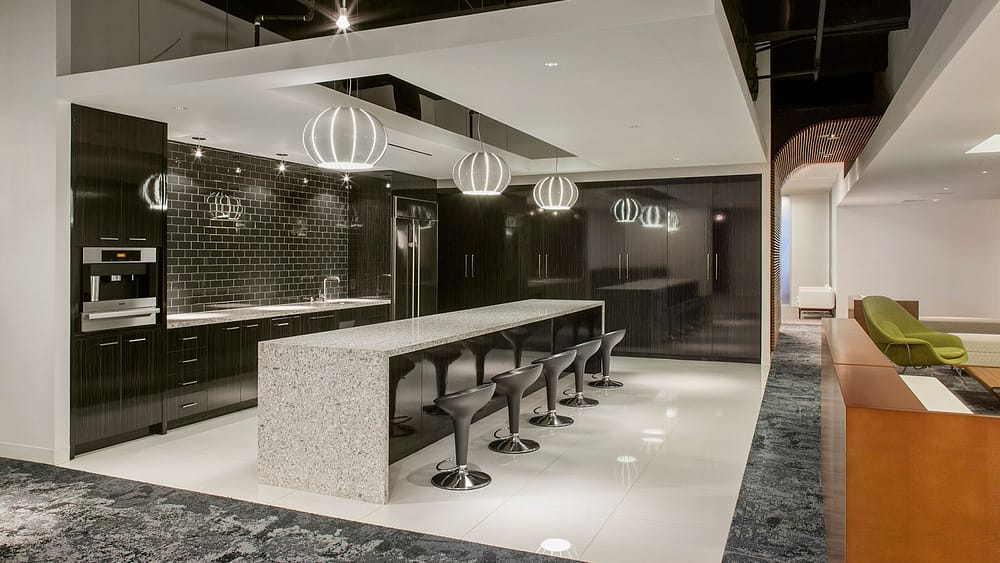 Form introduces brand with three "Cs" in the lobby area. A C-shaped booth holds seating for waiting visitors; wood paneling wraps around the reception area from floor to ceiling; and granite-inspired Caesarstone wraps three planes of the reception desk.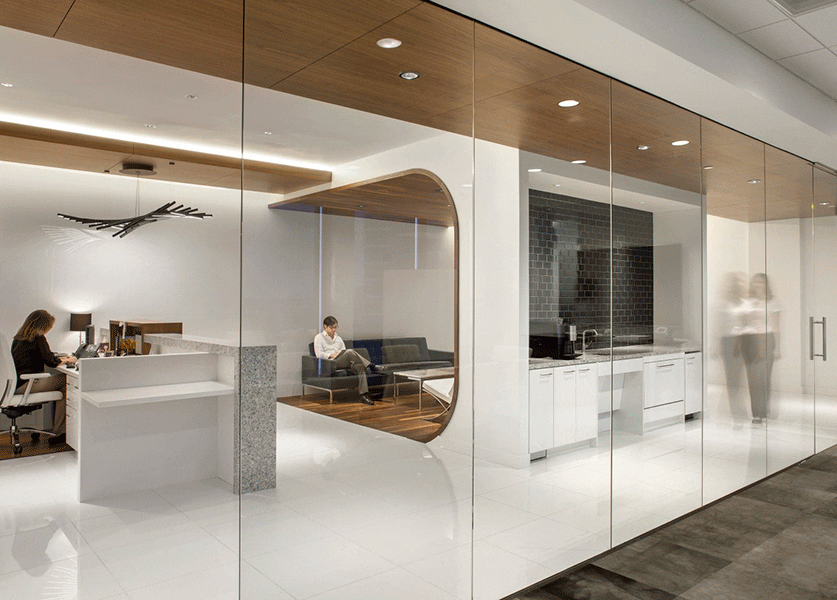 Commissioned artwork also highlights the firm's local status. An old CCC friend is Dallas art-world-wunderboy, Shane Pennington. In addition to a number of abstract, water-themed canvases, he also constructed a custom, high-contrast shark sculpture—as close to a shark tank as the partners could get.