a community bank blurs the lines between retail, service, and work space to optimize the customer experience.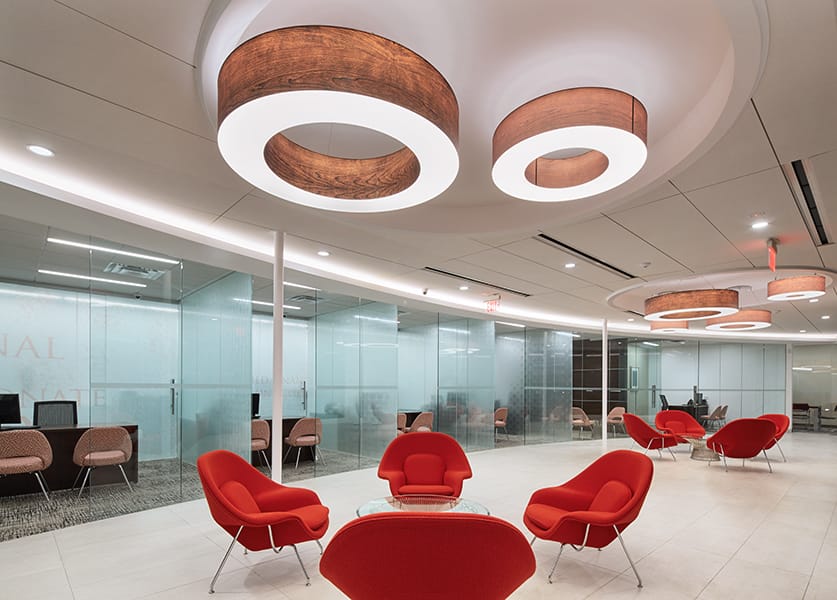 Commonwealth Business Bank, (CBB Bank), is a community bank serving customers in the southeastern and western regions of the United States. Adhering to its five-principle philosophy, the bank sought to redefine the customer experience through a new interiors program that includes conference rooms, private teller offices, a server room, an ATM room, and a client espresso bar. The pilot project for CBB Bank's six retail branches was recently completed in Fullerton, California.
"IA was able to translate the needs of our staff and customers in a way that represents our company's five principles: professional, personal, principled, passionate, and proud," says Jae Shin, vice president at CBB Bank. "In accordance with our motto to 'Think Differently,' IA delivered a workplace and retail destination that sets our client experience apart from our competitors."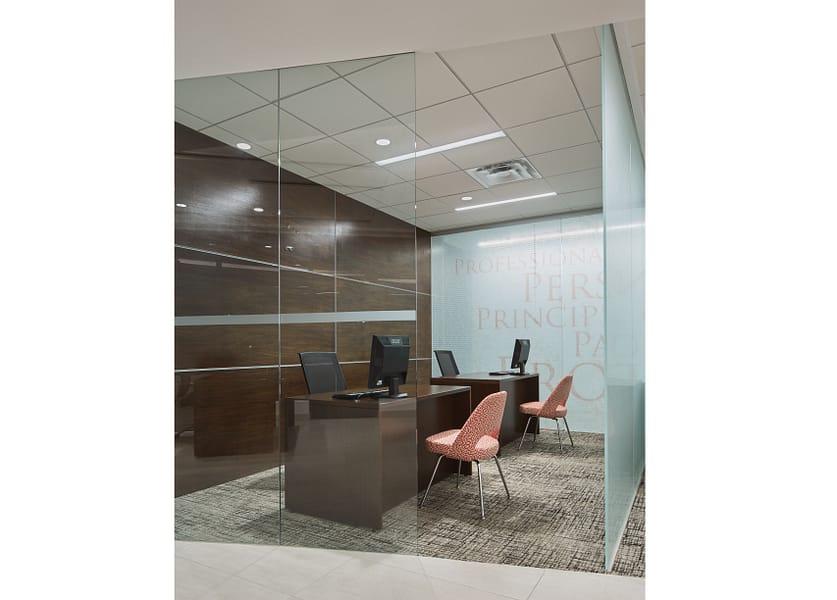 To deliver the best customer service experience possible, the design eliminates teller lines completely and replaces them with private office settings. This layout allows customers to accomplish any goal in one setting, from teller service  to opening a new account. These comprehensive services, provided by the Universal Banker model in which all needs can be met in one location, help CBB Bank maximize convenience and relationship building with clientele. The bank reports positive feedback from customers, who find the one-to-one personalized service environments create a more comfortable and friendly encounter.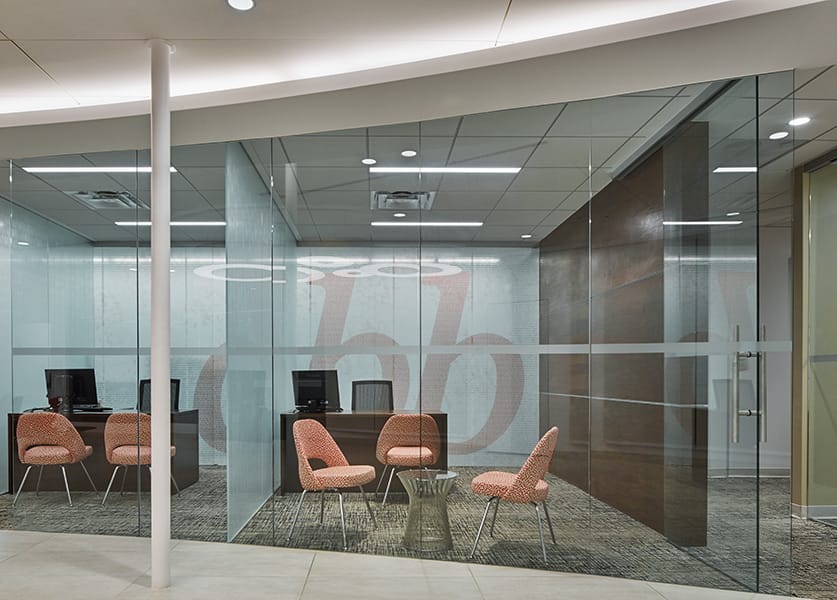 CBB Bank strives for leadership in technology-based solutions, and the new interior communicates this objective. Technology features within the office integrate with CBB Bank's mobile app, allowing customers to efficiently transition from paper banking to digital banking, bringing all requisite information to their fingertips.
Incorporating CBB Bank's brand color throughout the workspace builds brand identity and and recognition for both bank staff and customers. Red accents in furniture and the logo are consistent yet subtle. Custom wall graphics integrate brand messaging throughout the physical space. Floor-to-ceiling-height curved, continuous glass partitions thread through the workspace, reception, and retail spaces to create a transparent and collaborative atmosphere. Maximum natural light opens the space as a welcoming and community-based destination.
"The client wanted the new space to maximize convenience and relationship building, in a way that is consistent with their brand strategy," says Angela Lee, senior designer in IA's Los Angeles office. "CBB Bank embraces new modes of thinking—especially if it benefits clients—so we designed a space that supports the brand motto: Building relationships, one client at a time."