A legacy railroad company updates its headquarters to support its staff and community in Atlanta.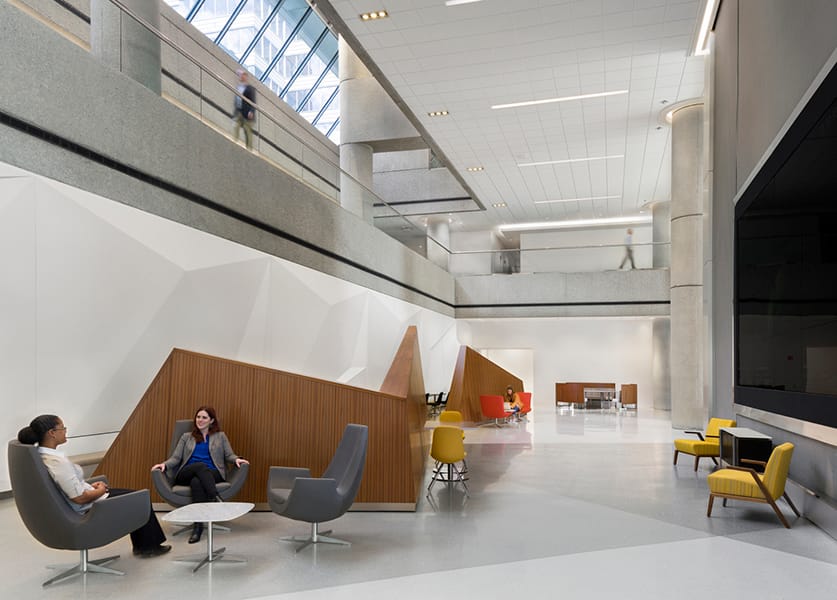 Norfolk Southern Corporation is a major rail freight transportation company in the United States, operating over 20,000 route miles in 22 states and the District of Columbia. Norfolk Southern engaged IA to renovate the lobby and conferencing center of its building at 1200 Peachtree Street N.E. in Midtown Atlanta, and tasked IA to design a space that would facilitate employee collaboration and enhance the corporate brand among the public, employees and potential new hires.
IA redesigned the multilevel lobby and adjacent conferencing center floors to create a modern, open, and efficient space while embracing the railroad imagery that defines Norfolk Southern.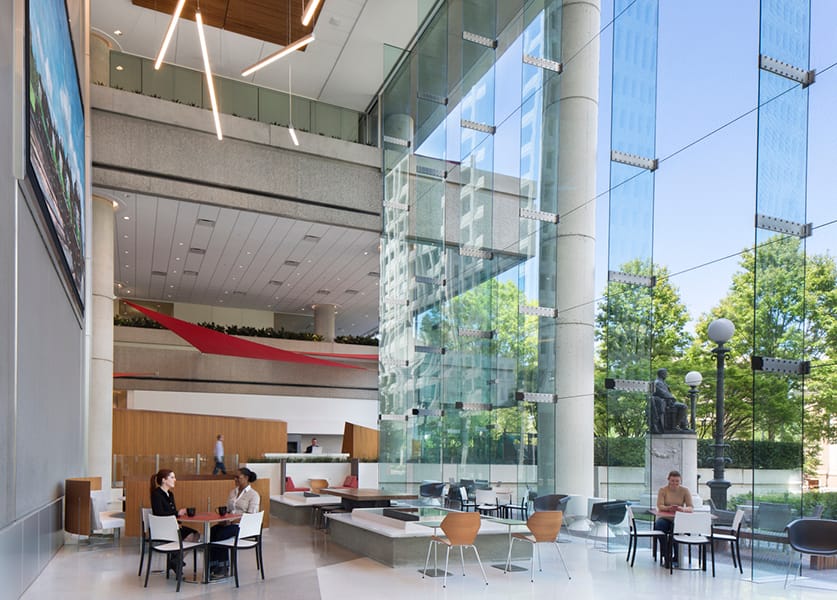 "Our goal in the lobby was to create a light, open environment to optimize employee engagement and facilitate communication," said Rusty Misenheimer, Norfolk Southern's facility services manager. "IA worked effectively with our team to help achieve our business objectives."
Bright stainless steel and woven metal mesh panels frame large-scale digital projection screens on each side of the lobby. The street-facing screen features rotating images of Norfolk Southern people and railroad images, highlighting the company's economic, environmental, and social commitments to corporate responsibility. The rear lobby screen displays customized content for internal employee audiences.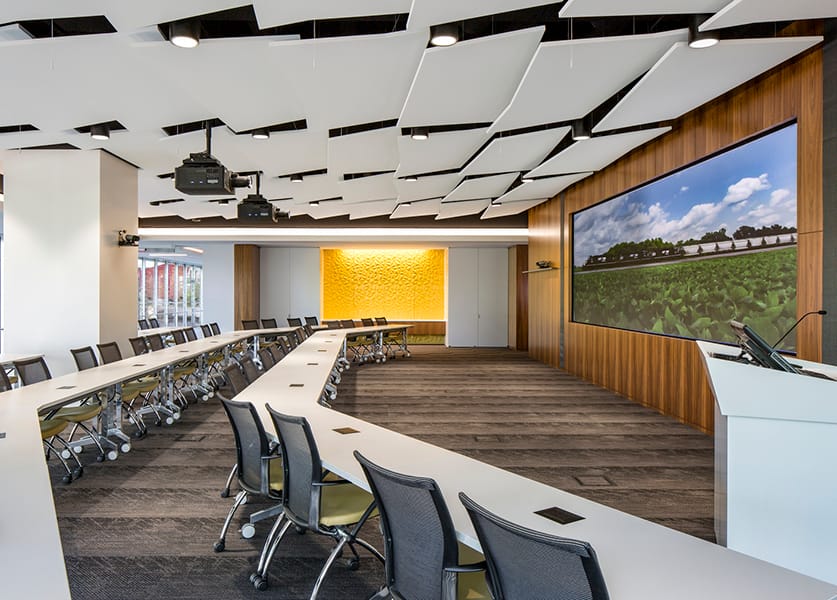 "The reorganization of space on the first floor provides for better flow from the employee and visitor entrances, new areas to gather and collaborate, and a relocated pantry/vending area," says Gregory Garcia, IA's senior designer on the project.
The conference rooms on the second and third floors have been transformed into multi-use spaces equipped with communications technology, including teleconferencing. Angular faceted rock walls framed in walnut create divisions of space. Several of these complementary forms are fixed, housing food service functions, while others are designed  for modular mobility. These moveable elements create both semi-enclosed casual meeting spaces and flexible, open space.
In addition to reconfiguring the lobby and conferencing center, IA restored exterior terraces. Brightly colored sun sails that swoop over the lobby's café area provide shade and visual counterpoint to the rocky façade.