The first brick-and-mortar location for an established e-tailer gets an adjoining workplace that supports growth and corporate culture.
For a fashion brand that marries time-tested craftsmanship with a robust technology platform, the opportunity to develop a unique workplace and conjoining pilot retail location was a challenge that IA met with enthusiasm. Combatant Gentlemen (CG), a menswear company lauded for its sheep-to-closet approach, recently moved from 1,000 square feet of start-up space to a 10,000-sqare-foot location in Irvine, California that encompasses offices, a design and media production studio, and a retail showroom aptly named The Haberdashery. It is the brand's first brick-and-mortar location and features a cohesive digital and analog shopping experience.
"The biggest challenge our new space presented was how to seamlessly blend the showroom with the workspace, while allowing the showroom to have its own persona and take on the brand's ethos," says Imran Rahman, COO of CG. "IA helped us tremendously with gorgeous modern elements and heritage items that are an homage to Vishaal Melwani's—CG's Founder and CEO—tailoring roots."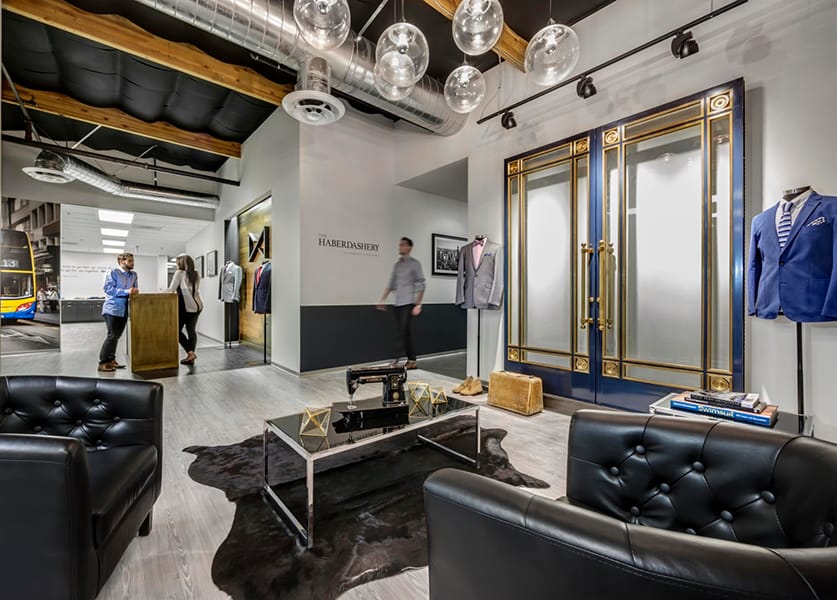 The program is broken into public (retail) and private (office) areas. A custom reception desk in a refined industrial aesthetic greets visitors, directing them to a primary lounge area. A cluster of tufted leather seating and mannequin displays frame Art Deco-style doors reclaimed from one of Versace's first showrooms in the U.S. The doors tie directly to the company's heritage: Melwani is a third-generation tailor whose parents owned and operated several Versace boutiques on the West Coast.
The doors lead customers to an ink-hued feature wall with CG's Magic Mirror, a proprietary, RFID-enabled display that enhances the showroom experience. CG's chief technology officer, Scott Raio, engineered the Mirror to recognize not only what the customer is wearing, but also supply product details, pricing, sizing, and photos for customer use, all in real time. It also interfaces with a monitoring system that CG mines for opportunities to improve the customer experience. Beside the Mirror, wood and blackened steel clothing displays are easily accessible to a staff of stylists.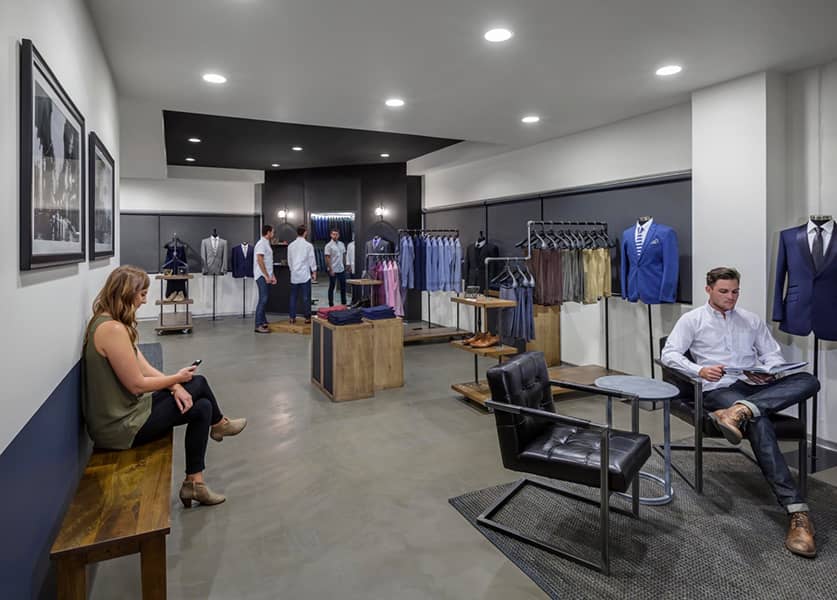 Adjacent to the showroom is a production area for design charrettes, product mock ups, and photo shoots.
Bays with floor-to-ceiling dividers reduce light seepage and allow multiple photo shoots to take place simultaneously.
"The photo studio has been an amazing addition to our office: Being an online fashion brand, speed is key so with an in-house studio, we can shoot product and marketing assets anytime, and load them to our channels within minutes," Rahman says. "Other than our showroom, it's the busiest room in the office!"
The workspace is currently programmed to support a staff of 30, with room to grow. Executives share glass-enclosed offices while benching workstations line an open office. Writable boards and display screens adorn the walls. A cluster of seating next to a screen with an Xbox hookup stands ready for the impromptu mid-day game break. For after-hours game challenges, two kegerators are not far away.
"Designing Combatant Gentlemen's first brick and mortar location and their new offices was a fun and rewarding experience," IA Project Designer Melissa Underwood says. "Retailers have typically translated their physical brand to the digital realm, but inverting that dynamic—and complementing it with a supporting workplace—was a unique convergence of architecture and environmental graphic design to support productivity and corporate culture."
The flagship Irvine location has been so successful that a second offline location in Los Angeles is already underway. "Our expansion into Los Angeles is an important next step for the brand," Rahman says. "While we're thrilled when people drive in and fly in to Orange County to visit our showroom, we feel that having a central location in LA to serve our customers and fans is great way to bring the brand to them."