IA offices around the country flex their fashion design muscles in support of their local IIDA chapters and the corporate design community at large.
Each year, IA participates in regional design challenges on the fringe of commissioned client work. Independently hosted by various chapters of the International Interior Design Association (IIDA), the events pair local design firms with industry manufacturers to design and construct a wearable fashion piece that showcases unique design, problem solving, and collaboration outside the typical formula for interiors. From coast to coast, IA has designed and shown fashions for IIDA Texas Oklahoma Chapter, IIDA Illinois, IIDA Georgia, and IIDA Mid Atlantic Chapter.
"I think it is very important to have events like IIDA Cre8 because it is a great opportunity to get to know your local design community," says Katie Lazarine, job captain at IA, and garment underwriter committee co-chair at IIDA Texas Oklahoma for the third year running. "Not only does it bring together designers and manufacturers but it is also a bonding experience between the team of designers." The events can also serve as charitable opportunities. Funds and collection drives have benefited organizations such as Dallas Casa and IIDA Texas Oklahoma Chapter Education Fund.
Atlanta: IIDA Georgia's Dressed
The committee that produces each year of Dressed identifies a central theme: For a recent edition teams were assigned one historical event. IA's Atlanta office partnered with Corian, Lighting Associates, and CFC Group to realize a fashionable manifestation around the discovery of electricity. A bodice of custom fabricated Corian was backlit with LEDs, and a skirt was made from deconstructed and hand-frayed chair fabric. A body suit beneath was live wired and studded with more than 1,000 rhinestones. The costume was awarded "Most Creative Use of Materials."
"The result? A garment that lit up the runway," says Trey Champion, designer with IA in Atlanta. "All of design is converging: Knowledge and inspiration will never be wasted. Perhaps Paul Smith said it best: 'You can find inspiration in everything and, if you can't, then look again.'"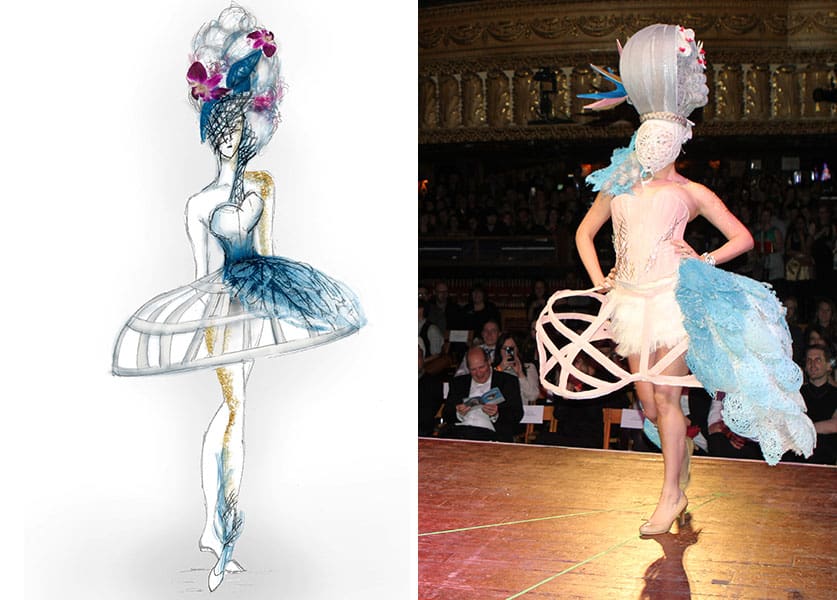 Chicago: IIDA Illinois's Stitch Masquerade
Working with the idea of historical figures and decades in history, a design team from IA's Chicago office and J+J Flooring designed a 1760s interpretation of Marie Antoinette. The team researched ideas for the costume—from Alexander McQueen to lighting manufacturing to ornithology—related to historical accounts of the former Queen of France. The resulting design incorporated a mask, a giant hairpiece, a decorative corset, a period-accurate pannier, plumes of feathers, and hair ornaments made entirely out of carpet yarns.  The concept was honored with the chapter's "Best Concept to Creation" award.
"There were a lot of work sessions with the endlessly enthusiastic design team, sticking our hands into sticky glue and unraveling knots from carpet yarn," says Eugenia Bae, an IA job captain in Chicago. "It's fun to work with designers in the office who I don't normally work with, to see their creativity and work styles. I think we all come out of these events with a better understanding of our colleagues."
Los Angeles: IIDA Southern California's Haunt Couture
Based on the 2014 theme "Mirror Mirror, who's the fairest of them all?" the Los Angeles team at IA, with Teknion and Knoll, developed themes from the fairytale Rapunzel. Highlighting beauty, youth, and decay, the entry incorporated five IA staff members to represent an abstract but cohesive concept. A gown was made from two gray-toned Teknion upholstery fabrics, and the gloves, headpiece, and bodice and skirting structure was realized with support from Knoll. Four models wore identical black unitards, blond wigs, and smeared makeup. The overall presentation won the People's Choice Award.
"In order to stand out in your field, you need to see and explore the similarities in other creative fields," says Jacob Green, an intermediate designer at IA in Los Angeles and creative director for IA's Haunt Couture concept. "I believe the greatest periods of artistic enlightenment occurred when people were involved in more than a singular discipline. When you're engaging in other creative processes, you're joining a dialogue and the product of that can be amazing."
Washington: IIDA Mid Atlantic Chapter's Cosmo Couture
Under the umbrella of U.S. presidents, the Washington, DC office of IA was tasked with designing a gown inspired by John F. Kennedy, who served as the 35th president from 1961 to 1963. The office is located across the street from the Kennedy Center for the Arts, so the team drew from architectural inspiration of the former president's legacy. Working with materials from Designtex, the exterior geometry of the building informs the bodice, while landscape forms and lush interior finishes prompt the form of the gown's skirt and train.
"Everyone probably expected the theme to be materialized in the fashion traditions of Jaqueline Onassis, so it was nice to do something surprising," says Allison Kramer, a marketing coordinator with IA who helped design the costume. "It was also inspiring to translate our neighboring landmark—something we are inspired by every day—into a final product. It's great to stretch our design muscles in different ways and collaborate across disciplines."