Mobility in the office provides opportunities for disruption—or the advancement of idea sharing and communication.
When it comes to innovation in workplace design, there isn't a line that miraculously appears in the sand where something happens. What we've seen over the last five years of innovation is a progression of change. There has been a focus on collaboration, and more recently, an increase in flexibility.
These are all features of the open office. Corporate real estate executives, human resource managers, and designers have put forth exhaustive efforts trying to pinpoint exactly how to drive innovation in the workplace. There is this idea that the more you are elbow-to-elbow with someone, the more innovative you become. You're influenced by what is around you. In terms of some projects the idea of hearing more, seeing more, being more available makes it easier to collaborate, test out different ideas, or come up with something new. The drive behind all of this is for innovation of industry.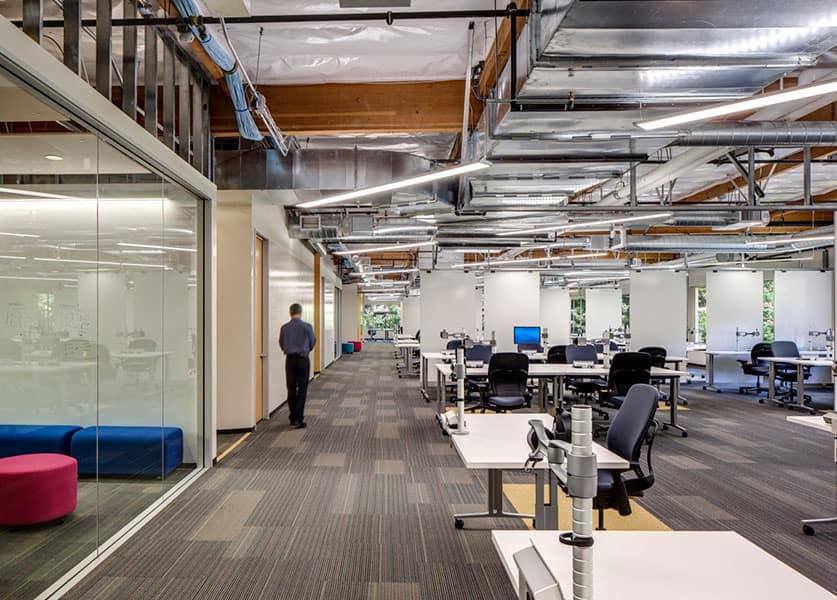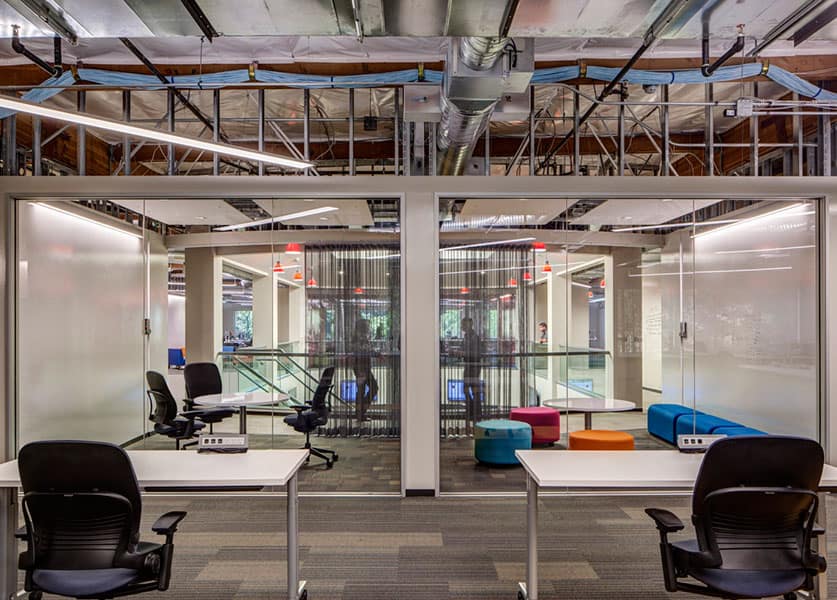 Something we're seeing a lot of is the idea of bisociation. This isn't a new concept: It was coined in 1964 by Arthur Koestler in his book The Act of Creation. He posited that placing professionals with two uniquely different skill sets, or two incongruous departments, next to each other creates a setting for one to overhear a conversation that sparks a new idea or presents a solution to an unsolved question. This is taking disruptive influences from one group, and combining it with another. For example, if finance sits near software engineering, it could spurn something serendipitous. The byproduct of this is innovation.
Here at IA, we've been talking about this idea through the application of free addressing. The idea started to go mainstream in the '80s to reduce real estate, but it was always too expensive, or required too much equipment. Now that we have the technology readily available for everyone to work completely untethered, it is a successful program for a number of organizations. It isn't just about shedding real estate; it's about mixing it up. The industry I see embracing the concept of free addressing most readily is technology—it may be an engineering mentality, despite a propensity for routine. Our financial clients have been talking about it for years, and we did it with Herman Miller years ago in Zeeland, Michigan.
An example of these concepts in action is the SAP project in Palo Alto. It's one of the most mobile and fluid workplaces ever designed. There is no separation between departments: Even the walls are open at top so that  sound is allowed  through. It provides that opportunity to overhear something that may spark a new idea. SAP isn't technically classified as free address, but in a way they are. Staff moves their desks wherever they want, so they are extremely flexible. In this project, the furniture is the mobile piece, not the person. For SAP's team of engineers that fluctuate daily between collaborative and solo, heads-down work, this is a better solution than moving their equipment to various collaboration points throughout the day. It's been very successful for SAP.
On the other side of the coin, over the last five years people have lost track of the idea that innovation isn't always a team sport. Often, we see an individual pursuit with a support team team that develops it. This imbalance was highlighted in industry and mainstream media's coverage of  Susan Cain's book Quiet: The Power of Introverts in A World That Can't Stop Talking. This hyper-focus on collaboration has led to environments where people can't be alone, quiet, or focused; they have to go home to find peace and quiet, if that's even an option. In some cases, we've lost that balance in the workplace. The next five years of innovation in the workplace is going to be fine tuning and creating a better balance. It's time to take what works best out of all these radical ideas and build a solution that is as flexible as the workplaces we design. But there won't be a decrease in desire for flexibility. On the contrary, that will continue to increase.