IA created the winning design for the "Design a Light" competition, hosted by children's charity Sparks and lighting manufacturer FUTURE Designs.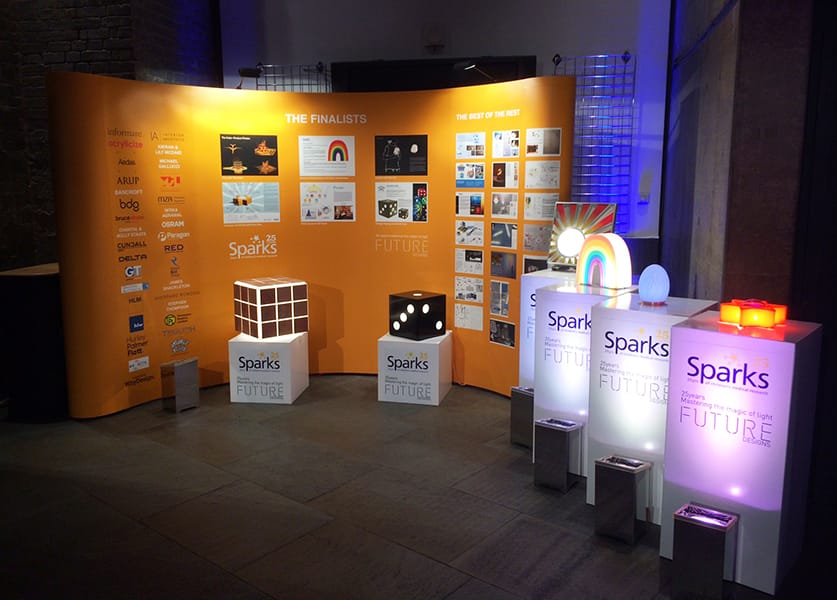 In honor of dual 25th  anniversaries, children's charity Sparks and lighting manufacturer FUTURE Designs teamed up to create the Design a Light competition. The event, which helped raise funds and awareness for the Sparks medical research charity, challenged both the general public and members of the architecture and design community to design an inspiring, uplifting, and fun light to entertain children who are ill. IA is honored to be the winning design team of the inaugural design competition, and a proud supporter of Spark's charity for children.
"There was trepidation when launching the competition that interest would be low–but the quantity and high standard of the entries soon banished any doubts," says David Clements, managing director of FUTURE Designs.
To kick start the design process for the competition, IA's London office first conducted its own internal competition, where staff members divvied into small groups and developed designs to present to the entire office. An interactive nightlight called Story Star, which was designed by IA designers and architects Jason Chiasera, Ricky Batra, Ilaria Parmigiani, Nigel Montague, and Elaine Du Preez, emerged as the winner that was submitted into the Design a Light competition.
The concept of the Story Star light contains three components: A children's light, an activity, and a "get well soon" message. Story Star's base, which is made of soft-touch plastic and features a star shape inspired by the Sparks logo, represents the children's light component and serves as a beacon of light and love. Story Star's LED light acts as an activity element. Children can draw or write on clear perspex disks with whiteboard markers, or choose from laser-cut, pre-designed image disks, and insert them into the night light's transparent dome to be projected onto the ceiling. Lastly, the projected words or drawings serve as optimistic messages for patients who need distractions or positive thoughts during difficult times. The projected words or drawings can prompt storytelling activities for patients and their visitors.
"It is fun to think about where we started and the final product," says IA's Chiasera. "Our initial designs varied greatly but using a collaborative approach we managed to pull the best pieces of each design into one product."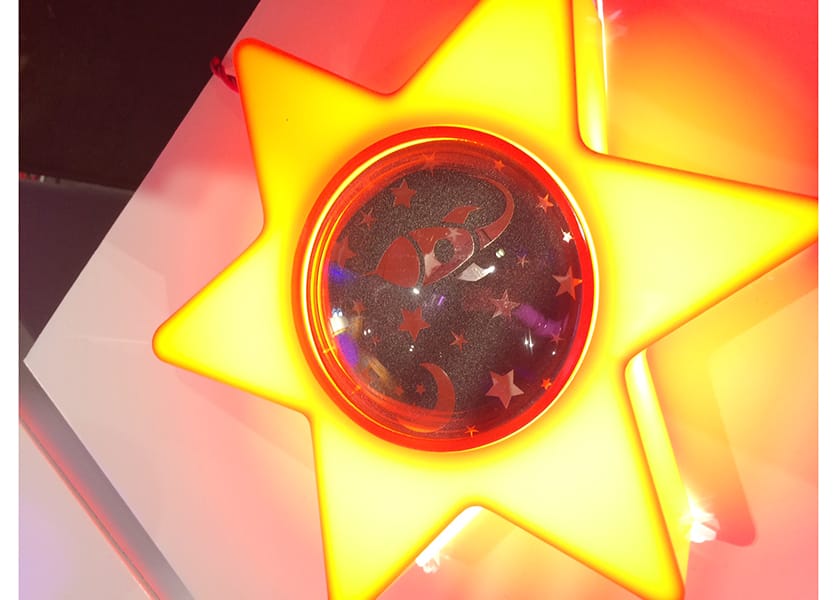 All projects were reviewed by the design competition's panel of judges, which included Martin Jepson, president and COO of Brookfield Property Partners' UK office division; Jon Couret, managing director and head of Corporate Real Estate Solutions for Barclays; Theresa Dowling, editorial director and editor for FX magazine; Sarah Richardson, editor for Building magazine; Brendan Keely, SLL Secretary for the Society of Light and Lighting; Elvira Morrison, director of communications and marketing for Sparks; and David Clements, managing director for FUTURE Designs.
The judges revealed the shortlist in October, and the winning design, Story Star, was announced and celebrated at the Sparks ball in November. At the ball, the top three product designs, which were manufactured into three prototypes by FUTURE Designs, were put on display and auctioned off to raise funds for Sparks.
The first Story Star prototype was purchased by Hurley Palmer Flatt for $6,500, the second prototype was donated to the family of a 17-month-old boy who passed away from Krabbes disease, and the third prototype now lives in IA's London office. Overall, the event raised $300,000.
"I take my hat off to FUTURE Designs, which has celebrated its 25th anniversary with this philanthropic competition," says FX magazine's Dowling. "There are not many philanthropists left, and to storm ahead with this competition to benefit sick children, at considerable expense to itself for reproducing the top three designs, gets my vote. And the fact that the competition attracted such great submissions is testament to both SPARKS and FUTURE Designs' standing."