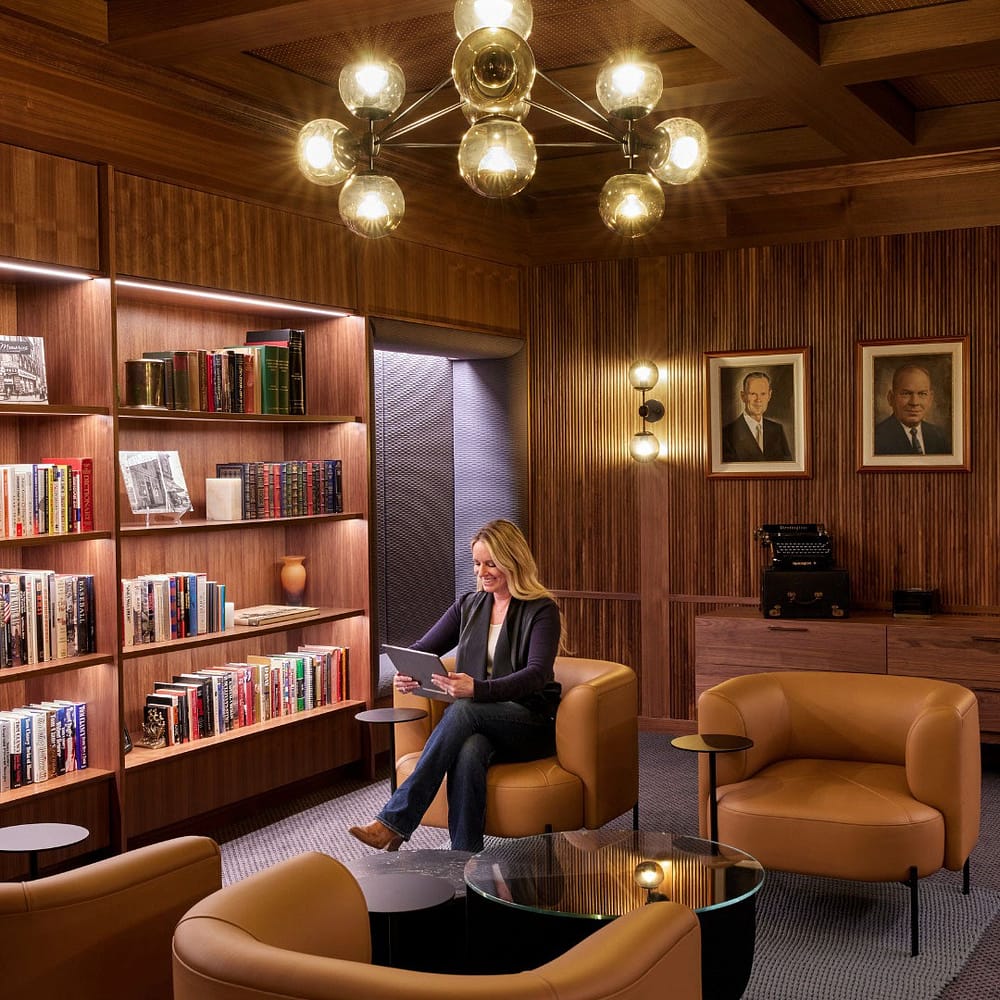 Workplace design thinking is evolving at the fastest pace in decades, and one word seems to be on everyone's lips: hospitality. At the same time, a wholesale pivot to a pure hospitality design approach (an all-out sprint for the luxurious and engrossing aesthetic of the boutique hotel or hot new restaurant) is an overreaction. Admittedly, such new spaces would create incredible wow moments of arrival at workplace entrances, lounges, and other social event spaces. But while they may be novel at first, after a few instagrammable moments employees may opt to return to where they can most easily and comfortably do their work—at home. Alternatively, by blending workplace and hospitality design approaches together through a process called tasklounging, we aim to create a workplace that delivers to employees their dream environment, exceeding the comforts and luxuries of home, while enabling productivity, collaboration, and leveraging technology.
Tasklounging Threads the Needle
A pure hospitality design approach focuses on lifestyle and relaxation above all else, with lounge seating and design spectacle that creates a buzz. It takes guests out of their daily context and transports them to luxurious and uplifting design experiences. To meet these lifestyle benchmarks, huge sacrifices are typically made, namely in failing to leverage technology, facilitate collaboration, or boost productivity, creating a lacking workplace design. This is where the tasklounging approach excels by delivering a hospitality experience without sacrificing the work in workplace.
A tasklounging approach achieves this by drawing on years of workplace design experience and data to manage a careful balance of luxury and utility tailored to the unique needs of each workplace culture. This ensures that the shift between engagement (productivity) and disengagement (lifestyle-focused relaxation) is smooth and seamless. Tasklounging provides all of the lifestyle-focused luxuries and spectacle of hospitality design yet simultaneously provides seamless collaboration and technology integration enabling teams to do their best work.
Leverage Technology in Style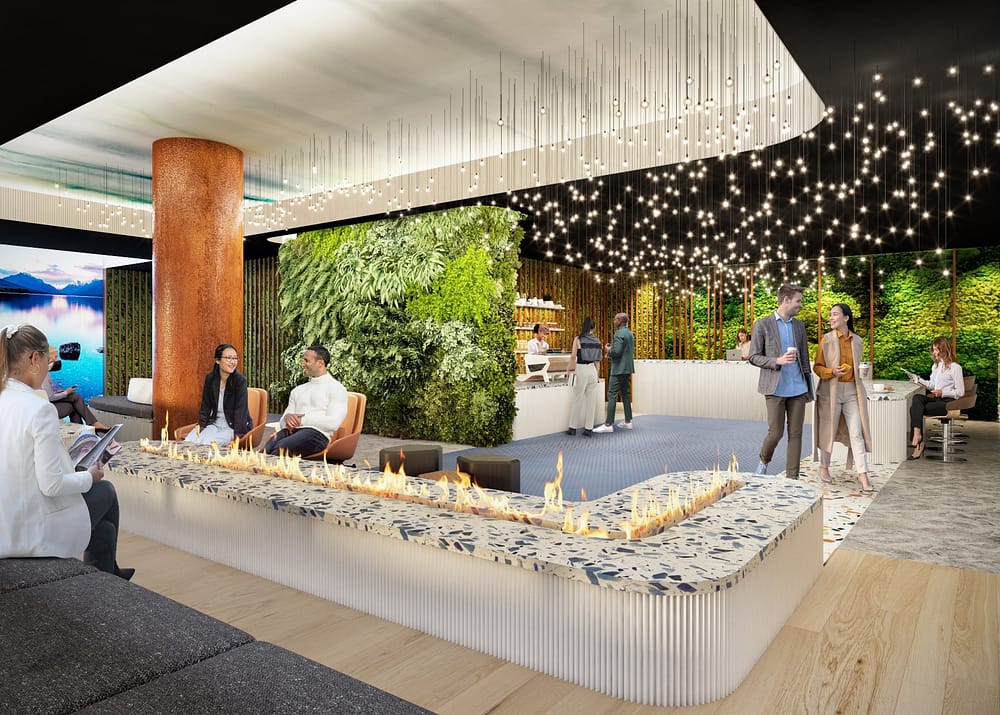 Especially in the age of hybrid workplaces, technology in the modern workplace needs to be front and center, easy to locate from a distance, intuitive to use, and always within reach. Technology usually remains inconspicuous in a pure hospitality setting to preserve the aesthetic narrative. With a tasklounging approach, designers instead seek to aesthetically utilize emerging technology. Some tech is currently commercially available, such as light sensors paired with quantum dot technology, which helps enable digital displays to present with the quality of framed artwork, and more is coming soon, such as digital wallcovering technology, based on the evolving screen technology used in flexible smartphones. These products produce images that are indistinguishable from framed paintings, artwork, or patterns when put in a specific mode. Such design camouflage allows screens to blend seamlessly with any design narrative and finish palette. Gone is the black mirror effect of technology in the workplace, where large black rectangles interrupt thoughtful design and work against a lifestyle-focused experience. With tasklounging guests can glance over to a wall, touch the remote app on their phone, and a large, framed painting dances to life, as they log into their remote meeting or presentation.
Relaxed Collaboration and Productivity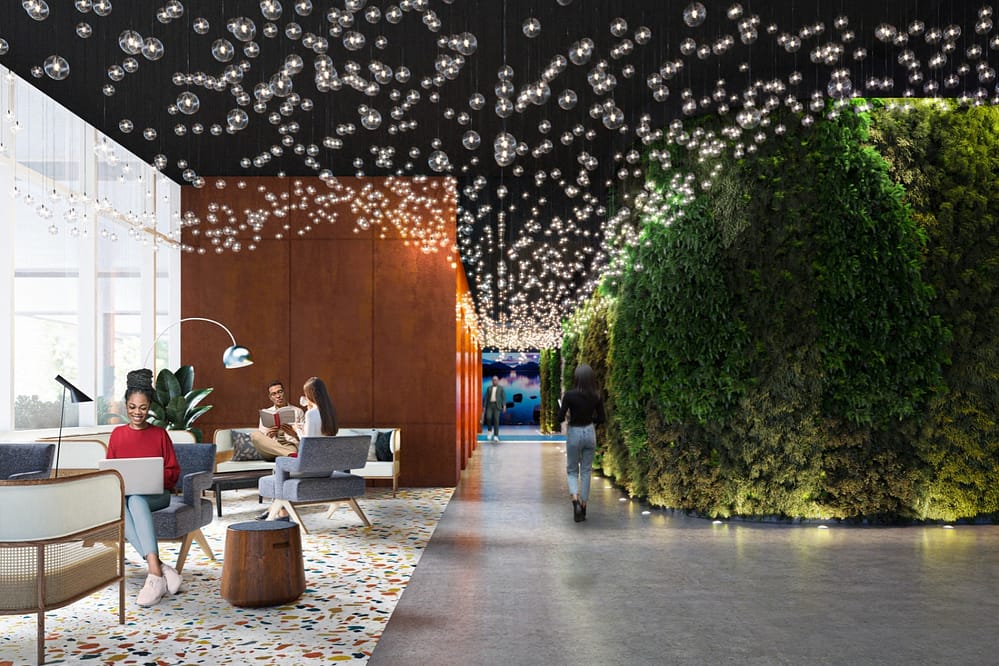 A hotel lounge is a fantastic place to kick back, relax, and chat with another person, sitting close enough to hear one another above the din of other guests. High-contrast lighting makes for a dramatic backdrop. Add a plush statement sofa and guests may begin to forget their worries and disengage from the world, enjoying a well-earned break. On the other hand, a hotel lounge is a challenging environment in which to sit up, remain alert, and leverage multiple screens and a video camera while running a breakout session with a team. A tasklounging approach in this case utilizes custom, agile seating (light, moveable, and in some instances adjustable soft seating) and inconspicuous work surfaces, balanced with carefully selected and positioned acoustical products to manage sound levels. With additional meticulous lighting design, teams can use their devices and advance collaborative projects in a relaxed environment.
At the core of the misconception that hospitality design is equivalent to workplace design is the assumption that employees want to feel like they are working at home when at the office. The association is as understandable as it is inaccurate. While people obviously enjoy the comfort that working from home provides, they also want their needs seen to so they can concentrate, collaborate, and do their best work. At home, they are at the mercy of their Wi-Fi signal, the neighbor's dog barking, and the laundry just out of sight that will not wash itself. Their workplace should be a respite from that context.
Designers using a tasklounging approach imagine a workplace where everyone is a guest, their needs attended to. Companies that leverage the workplace and act as a host to employees consistently anticipate their peoples' needs, much like a resort seeing to its guests. Those needs are not limited to expansive lounge spaces and full-service food and drink but anticipate any future productivity requirements, such as conference room reservations, charge cords, earbuds, or more personal touches. Workplace concierges not only know your favorite snacks and drinks, they know you. They know if you are likely to forget an umbrella or your laptop before you leave for the night. A workplace concierge can be a crucial catalyst to enabling your most productive day possible every day.
The concierge can ensure that facilities like conference rooms, quiet rooms, or lounge areas are available and configured properly in any circumstance. Do you need a workspace set up precisely for your needs in advance? Do you need arrangements for a trainer to run a yoga class, a cooking demonstration in the kitchen, a public speaking series, or a movie every Wednesday night after hours? They may also double as the champion of your company culture, inspiring and encouraging employees to look forward to coming into the office and engaging with other teammates, together in relaxed or productive mode.
While initially leaning towards a pure hospitality design approach is understandable, the tasklounging approach represents the next step in the evolution of workplace design. It delivers the flexibility, luxury, and comforts that hybrid work models demand, while lifting many barriers to productivity. With access to a tasklounging scenario, teams can mindfully and seamlessly move in and out of the office environment and do their best work at work.