Preview the SXSW 2016 panel "Reality Check: VR and AR in Workplace Design is Here" with the presenting workplace strategist.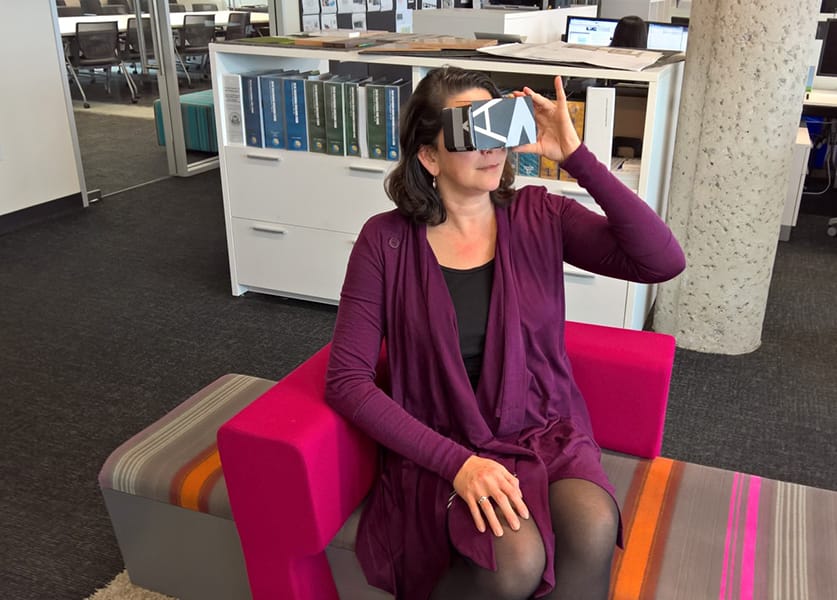 As workplace strategists, we study the people and culture of an organization from the insider's point of view with ethnographic field visits. Observation periods, focus groups, interviews, activity logs, and surveys are a few methods we use to help understand ways a workplace supports or inhibits the worker and, often times, the company culture. We analyze the collected data—some of which is user-generated through hands-on exercises—and feed key insights into what is known as user-generated, or participatory, design. But this is nothing new. We have engaged in such activities for years to guide our clients to a newly designed workplace that better fits their people, culture, brand, and processes.
In the past, we've seen great success with the analog version of our empathetic design process. But in the words of Tom Peters, "Excellent firms don't believe in excellence—only in constant improvement and constant change." With that motivation, we have been exploring the notion of utilizing virtual reality to further improve empathetic design at IA.
We know from research that empathetic connections to our clients help us, as strategists, see which existing workplace conditions provide or diminish value to workers. Through this, we uncover opportunities for change not only through design but with space planning, staff organization, and change management. Our next empathetic phase typically happens in two-dimensional presentations—that are elaborately detailed and beautifully rendered—but when we introduce VR into this step, it becomes immersive.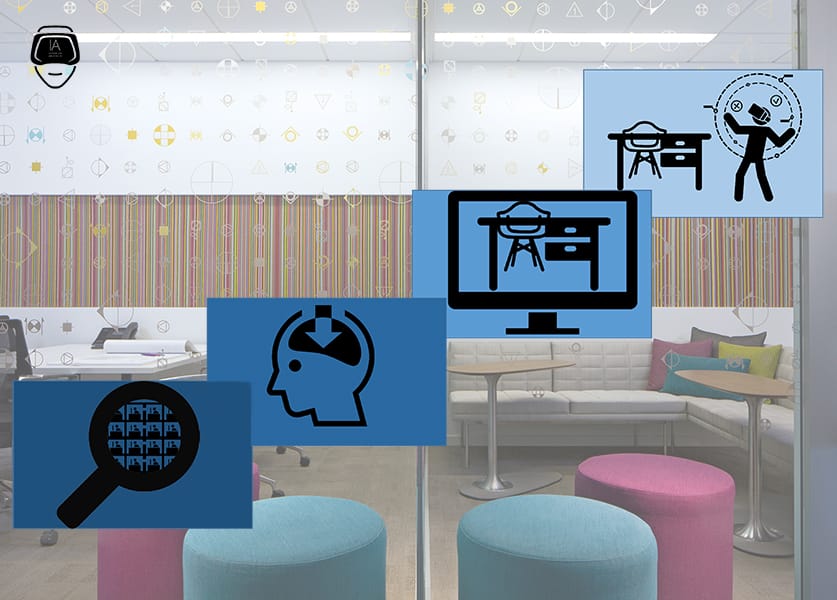 Reacting to Unbuilt Space
By adding GearVR devices and InsightVR software to our design strategies toolkit, we can focus even more on what matters to our clients. We also perceive opportunities that we might otherwise miss if we did not hear and see firsthand what our clients are experiencing in their virtual workplace. Dev Patnaik argues in his book, Wired to Care, that when we step outside of ourselves and reframe how we view the world (in our case a client's workplace design and experience), we have a personal feel for our client's territory. The VR immersive experience helps us as strategists and designers reframe verbal, and nonverbal, feedback that translates into valuable insight. It is through these VR pilot workplace sessions that we viscerally connect with our clients.
When our clients wear the VR headset and directly experience our design in a virtual world, we receive immediate and emotionally-charged feedback. Often, clients remember the "wow factor" of seeing their unbuilt space so clearly, but as strategists we are listening for clues and insights into their perception of the new space. This emotional connection that we have with our clients as they "test-drive" our design, doesn't have time to be edited or amended before feedback is emailed or discussed at our next meeting. This kind of raw, uncensored reaction provides incredibly valuable feedback. Instead of seeing our client's reaction to their workplace on move-in day, we get to see that reaction before a single wall is constructed with plenty of time to adjust our design.
This firsthand connection with our clients is rooted in empathy, what we see as the human dynamic of VR. Technology can humanize us, after all!