Environmental graphic design will encourage employees to make their mark in company history.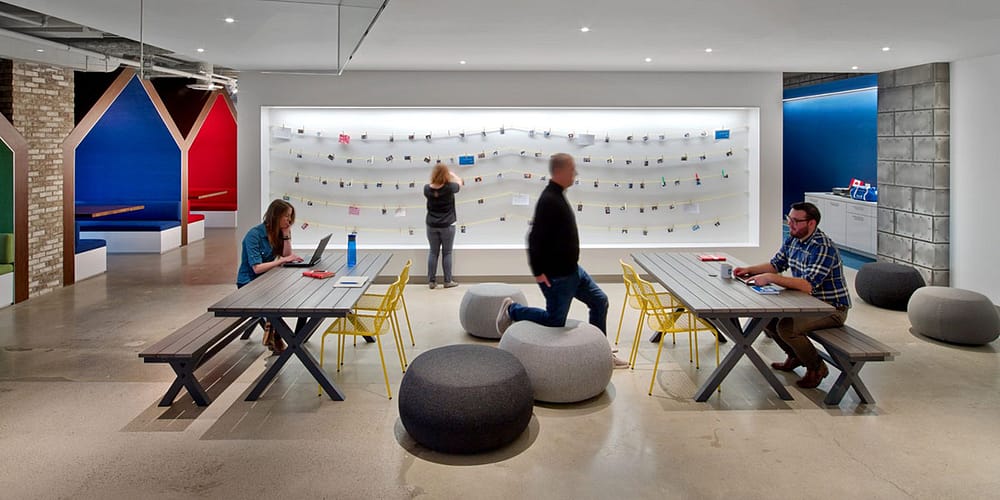 Environmental graphic design, aka experiential graphic design or EGD, can be used to organize and/or inform users how to best utilize a specific space, creating a sense of comfort, and eliminating ambiguity or confusion. EGD can celebrate and inspire knowledge workers around daily achievements and how they impact the company on a bigger scale. This contributes to a sense of belonging and feeling valued for their contributions. EGD applications can also help users understand and connect with their workplace and make an idea more tangible through a combination of words (tone and voice), imagery, colors, materials, lighting, and media.
The talent pool is shrinking in many industries, and the alleged transient habits of Generations Y and Z may reduce the likelihood of employees making a life-long commitment to a company. To challenge this perceived migration, organizations will continue using the workplace as a recruiting tool in 2015. EGD will support companies to use their workplace as a significant brand touch point; to inform recruits about who they are—mission and values, what they do—and how they do it, in an exciting and engaging way.  EGD will reinforce the message that each employee contributes both individually and collectively to the success of their company.
Employee engagement: Connection and legacy
EGD continues to answer a demand for individually customizable experiences and immediacy. Engaging employees to personalize their environment initiates more interactivity between employees, creating opportunities for relationship building beyond work roles, as well as the sharing of ideas and experiences relevant to the business. Employee engagement also creates a sense of ownership. A company that allows individual employees to leave their mark says their contribution is a valued part of company history.
Employee engagement is taking the form of co-creation and employee-customizable features as we align the client story with their space. Features often contain varying levels of interactivity and range between a one-time engagement feature that is more permanent and sculptural, to features that employees can contribute to, update, or customize on a more frequent basis.
One-time engagement features are generally located in more public spaces, like reception areas and circulation corridors. In a recent project for a confidential client, we designed environmental graphics to support a project narrative around the Northwest Passage, focusing heavily on conveying the idea of exploration and discovery, natural context, and economic significance throughout the built environment. For one installation in this project, we created a feature in the reception area that created a moment of pause. As a backdrop to the waiting area, branches of a tree extend with individual leaves customized by employees during a company event. The feature is highly impactful due to each employee's contribution, which adds to a sense of pride and ownership. The space now invites employees to pause and share part of their story, and their legacy.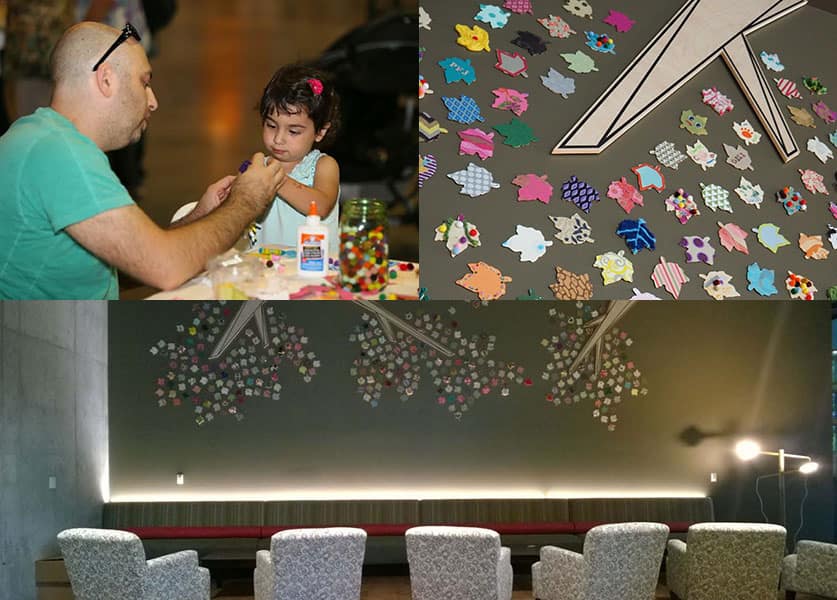 Updatable features are generally located in internal areas, along secondary circulations adjacent to open office and breakout areas, and are designed to take on a life of their own. In the same project, an updatable feature was positioned along the amenity corridor where conference rooms are concentrated. The features highlight different destinations around the world where the company has offices and utilizes the company's nomenclature, while the framework invites employees to post.
The application and execution of these features is very hands-on and craft-oriented, supportive of a larger trend to provide some reprieve from our ever increasing digital dependency. Eventually this trend will undoubtedly be realized digitally, as well.