Technology and its continued facilitation of idea sharing will define a more fluid workspace.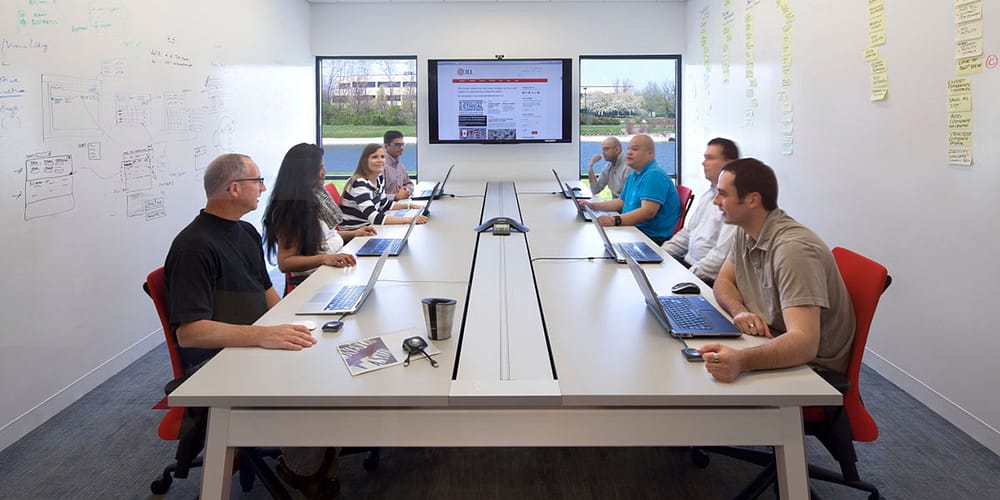 As open sourcing becomes more mainstream and collective intelligence across disciplines and industries continues to blur boundaries, where and how employees work will continue to shape the traditional office environment. "We believe the future of work is all about working like a network," Jeff Teper of Microsoft told PCWorld in 2014. Teper isn't the only one to have predicted this. Steven Johnson, author of Where Good Ideas Come From (2011), has written about the evolution of innovation and acknowledged its impact on organizational and workplace design. Johnson remarks in his TED Talk, "An idea is a network. We take ideas from other people, from people we've learned from, from people we've run into at the coffee shop, and we stitch them together into new forms and that's how innovation happens." He defines the ability to move freely within the organizational structure of an organization as a liquid network and within an environment as a liquid state.
We have witnessed Johnson's "ecosystem for ideas" significantly transform the office environment over the past decade. There are more places for collaboration, socialization, and networking: Huddle rooms, informal meeting areas, community hubs, cafes, functional exterior spaces, and multi-function reception areas are among the many. Workplace tools have transformed to support these needs. Laptops and tablets for mobility, conferencing technology for remote connecting, and even surfaces that interact for team problem-solving are regularly integrated.  The "neighborhood" planning concept for teams to sit and work together also flourished. For some organizations, team neighborhoods continue to be effective but for others teams have evolved into networks that exist across an entire organization consisting of multiple locations, within the same facility, and even extend beyond the organization to an entirely different institution.
In a sense, knowledge workers are paving the roads for knowledge networks. Alliances across traditionally disparate industries coupled with non-traditional approaches to work through cooperative networks, or relationships with similar but external businesses, foster a different type of transparency in the workplace. But how will all this impact organizational performance, space utilization, and ultimately designers and managers of the workplace?
IA Workplace Strategist Terry Huang sums it up: "These new ways of working will act as an enabler—when implemented well—to higher performance through better teaming and connections." Huang adds, "Workspace utilization and facilities management will likely become more democratized in where one chooses to work as technology provides everyone a transparent view of how space is utilized and how individuals can respond. We are seeing this being deployed with the help of platforms such as LiquidSpace."  Beyond showing individuals which desks are open, LiquidSpace also provides a social component so employees can choose where to sit based on who they know, or do not know. It doubles as a networking service. Airlines have also latched onto this with concepts such as KLM's "Meet and Seat" which connects you to others on your flight through social media.  And during the 2014 TED conference, Delta was pairing attendees and industry heavyweights on flight seat assignments. We have begun to see this in the office environment and it will continue to rise, particularly if it begins to impact business performance, employee engagement, and job satisfaction.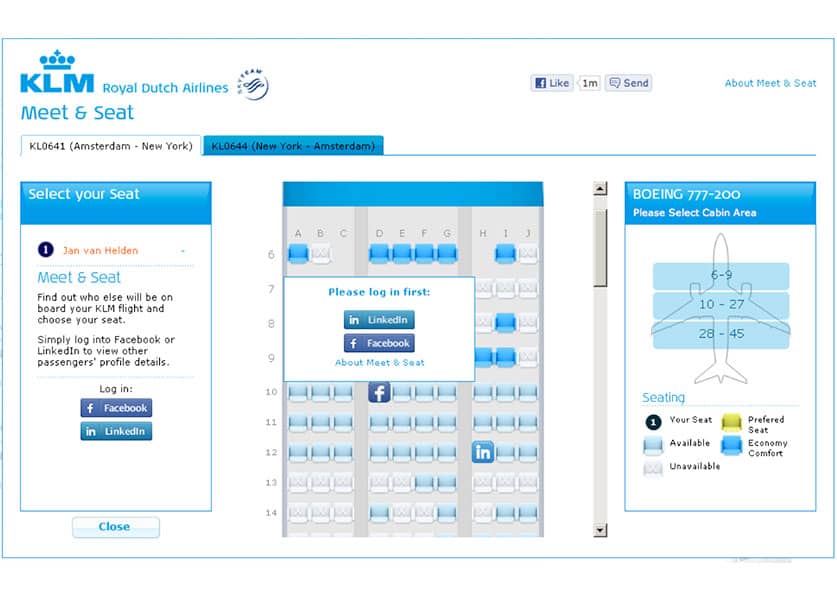 Collaboration and socialization in the workplace is here to stay, but it will take on a different form over the next decade as collective intelligence sharpens and shared work becomes more acceptable.  Designers and workplace strategists will continue to use research as the foundation for planning mechanisms in the workplace that better support this enhanced way of working. Johnson was on to something when he said we should be working in spaces that support hunches and drive innovation: "Allow those hunches to connect with other people's hunches…and if you're in the right environment they turn into something larger than the sum of their parts."  The time to plan and design these "right" environments is right now.