As the workforce tracks activity for personal goals, data from wearables provides additional insights for workplace consultants.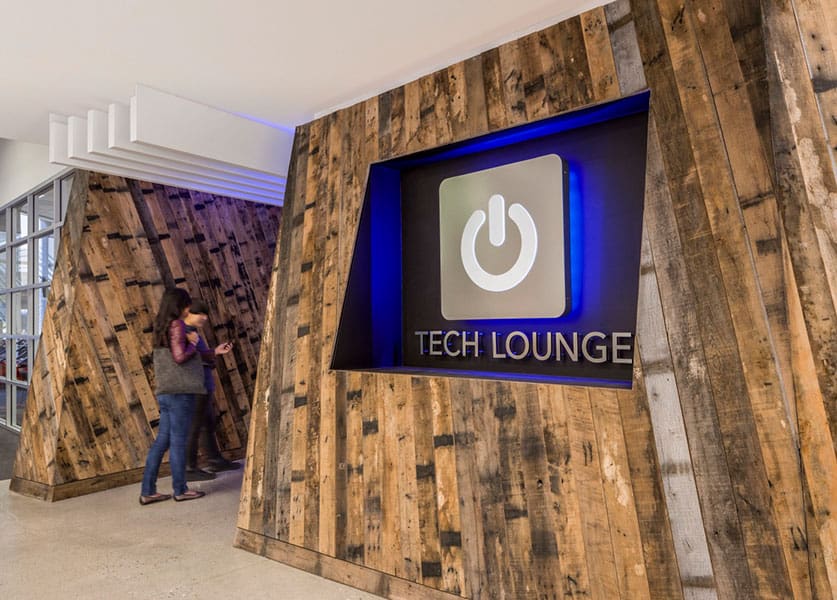 Wearable technology is continuing to make waves in the fitness and fashion worlds, and its role in the workplace is quickly taking shape. Wearables are electronic devices, or sensors, worn on the body as accessories or integrated into clothing. Smartwatches, eyewear, earpieces, headsets, and armbands are some of the more popular wearables currently used inside, and outside, the office. And these devices are servicing the workforce, and employers, in more ways than one.
Early adopters have predominately used wearables to improve health and wellbeing by tracking nutritional intake, active calorie burn, and sleep. Studies have shown that wearables can improve wellness, motivation, and even job satisfaction. According to SalesForce, one-third of adults surveyed in the U.K. and the U.S. said that "wearable technology has helped their career development," and using it can increase "employee satisfaction by 3.5 percent." In addition to tracking health, wearables are also being used as communication devices to share content quickly and access information instantly. Some may argue these devices are yet another distraction in the workplace. While that may be true for some wearers, many note that wearables are actually improving focus and concentration with real-time feedback that is easier to measure, such as more restful sleep and increased physical activity, which typically results in more energy.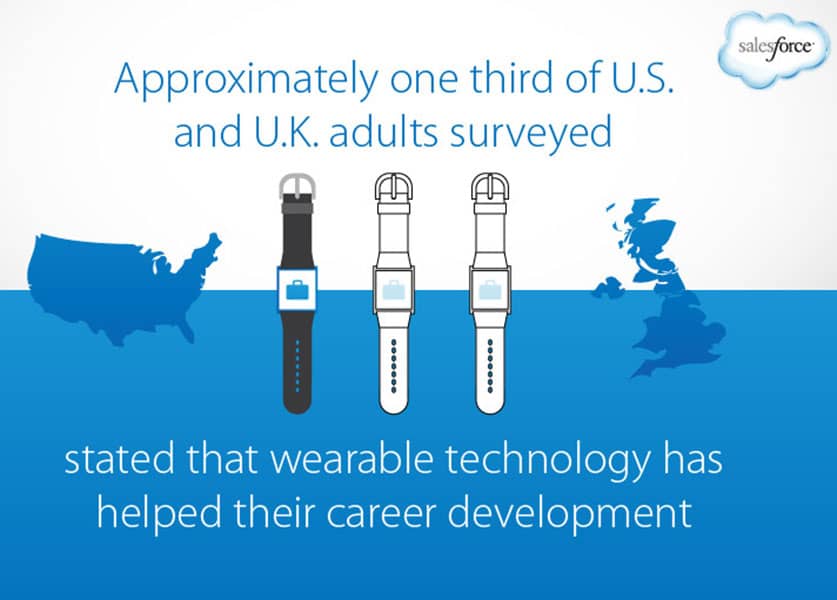 Beyond productivity, job satisfaction, wellbeing, and the speed of business, wearables are also impacting interactions and culture in the workplace. Chris Phalen, health and welfare benefits consultant to BP told Fast Company this past fall that their wellness program, which incorporates wearables, is "improving morale and contributing to corporate culture."  Lorrie Lordheim, an employee of BP America, shares her water cooler conversations with colleagues about wearables: "It's an easy way to start up a conversation with someone, asking them how many steps they've got.  It's a great bond builder between us. It builds camaraderie, and it's something all BP employees now have in common."
Companies are beginning to use aggregate data from wearables to provide insight for business and organizational improvement. "The Internet of Things is here, and following the holidays, we are likely to see a surge in wearable devices in the workplace,"said Rob Clyde, international vice president of ISACA and CEO of Adaptive. Combined with a New Year's-resolution fueled commitment to health—and gym memberships—wearables could help prolong efforts that often fizzle out after six weeks.
Ipswitch, an enterprise software specialist, indicated that one third of all European businesses will introduce wearables technology into their places of work in 2015. Facility managers and resource departments are using "organizational real-time executive dashboards for resource allocation," according to Dr. Chris Brauer and results of The Human Cloud at Work (HCAW) report. By identifying and supporting employee fitness goals companies can foster a happier and more productive workforce, and workplace design can then manifest those ideals through standing or walking desks, yoga and meditation rooms, interstitial stairs, and other active design principles.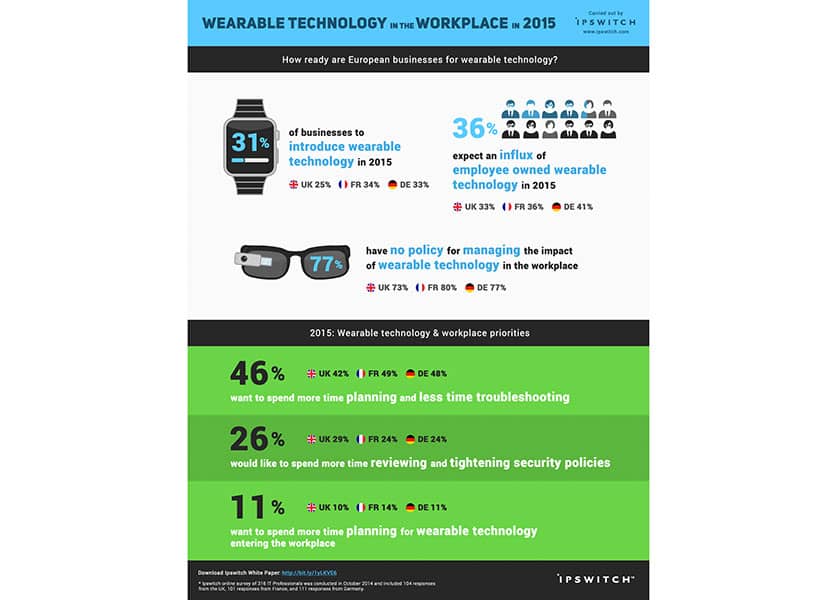 According to a survey conducted by Harris Poll and commissioned by The Workforce Institute, 73 percent of working adults across the world see at least one potential workplace benefit with wearables technology. But just as BYOD (bring your own device) was a major shift in technology for managers of the workplace, so too will BYOW (bring your own wearable). This wave of integration will inevitably impact HR departments with a need for new management and privacy policies.  It will also significantly impact IT departments regarding infrastructure for access management, security, network performance, and data collection. A long term effect will be realized through insurance premiums, as well.
Senior Researcher at Babson Executive Education, H. James Wilson, has coined the evolution of time and motion in regards to productivity and health as physiolytics, which he defines as, "The practice of linking wearable computing devices with data analysis and quantified feedback to improve performance."  Workplace strategists and designers are already quantifying movement in the workplace, responding to piqued interest in employee wellbeing, and analyzing what makes employees productive, creative, and satisfied. This next wave of data from wearables will give consultants additional insight into workforce behavior that has yet to be analyzed. Workplace computing and analytics is at its tipping point and wearables technology may be the catalyst to put it over the edge.