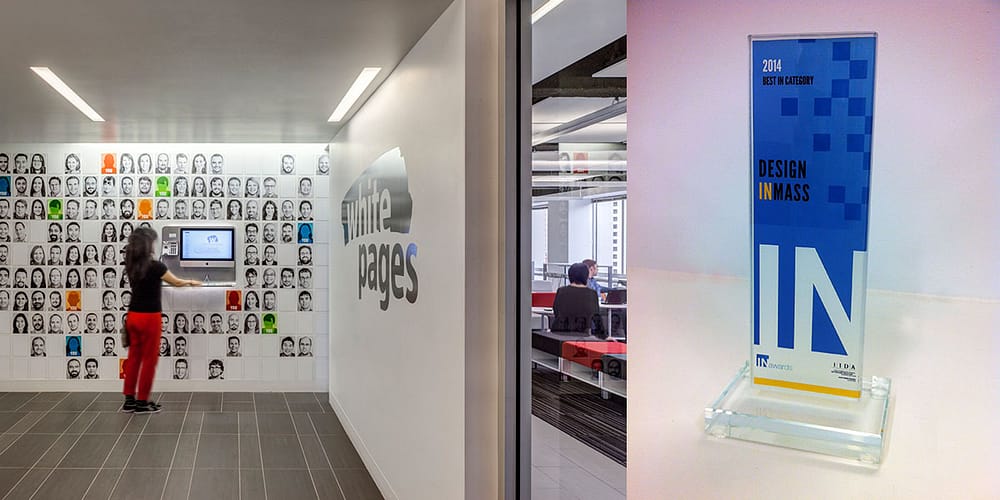 On October 27, IA Interior Architects was honored by the Northern Pacific Chapter of the International Interior Design Association with its 2014 Best in Category INmass Design Award for projects over 20,000 square feet. The winning project was a redesign for the Whitepages headquarters in the Rainier Tower, located in downtown Seattle.
"When IIDA's CEO Cheryl Durst began describing the project that won the INmass Design category, it sounded very similar to our project," says Patrick Chatfield, AIA, associate at IA and design lead on the project. "It took about three sentences before I realized she was talking about IA's work for Whitepages."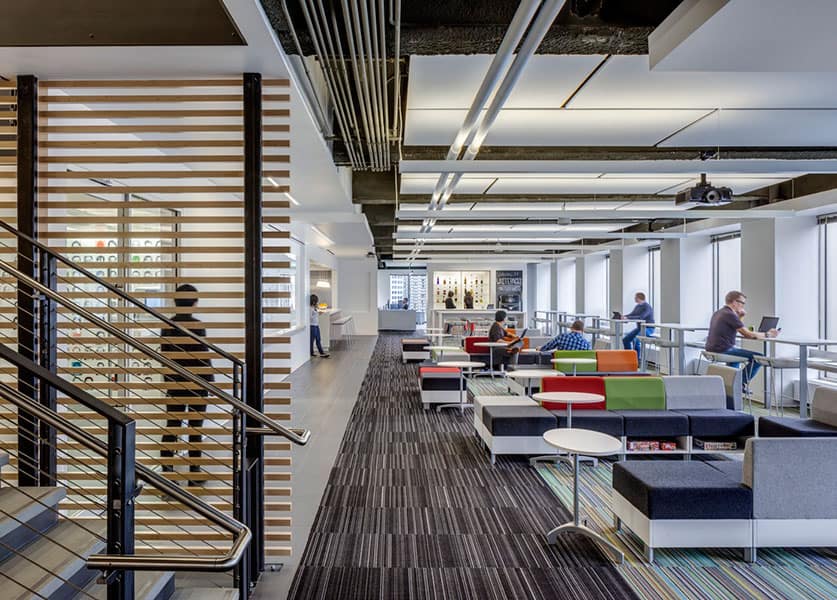 "It started with the client's request for a new stair," Chatfield continues. "That was the 'what.' When I asked the 'why' they said they wanted to break barriers between two floors and make it easier for staff to work together." As Whitepages CEO Alex Algard began to articulate specifically what he hoped could be possible with the insertion of a new stair, a full rebranding and build-out of 25,000 square feet over two floors began to take shape.
The project goals included:
Encouraging socializing, interaction, and "chance encounters." The design team was able to reconfigure the tenant suite around a central stair to highlight active design principles and group staff by function.
Preserve and increase panoramic views. The redesign eliminated all perimeter offices and conference rooms. Open workstations, divided by low panels, created equal viewing opportunities for all staff members and private rooms that shifted to the center of the floor plate were fully glazed. Lounge areas were also set up in strategic corners for alternative and scenic meeting zones.
Rebrand. Through strategic placement of new work zones and previously underutilized areas, the space reflects WhitePages' corporate position as a forward-thinking company.
Provide a first-class workspace that won't be outdone by any other employer in Seattle. The design had to create a space through which the client could confidently tour prospective hires and customers.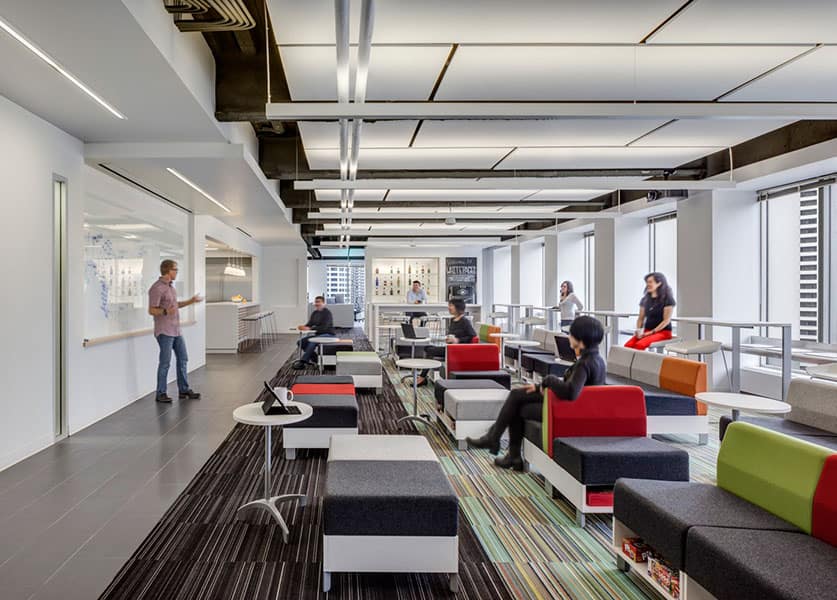 In addition to the client's request, the new office provides plenty of flexible and functional space. The Great Room can be transformed to function as a lounge, seminar and learning space, or lunch room. Break areas also feature amenities such as snacks and beverages, including a custom-designed kegerator.
"There's serious intent in an incredibly fun workspace," says Paul Mellbom, AIA, LEED AP, a principal at MSR in Minneapolis and a competition juror. "The way the plan was done provides a democratic allocation of space, so everyone shares the good of natural light. It looks like it'd be a really great place to work."
"We had a space before that worked not for us, but against us, quite frankly," says Algard. "This is really a dream come true in terms of having a space that works for us."