Emerging artist Eddy Streets exhibits in IA's LA office during the local design community's art walk event that donates to local children's charity.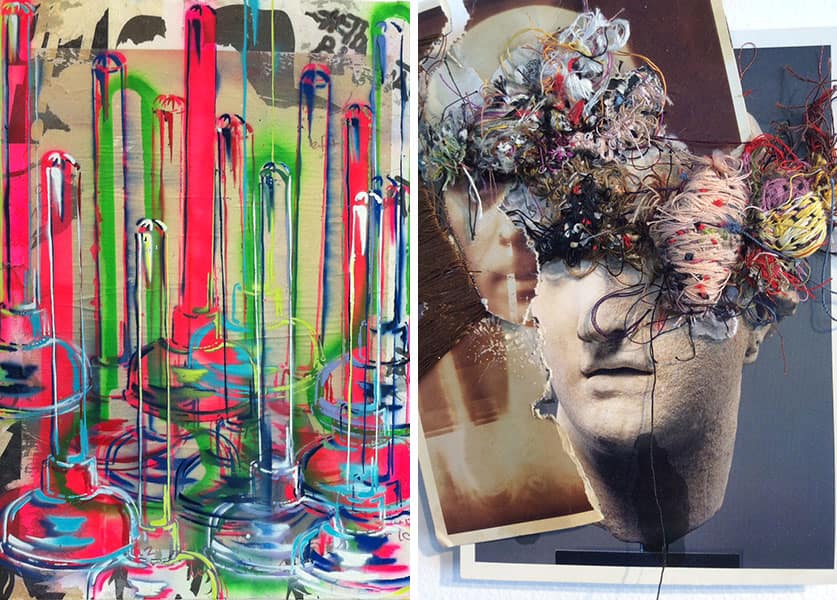 The Downtown LA Art Swagger art walk through downtown Los Angeles brings together architecture and design firms in the downtown area to raise funds for the Free Arts for Abused Children Foundation by exhibiting work from up and coming artists. Nearly 400 people visited the 2014 participating firms—which included IA, SAA, Kimball Office, AECOM, and Wirt—and attended an after party. "Now that so many LA design firms and showrooms have moved downtown, we thought we would simply have a 'block party' and open our doors to host artists that we [as a community] have all discovered," says Mark Bryant, design director in IA's LA office. "As the event grew, it activated the IA office as community space."
In 2013, the firm commissioned burgeoning street artist Aise Born to paint a mural during the art walk event. The artist's work, which has evolved from spray can to highly stylized calligraphy, remains in the downtown high-rise IA office. The piece wraps around a curved wall with watercolor fades and curving text that, depending on the sun's angle and time of day, seems to shift its appearance. "It was my first commission for an architecture firm, and it was very different from the galleries and outdoor work I've done," the artist explains. "When I'm doing work for a business it's often a boxy set up and it's also not permanent. I imagined myself as part of the staff and tried to paint something that I'd like to see every day, a piece of art that was inspiring."
The permanence of Born's work in IA's LA office is somewhat unique in the context of street art. The discipline has developed its own code of conduct, despite the fact that work is often designed for impermanence. "There's a rule in street art: Artists don't paint over other people's work, until it's degraded or totally destroyed," explains Eddy Streets, IA's featured artist for the 2014 Art Swagger event. "But once it's out there, it is public property and subject to a natural life cycle." Streets, who studied fine arts and has always been drawn to working in mixed mediums, has developed a highly collaborative style of utilizing found objects to populate his work, from actual street work, to a canvas that preserves decaying pieces from other artists.
"I've started going out of the studio, adding my work to [outdoor] spaces with existing images, and then developing ways to transfer these impressions to a canvas," the artists says. Without defacing or destroying surfaces of the built environment, Streets has developed methods to transfer his own street work or that of others in danger of being compromised. One of his preferred transfer methods utilizes water, and if the intent is additive, a little flour, too. Wheat paste (made from flour and water) is natural, unobtrusive, and produces a glue that is better than Elmers.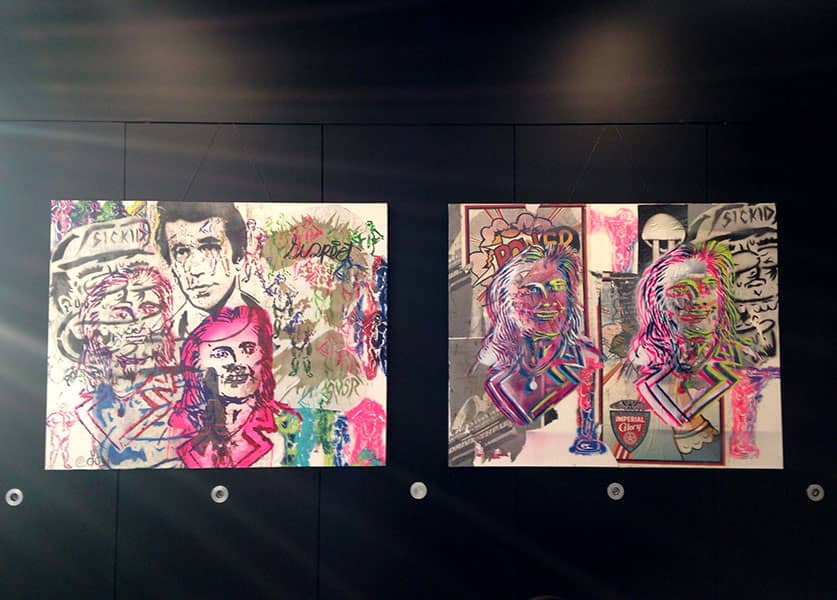 While the idea of removing street art from its original location seems counterintuitive to the form's origins, moving the setting of the work changes the context and creates new perspectives. According to Streets, "The more artists I put on my canvasses, the stronger the conversation about the piece becomes." For example, Eddy Street's Plunger Piece (pictured below) was created as political commentary through materiality that was intentionally two-dimensional and impermanent. The artist brought several of these sculptures to the event, and left a few behind to either be taken back to someone's home, or to be destroyed. "I figured attendees could keep it for the cost of discovery and the courage to take it," he says. "People are afraid of street art, for the same reason I used to be scared: There are a lot of 'what ifs' and it's still a foreign expression of art."
The sense of community that permeates the street art community is an essential component of its creation. Work is often created by a secretive team or a group: Very little can be done individually to accommodate the heavy gear and equipment required to pull off a job in total secrecy.  Eddy Streets often works with his partner—Side Streets, if you will—and has identified his team LA's only gay couple making street art in the city. "You have to make yourself vulnerable and share secrets, so the fear of secrecy is mutual among the team," Streets explains. "This is shared knowledge and there's nothing skill-wise I wouldn't share with others."
To that effect, Eddy Streets and Aise Born, introduced via IA's Bryant, have begun planning work together. "Aise expressed interest in my tools, and I in his, so we'll be working on things together throughout LA," Streets says. "His style, technique, and color will complement mine nicely and I'm very excited that he's interested in working together."