Unique design challenges facilitated by local IIDA chapters highlight cross-disciplinary teamwork throughout IA.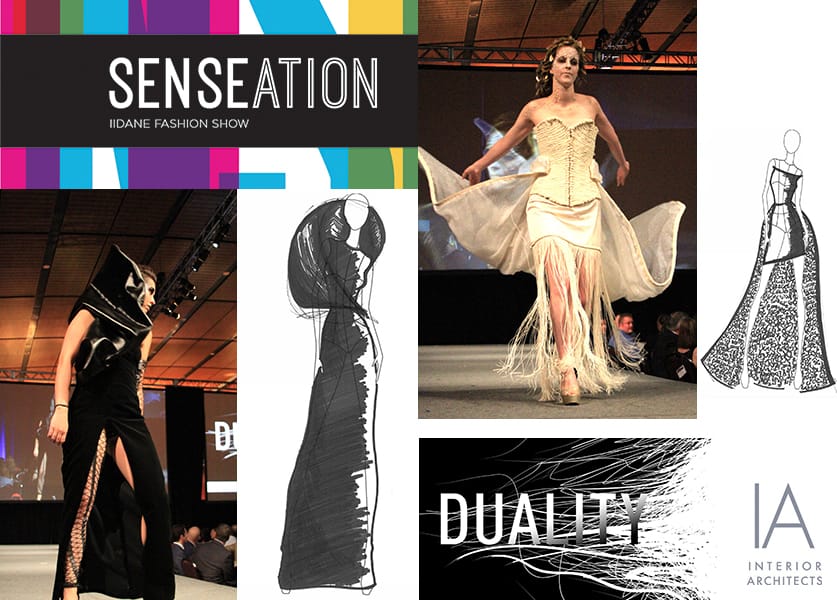 As wintery weary design enthusiasts look forward to Spring 2016 Fashion Week to kick off in New York, we're looking back at IA's fashion design projects developed for independent International Interior Design Association (IIDA) fashion shows around the country. The events pair local design firms with industry manufacturers to design and construct a wearable fashion piece that showcases unique design outside the typical formula for interiors. Last year, IA design team collaborated and wore pieces for IIDA New England, IIDA Illinois, and IIDA Southern California chapters.
Duality in Boston
The concept behind our Boston team's design for IIDA New England's Senseation highlighted sensory perception. Where both the lack of, and the presence of, color elevates the senses, the constant flux of light and darkness underscores a state of being that is anything but black and white. Once the theme was identified, IA designers worked with products and support from Shaw Contract Group, Donghia, and Reflex Lighting to stitch together the final concept.
IA's clients are not in the habit of requesting fashion design from the firm's talent, but the opportunity to think outside the box was a positive experience. "Like any project the final product is always a wow moment; but the process is what I believe was the most rewarding with this undertaking," says Katelyn Cantelli.  "To see us come together and not only create our vision but bond as a team was priceless."
See more photos.
Marietta in Chicago
Earning the chapter's "Best Concept to Creation" award, a design team from IA's Chicago office and J+J Flooring dove into the history books for an 18th century Marie Antoinette. From Alexander McQueen to lighting manufacturing to ornithology, the costume incorporated a mask, a giant hairpiece, a decorative corset, a period-accurate pannier, plumes of feathers, and hair ornaments made entirely out of carpet yarns.
"Our biggest challenge was trying to use J+J Invision carpet materials, not for a client but for the entire mask," says Cara Rooney, a junior designer in the Chicago office. "We were able to make the tall headpiece out of paper mache forms with carpet yarns and glue wrapped around balloons, and it ultimately became the strongest design feature in the costume."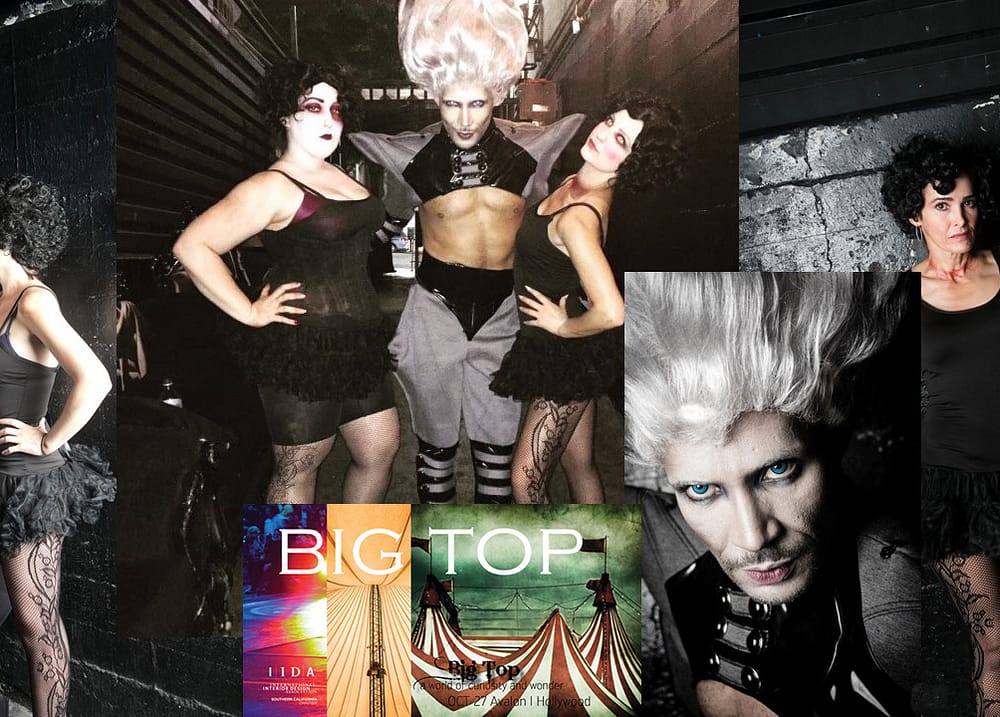 Siamese Twins in Los Angeles
IIDA's Southern California Haunt Couture fashion event, "Big Top," paired the sublimely grotesque with the circus. Competitors interpreted costumes for traditional amusement spectacles: Think the Bearded Lady, the Sword Swallower, the Tight Rope Walker—and Siamese Twins.
"When you're engaging in other creative processes, you're joining a different dialogue and the product of that can be amazing," says Jacob Green, an IA designer.
Technicolor in Washington, DC
Drawing from handcrafted media throughout the Smithsonian's Art Museum, a team of IA designers, with support and supplies from the Mohawk Group, designed a playful interpretation of old versus new themes. The costume is grounded in an 1800s silhouette, which references the construction completion date of the Smithsonian. A polychromatic skirt of loose yarns and high-tech fibers is framed and supported by carpet backing.
"It took every member of our team to put this dress together, including our sponsor, Mohawk Group, down to every last detail,' says Caitie Forrest, a junior designer in IA's Washington, DC office. "We finished our dress with such pride and it didn't matter if we received an award, we all had a great time working together!"