What happens when a team of nature-loving designers design their own office? They bring the outdoors in.
The Mile High City is renowned for its ease of access to seasonal outdoor activities, from rock climbing to skiing to fishing. "People move to Denver for the outdoors and all that the city has to offer," says Managing Principal Kindell Williams. For an office of health conscious, outdoor-loving design professionals, imbuing their new office with healthful design features was a priority for Williams.
"The location is great; we love the building's existing architecture and the proximity to Union Station in the heart of downtown Denver. As the heart of public transportation for the city, it is ideal for our team here, however they choose to commute to the office," Williams explains. "Our floor in the building is exciting because it has so much natural light, and some really unique features."
Rocky Mountain Breezes
Operable windows and sliding glass doors to a private patio—a luxury in many commercial office buildings—keep fresh air circulating throughout the office.
Hydrated and Healthy
A water filtration system, featured in the centrally-located micro kitchen, is easily identifiable and helps staff and visitors a like  stay hydrated.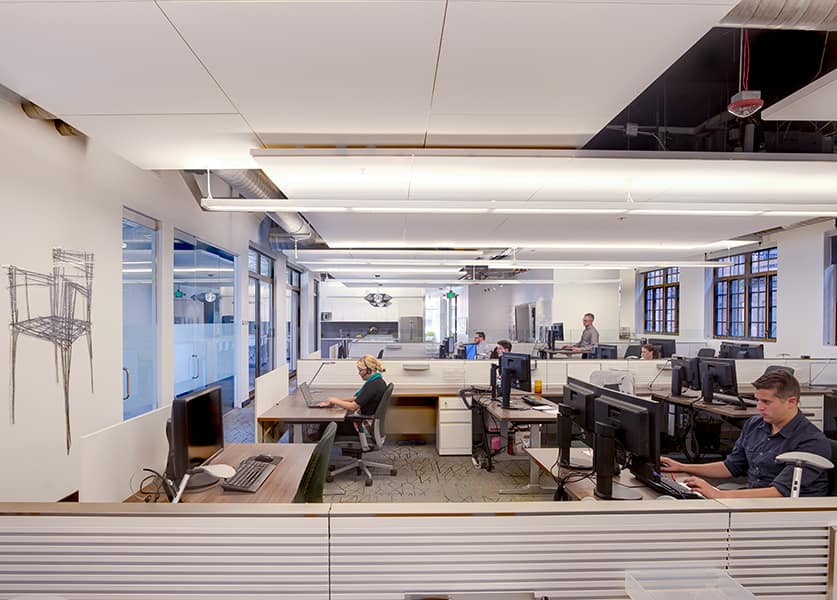 Eating Mindfully
Fresh fruit and low-sugar snack bars are visibly accessible for a mid-day energy boost. And on the private patio, staff can prepare healthy meals on a gas-powered grill.
Let the Sunshine In
The operable windows are large—nearly floor-to-ceiling—and let in lots of natural light. High ceilings and low-profile furniture permits sunlight to travel across the floor plate.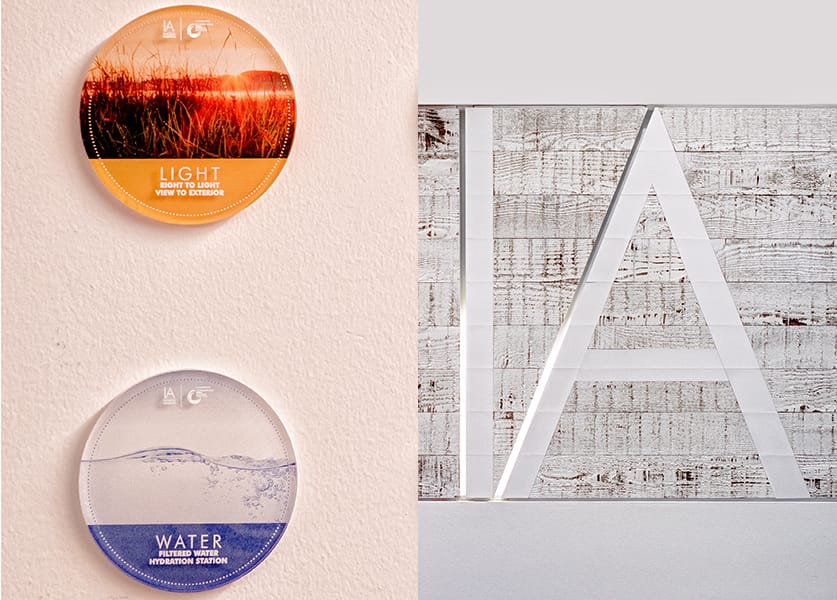 An Active Workplace
All workstations are outfitted with a sit-stand desk, so staff can move freely at their workspace without missing a beat. As a plus, building management provides access to the four-story stairwell during business hours so can staff track extra steps on their wearables.
Comfort
In addition to flexible work stations, the office provides a variety of conference rooms, lounge areas, private phone rooms, and standing-height work surfaces. Staff can select the work area that best suits the task at hand to maximize efficiency and convenience. A sound masking system and private phone booths help address acoustic isolation, and the studio is programmed to accommodate additional staff as the Denver office continues to grow.
Meeting of the Minds
The beauty of designing your own creative office is the design team—a knowledgeable and very passionate group of end users who are dedicated to bringing the best design to their workplace.
But according to David Key, a senior designer in the Denver office, "The biggest challenge in designing a space for designers is that everyone has great ideas and concepts that they want implemented into their dream office space. Fortunately, the consensus among staff is that the Denver office is healthful, beautiful, functional, and collaborative— a place where we're all excited to come to and work every day."