More...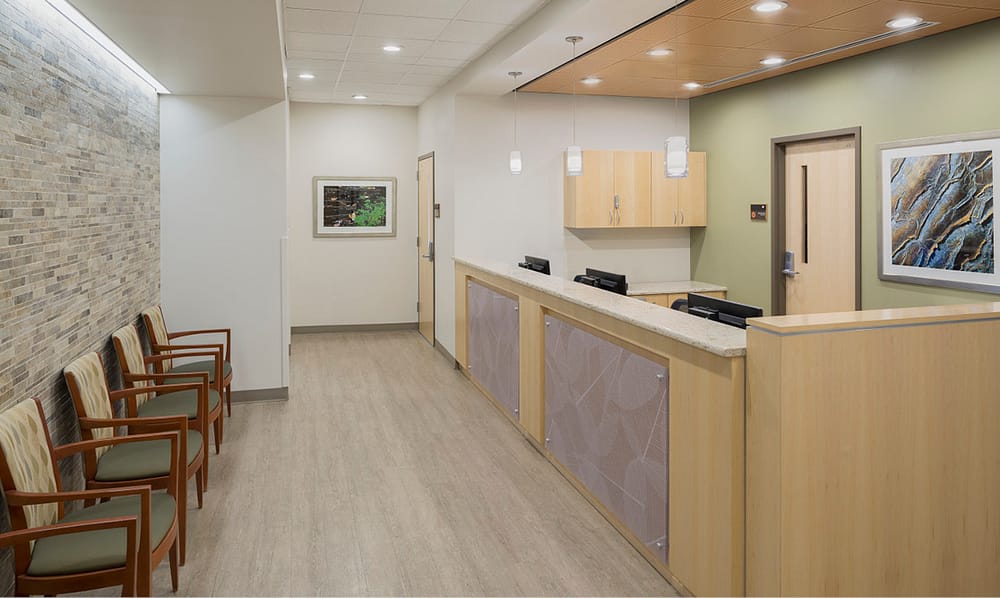 Last year, a study conducted by Mercer found that five percent more of employers with 5,000 or greater staff were offering on-site or near-site primary care clinic services compared to the previous year (bringing the total number to 29 percent). Similarly, the National Business Group on Health, (NBGH), surveyed a group of 148 large employers and found that 54 percent were planning to offer on-site healthcare to employees, with an additional 12 percent planning to do so by 2020.
As workplace strategists and designers, we work alongside our clients to help make their vision for new employee benefits and wellness programs come true. Often, such programs have a tangible effect on the workplace, and these imprints can be surprising. Although the development of an on-site clinic has obvious implications for a building layout, we find that off-site and on-site clinics might differ in unexpected ways.
Waiting Areas Might Be A Thing of The Past
The waiting room, usually the first space that comes to mind when thinking of a primary care provider's office,  may not go away completely at on-site clinics, but it certainly will play less of a role in how employees receive medical care in the future. Thanks to new technology we describe in a recent Colorado Real Estate Journal article, employers with operational on-site clinics can use geofencing to identify the arrival of patients in the vicinity of the clinic and send them a text regarding the doctor's availability to see them on time or the length of their estimated wait. In addition, efficient scheduling software will have an effect on wait times, and in some cases, on-site medical representatives are even picking up employees and delivering them directly to on-site clinicians as their appointment slots open, further reducing the need for a typical waiting room. Does this mean the space will soon disappear?
"To a degree, the concept of active waiting can be part of the culture," says Intermediate Designer Matt Spaniol, of IA's healthcare team. "The typical waiting room won't disappear completely. Instead, the space will simply need to be rethought and either given a secondary use or made to be more of an amenity." This means that waiting spaces might be optimized to provide beverages, a gaming area, or even an activity center for dependents who might also have wellness appointments. Spaniol goes on to describe how "the size of the space might be diminished, depending on how the clinic operates, but we're seeing more and more that the waiting area can be used to offer additional wellness services, such as space for financial consultation, career coaching, or nutrition."
More Emphasis on Preventative Care and Wellness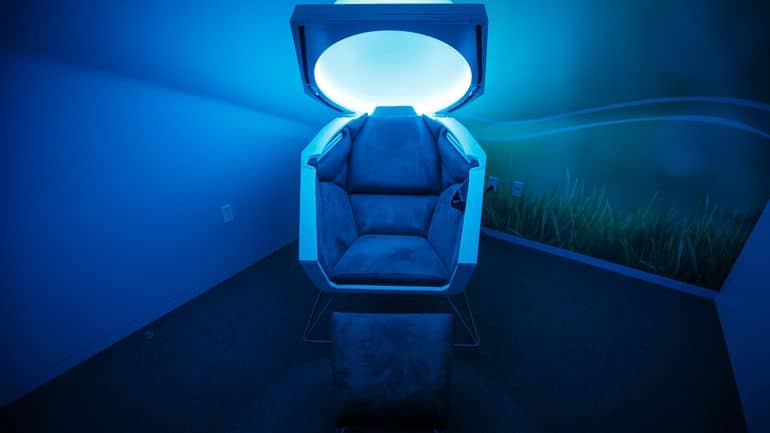 One of the primary benefits to employers of an onsite clinic is the ability to provide access to improved preventative care and wellness facilities — thus lowering long-term healthcare costs. In the world of on-site clinicians, this means that more real estate will be dedicated to services not offered in a typical medical office. "We often see this epitomized in dedicated spaces for blood pressure, diabetes-related care, areas for smoke cessation programs, and heart disease education," says Carol Doering, embedded IA account manager for a national healthcare provider and American Academy of Healthcare Interior Designers president-elect. " But more and more, we're also seeing this space dedicated to an increase in generalized wellness programs such as yoga, nutrition and cooking, and lifestyle changes." This flag has certainly been taken up by Unilever, which has launched dedicated wellbeing zones in their corporate offices including movement zones (dedicated massage, yoga, and stretching areas), along with refreshment centers and quiet zones. For employers offering vaccinations and injections (such as flu shots), this trend might also include a dedicated space for large-scale influenza vaccination, depending on the size of the clinic.
"We have to create these spaces with a multitude of uses in mind," says Emily Sinclair, Senior Project Manager (and healthcare team lead) at IA. "It's really fascinating when you consider that the same area might have to be built around day-to-day clinical activities, but also play host to wellness training including food preparation with an on-site nutritionist, mobile mammography screenings, and guest speakers, etc. — it's quite different from a more typical healthcare space."
Branding
As HR takes on a more developed role in the marketing mix, employers offering on-site health services will look to their interior architect/design team to make sure that the branding developed and used throughout the building is carried through to the clinic. When you consider that 61 percent of employees are more likely to accept a job with a new employer if offered health and wellbeing benefits according to a recent Metlife Survey,  on-site clinics and wellness areas should play a central role in recruitment. This means that spaces should be optimized for prospective employee walk-throughs, as well as suitable for photography for HR-related recruiting initiatives. As Matt Spaniol puts it, "Instead of being branded independently or being brand agnostic, [the Environmental Graphic Design team] would match the clinic branding with that of the employer, and possibly even develop proprietary branding for the individual health and wellness initiatives."
Making Room for Telemedicine
While primary services might be offered by an on-site doctor (such as that seen at New Belgium Brewery), there may still be a need for patients to have access to an offsite specialist — enter the telehealth kiosk. More often seen in retail areas than in your local primary care physician's office, these may be the perfect solution for providing employees with improved access to specialists and minimizing the time they'd otherwise miss from work while traveling to one or multiple specialists in a given day. In 2015, the American Journal of Managed Care estimated that Americans averaged 37 minutes traveling to and from each ambulatory medical visit, and with specialists accounting for 30-51 percent of those visits, employers could see major benefits from providing easier access.
Ultimately the layout and design of an on-site health service area is always going to depend upon the nature of the services offered and the size of the employee (and dependent) population to be served. These variables will determine if other atypical spaces need to be developed for things such as onsite dentists, pharmacies, specialists, extended hours (and exterior access), and testing equipment. But at the end of the day, even the smallest on-site clinic will be virtually unrecognizable if you're used to a typical doctor's office, which might explain why IA's clients opt to work with a team experienced in design and architecture for healthcare as well as corporate offices — the synergy between the two is critical.
For questions related to this post, or to our work in Healthcare, feel free to reach out to [email protected].
Want More Healthcare?
Don't we all? Click the link below to view some of the project we've been a part of in the thriving healthcare industry.
---
IA is a global firm of architects, designers, strategists, and specialists .We focus exclusively on environments through the lens of interior architecture—a radical idea in 1984, when IA was founded. We are highly connected agents of change, committed to creativity, innovation, growth, and community.
---
---
---
More great IA Thought Leadership - this time in the field of healthcare.