WELCOME TO THE WHIRL'D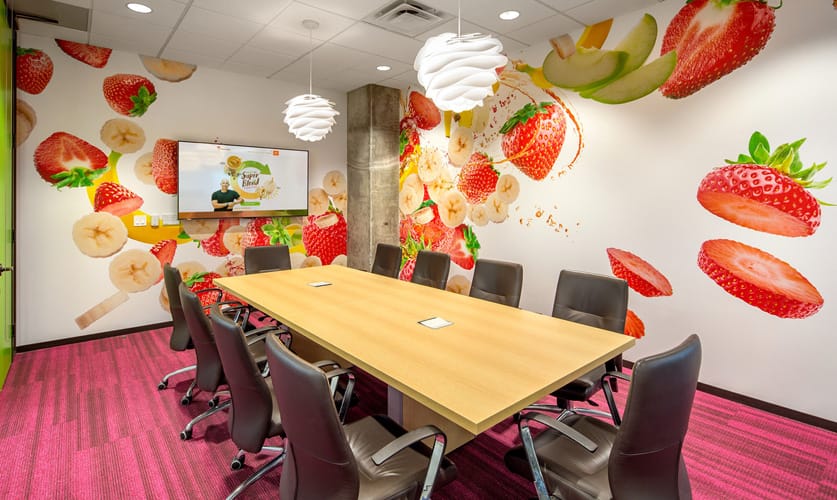 At the new IA designed Jamba Juice headquarters in Frisco, Texas—dubbed the Whirl'd Support Center—bright, primary colors express the firm's energized, fun-loving culture, brand, and 25 plus years of successful blending and juicing.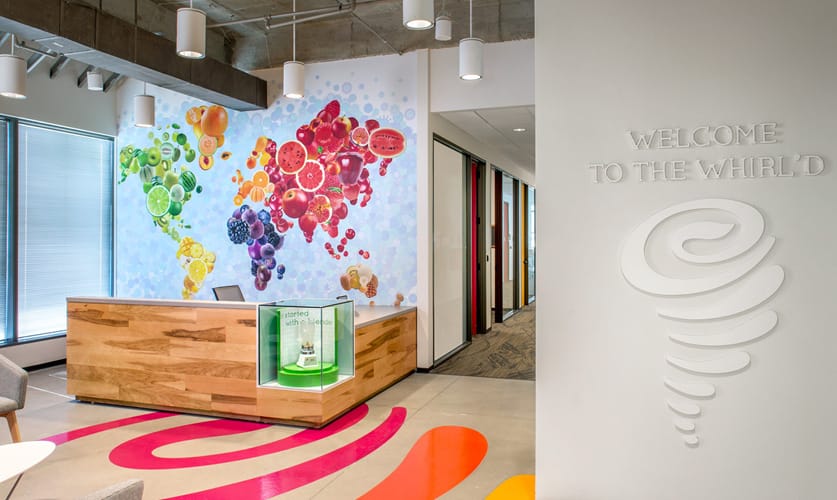 IA's design riffs on the Jamba whirl logo (inspired by the sound and action of a blender) and the firm's signature rainbow colors. A glass case built into the reception desk houses the original blender from the first Jamba store. The whirl boldly appears on floors and walls; rainbow colors adorn 10-foot-high conference room doors. Outsized floor-to-ceiling graphics of signature smoothie ingredients float on conference room walls.
In the break room, faux fruit in acrylic cases, mimicking the storage of real fruit at Jamba stores, fronts a 20-foot-long custom island. Farmhouse tables create a sense of community, along with a video display wall that offers the latest Twitter feed and Instagram posts in real time. The intent throughout is to connect the headquarters' experience to Jamba's 900 stores and the customer experience.
The new facility includes a public-facing Jamba store, a sensory station for taste tests, and a lab test kitchen where new blends are created. At the sensory station, focus groups sample new smoothie blends under a red light that removes color to keep the focus on taste.
The headquarters also houses a 100-member staff that includes finance, legal, HR, operations, store design, accounting, marketing, supply chain, IT, and R&D. Plenty of collaboration areas, comfortable sit-stand desks, and casual areas for relaxation make this a place where people want to work and are reluctant to leave at the end of the day.