By Rob Atkinson | Senior Project Manager
This week is Earth Week 2021, and it is built around the theme Restore our Earth. Through a series of activities, talks, and initiatives, the week is intended to raise awareness of humanity's interconnectedness to natural systems. By doing so, it aims to offset the worst excesses of climate change and environmental destruction.
A study released earlier this month by the Key Biodiversity Areas Secretariat in Cambridge, UK, suggested that just 3% of the world's land remains ecologically intact with healthy populations of all its original animal populations and an undisturbed habitat. The remaining habitats have been altered or adapted, whether through intensive agricultural cultivation and the introduction of invasive alien species for farming or the clearance of land for mining, transportation, housing, and commercial and industrial purposes.
These environmental degradations alongside climate change have broken our natural systems, leading to a breakdown of the global economy. However, they have also created a greater awareness of our interdependence with the natural world, our capacity to severely damage it, but also our need and capacity to restore it. The priority that countries around the world are now assigning to actions aimed at addressing climate change has risen significantly, with many of the largest nations seeing it as the number one priority. There is a realization that business as usual is simply no longer sustainable, either environmentally or economically.
We do, however, have the capacity to reverse this trend. In January, a coalition of over 50 countries committed to protecting a third of the planet by 2030, to halt the destruction of the natural world and its habitats, and to slow or reverse the extinction of wildlife. And since 2015, as the emphasis has shifted to the responsibility of fossil fuel companies and their role in environmental degradation, divestment has sharply increased. By April 2020, a total of 1,192 institutions and over 58,000 individuals, representing $14 trillion in assets worldwide, had begun or committed to divesting from fossil fuels.
Restoring our Earth begins not only with caring about the natural world but caring about our place in it. Every one of us needs a healthy Earth to support our jobs, livelihoods, health & survival, and happiness. A healthy planet is not an option—it is a necessity.
What does this mean for architecture and construction?
The construction industry is one of the most resource-intensive industrial sectors worldwide. Globally, building and construction activities consume three billion tons of raw materials each year, which is 40% of total global use. Likewise, the industry also contributes approximately 40% of global CO2 emissions.
A recent study from Transparency Market Research forecasted that by 2025, unless practices change, the amount of waste materials produced by construction and demolition efforts worldwide will top 2.2 billion tons annually. The industries of construction and architecture are aware of their outsized role in accelerating material use and in climate change, and are already developing initiatives to address these issues directly and aggressively within the next decade. It cannot come soon enough.
In the US, recent announcements of a $2 trillion plan to overhaul and upgrade the nation's infrastructure are based on pivoting the country to a path for achieving net-zero emissions. Doing so will require the best sustainable practices to ensure that new construction redresses old practices, uses sustainable materials, adopts the most technologically sound practices, and limits or eliminates waste altogether in its methodology.
Architects are already changing their relationships to materials and carbon use. A UN Environment Report puts CO2 emissions from buildings as 40% of the global total—28% from building operations and 11% from the emissions embodied in making buildings (the mining, extraction, processing, transporting and storage of materials).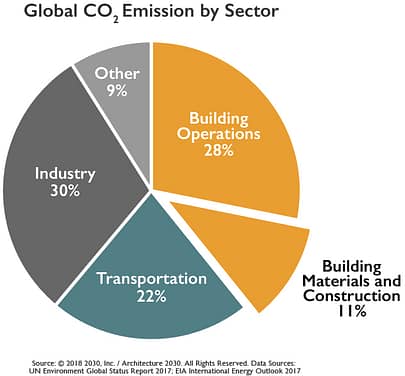 For typical building types the emissions distribution looks like this: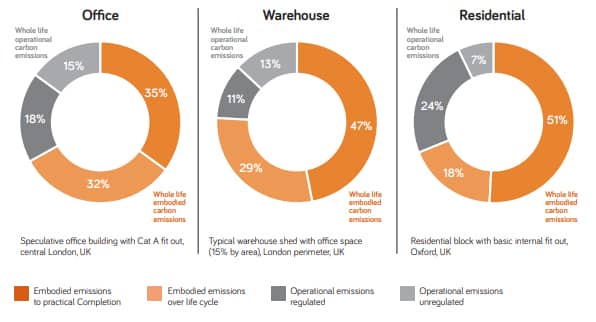 Consider operational energy. The biggest industry-level change to address this critical situation has been Architecture 2030, a non-profit organization, striving to challenge climate change through the implementation of energy-efficient planning and design in all new buildings, developments, and major renovations. Its chief objective is that construction targets in every country be reviewed annually to meet a fossil fuel, greenhouse gas (GHG) emission, energy consumption performance standard of 70% of the country's average for that building type. As technology improvements accelerate change, this standard will be updated annually until it is reduced to achieving 100% carbon neutrality in its operations.
To support the Architecture 2030 Challenge, the American Institute of Architects (AIA) implemented the 2030 Commitment Challenge to give architecture firms the opportunity to recognize and transform their practices through a Design Data Exchange (DDx). This is a national framework with simple metrics and a standardized reporting format for measuring progress. By pinpointing best practices and anonymously comparing project performance with other similar projects, DDx is designed to elevate best practices, save money, and combat the effects of global climate change.
The 2030 Challenge has been widely adopted in the US and globally by design practices, professional organizations, and governments. In the US, it has been adopted by federal, state, and local government legislation and has become standard practice in most leading architecture, engineering, and construction firms, including IA. It has also led to advances in the practice of architecture in other countries.
In the UK, the Royal Institute of British Architects has developed the 2030 Climate Challenge to help architects meet net zero (or better) whole life carbon for new and retrofitted buildings by 2030. It sets a series of targets for the adoption of practices to reduce operational energy, embodied carbon, and potable water.
Simultaneously, advances in smart buildings and digital management systems have increased the transfer of power to sources that utilize solar and wind power, which is rapidly bringing down the carbon emissions from building operations and bringing us closer to the 2030 targets.
Make a material difference to the planet!
The next and most challenging step is to create resource efficiency in construction and materials—embodied energy—and ensure that our design and manufacture of those materials allows them to be repurposed and reused with minimal difficulty. Annually, as already noted, the embodied carbon of building structures, substructures, and enclosures is responsible for 11% of global GHG emissions and 28% of global building sector emissions. Putting it in perspective, concrete, steel, and aluminium alone produce approximately 20% of total global GHG. Eliminating these emissions will be key to addressing climate change and meeting Paris Climate Agreement targets.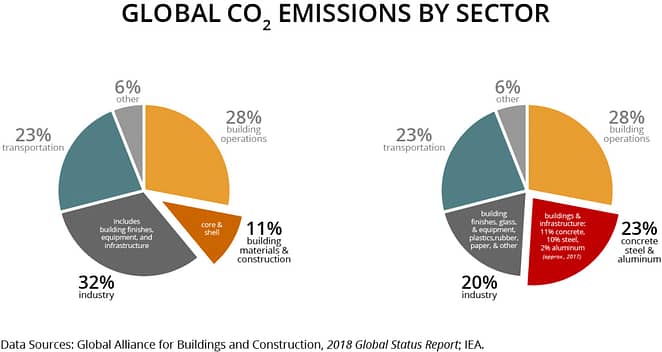 To accelerate innovation and focus specifically on embodied carbon, the Carbon Leadership Forum, an organization of architects, engineers, contractors, material suppliers, building owners, and policymakers, founded the Embodied Carbon Network (ECN) to raise awareness throughout the industry. In cooperation with Architecture 2030, members of the ECN helped to develop the Carbon Smart Materials Palette, which is designed to offer base design and material specification guidance for embodied carbon reductions in the built environment. Intended as a continuously evolving document, the Carbon Smart Materials Palette is an immediately applicable, high-impact pathway to embodied carbon reductions in the built environment, representing the best available knowledge and resources to tackle embodied energy. Incorporating every conceivable construction project, development, building type, and material, it is a constantly evolving and developing resource that allows professionals to learn from their project experiences.
To give greater clarity to the overall embodied carbon emissions of both the design and procurement phases of a construction project, the Carbon Leadership Forum also introduced the Embodied Carbon in Construction Calculator (EC3) tool. Developed in conjunction with over 50 industry partners and utilizing building material quantities from construction estimates and/or BIM models using third-party verified Environmental Product Declarations, it enables the specification and procurement of the low carbon options. This allows for benchmarking, assessment, and reductions in embodied carbon, focusing on the supply chain emissions of construction materials that constitute the embodied carbon of a project. Other innovative tools such as Building Life Cycle Metrics software calculates life cycle assessment, which includes costing, materials, carbon footprint, and other environmental impacts of a project at the planning stage and will play a much greater role in new projects as the decade advances.
Where is IA in this journey?
With its global reach, professional expertise, and partner network, IA is remarkably well placed to lead industry-wide change. IA is an early signatory of sustainable commitments, and supports new initiatives of the firm's Sustainable Wellness team, which was developed to ensure that every one of our 600 employees has access to resources designed to encourage low-carbon solutions.
As part of IA's commitment to the Architecture 2030 Challenge and the AIA 2030 Challenge, the team is tracking the lighting power density (LPD) of interiors focused projects (99%+ of our project type) with the aim of achieving a targeted 25% reduction. Awareness and education are ongoing. We strive to have project teams incorporate reduced LPD strategies that meet the target prior to 2030. This initiative is designed to expand tracking across other sustainability and wellness metrics, such as water use reduction and waste reduction in construction, and will serve as a benchmark for continued progress on future projects, with savings in metric tons of CO2 a key factor.
An early signatory of the AIA Material Pledge, IA is committed to show a preference for products that support human, social, ecosystem, and climate health, as well as to promote practices that support a circular economy and equitable societies. To that end, IA professionals have signed on to Material Bank as a Carbon Neutral Partner. Material Bank, as a partner with mindful Materials, which provides sustainable product information, is a platform that serves designers, architects, and others who source and purchase materials. By aggregating materials across hundreds of vendors that a user can filter using multiple parameters, an appropriate selection of materials may be found in minutes rather than hours. Leveraging advancements in robotics, a fast-track ordering system eliminates the environmental waste associated with ordering materials. Samples arrive quickly in a single box with a tray that can be repurposed into a return package for unneeded materials. Annual impact reports provided by Material Bank for IA track the number of saved packages and miles as well as carbon offsets.
IA has also signed on to the Architects Declare, an industry-wide UK initiative to raise awareness of the urgent need for action among clients and supply chains, and to collaborate with engineers, contractors, and clients to further reduce construction waste and accelerate the shift to low embodied carbon materials in all our work.
The single greatest recent enhancement to IA's sustainability reach has been the establishment of Ecos Studio, a global partnership with leading sustainability consulting firm Brightworks Sustainability. Recognized for advanced subject matter expertise, wide-ranging technical resources, creative problem solving, and excellence in professional practice, Brightworks Sustainability is one of the most trusted sustainability consulting firms in the United States with projects that span the globe. Their advisory work has increased our focus on sustainable and healthy buildings, among other services, as well as materials that are advantageous for climate, human health, and social impacts.
For 2021 and beyond, IA continues to aggressively seek innovative sustainable solutions to reduce CO2 emissions, address climate change, and restore Earth's ecosystem—because the situation is critical, and a healthy planet is the only option for survival.
With over 25 years of design experience, over 15 of which have been in leadership roles, Rob Atkinson simultaneously occupies the roles of Lead Designer, Senior Project Manager, and Sustainability Consultant across a broad range of industry sectors. These include a specific focus on workplace, financial, infrastructure, and life sciences projects. He collaborates with senior stakeholders and leads creative and technical teams globally across Europe, the Middle East, and Africa.