More...
By Adrienne Harbarger, NCIDQ, LEED AP ID+C | Senior Designer | May 3, 2018
BUT BIG BUSINESS MAY HAVE OTHER PLANS FOR THE WORKFORCE.
Today's decentralized workforce and growing gig economy have created a multitude of highly mobile employees that easily stay connected through cloud-based programs like Skype, Slack, and WebEx. Millennials, in particular, readily embrace and push for flexible work locations, often choosing that benefit over a bump in salary. According to the 2017 Deloitte Millennial Survey, the percentage of telecommuting millennials is up 21% from 2016, with studies linking remote work to increased performance and productivity. Culturally, working remotely is on the rise, but in some quarters corporate America has something else in mind. Many big businesses that once supported and even encouraged the telecommuting trend are beginning to pull back.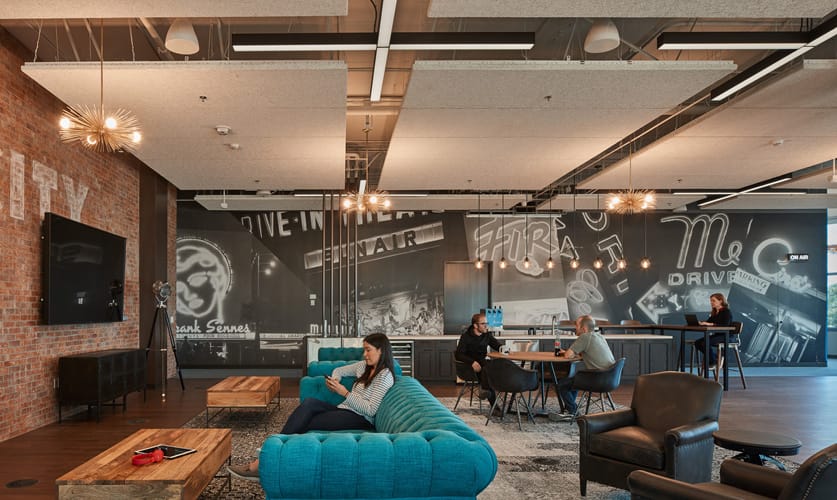 Since 2013, among large corporations, we've seen a slow but steady effort to bring telecommuters back to the office on the premise that working shoulder to shoulder, augmented by spontaneous conversations in the office, is more conducive to nurturing innovation and building company culture. Google, Aetna, Yahoo, IBM, Apple, and Bank of America have all reduced or eliminated their work-from-home programs. Although evidence confirms that telecommuting workers can increase productivity, it has yet to demonstrate the effectiveness of telecommuting on innovation or company culture.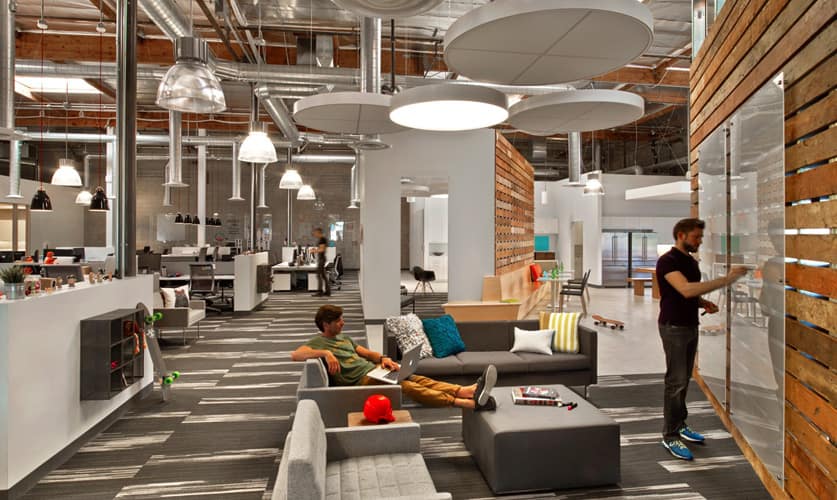 The benefits that come from face-to-face interaction and chance encounters with coworkers cannot be undervalued. But the power of technology to unite and provide a neutral virtual space where telecommuting participants are less likely to be influenced by charisma, physical proximity, nationality-based biases, or even their own introversion opens the door for fresh input, perspectives, and innovation, making agreement with dominant team members less probable.
For telecommuters, the genie is out of the bottle and may not be easily rebottled. In February 2017, when Gallup released its State of the American Workplace report that surveyed more than 7,000 U.S. workers, the results revealed that those who are happiest, most enthusiastic, and committed to their jobs work 60 to 80 percent—three to four days a week—from home. Beyond that sweet spot, those spending more or less time working remotely reported a drop in enthusiasm; those working at home or in the office all of the time were the least satisfied.
But, not all work can be done remotely; some professions cannot easily embrace the telecommuting model. Furthermore, a 2017 article in Harvard Business Review makes a case for the workplace by suggesting that who you sit next to at work is powerfully significant—clustering the right types of employees can improve not only productivity but the quality of work. For an organization of 2,000 workers, strategic seating could realize $1,000,000 in annual profit from increased productivity.
To entice workers back to the office, as well as create a workplace that employees are excited to come to on any day, the innovative layouts, features, and amenities in today's design portfolio remain true:  comfortable environments that support connections, choice, and community; free addressing and flexible configurations; unconventional work settings, including work cafes with comfy lounges, restaurant style booths, private nooks, and, of course, reconfigurable desks. Green space, fitness centers, yoga studios and gyms, as well as pet friendly offices, onsite daycare, and even dry cleaning and car services can make day-to-day tasks easier and work more employee-friendly, both a draw and a boon for productivity and success—even for those who only work in the office a day or two a week.
---
Adrienne Harbarger, NCIDQ, LEED AP BD+C
Senior Designer Adrienne Harbarger is based in IA's Chicago office. With over 12 years of experience in the design industry, she has worked on a wide range of projects for clients that include LinkedIn, Conversant, Dyson, Jones Lang LaSalle, Chamberlain College of Nursing, and Allied World Assurance, to name a few. Adrienne holds a Bachelor of Fine Arts in Environmental Design from Maryland Institute College of Art, and is NCIDQ and LEED AP ID + C certified.
---
Like What You See?
If you enjoyed this post, you'll probably enjoy learning about other ways in which workplace design can affect productivity. Click below to read "Getting More From Our Work."
---
---
How to put the Genie back in the bottle. Big companies are now trying to reverse the trend of telecommuting.