To best communicate our clients' mission and goals, IA design teams repurpose industry- and client-specific items in new offices.
At IA, we always say that designing a space for a company or organization must always start with understanding how that organization is designed. We do this through a number of measures: Market research, key interviews, focus groups, rapid prototyping sessions, and predictive analysis are just a few ways. But we also look at the company's mark on the world, and for some of our consumer product and industry manufacturing clients, that includes finding fun ways to make direct visual connections to their products.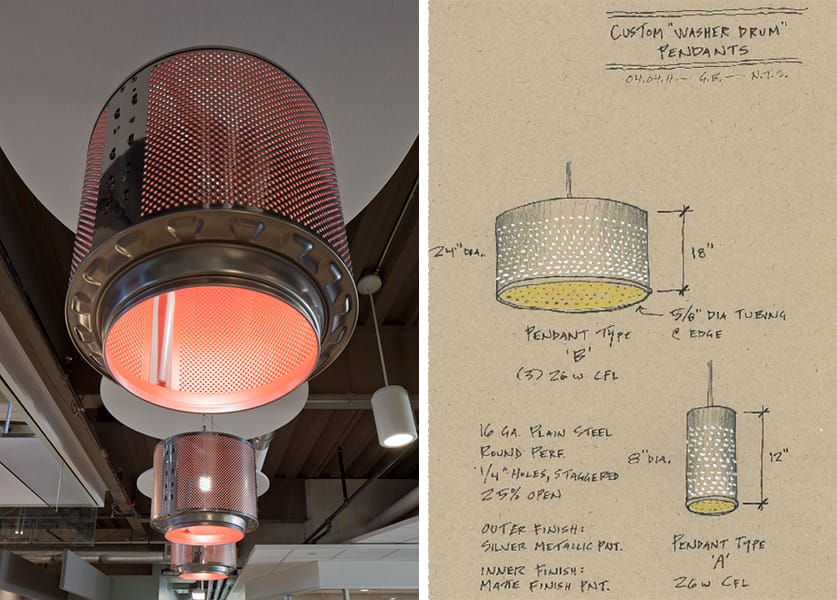 A Bright Idea for Whirlpool
Whirlpool's first consumer product developed and sold was an electric washing machine. Though today's drums look different from the first generation in 1911, the product has been a staple of the company's product offering and brand identity. To reinforce this message at Whirlpool's corporate headquarters, IA's design team developed a custom pendant lighting solution that is both fun and functional. Repurposing product that wasn't suitable for market release also supports the company's mission to be a good corporate citizen.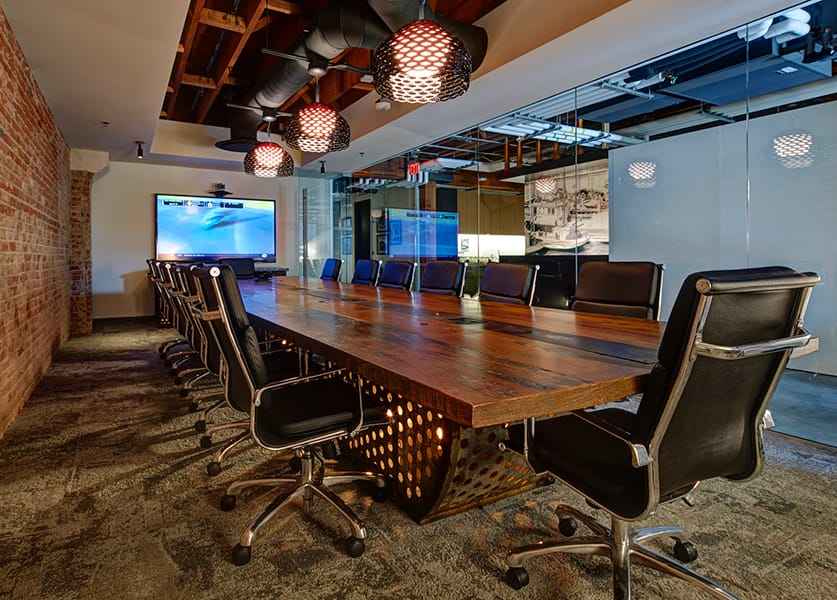 A Deep Dive at Bumble Bee
The largest branded, shelf-stable seafood company in North America recently relocated to a restored and repurposed candy factory in historic San Diego, California. But rather than running with a sweet theme for Bumble Bee's SoCal headquarters, IA cast deep into the history of the company, and the West Coast fishing industry, pulling artifacts from the fishing industry into custom furniture design. Featured above, the base of the board room table is constructed from old steel steaming baskets, and wired for electrical lighting.
Power to City Electric Supply
It was important for the 31-year-old supplier of wholesale electrical equipment to retain its heritage of the warehouse days, which inspired the idea for  an "upscale warehouse" headquarter design. The original design concept called for repurposed pallets, electrical spools, and crates but, according to Senior Designer David Holt, this kind of repurposed wood often presents issues with pesticides and preservatives that make use indoors risky. Where safe warehouse material could not be used, locally salvaged fencing and siding supplements the materials pallet to create variegated timber finishes on ceilings, walls, room dividers, tables, and a central reception desk.