Disruptors of trading come full circle in an industry that has long valued face-to-face communication and agility in the workplace.
There are few work environments as deeply disrupted by the Information Revolution as trading floors. These high-stress workplaces are often portrayed as hallmarks of chaos; the "open outcry" culture in which brokers shout and gesticulate orders across the floor are often the first example of trading floors that come to one's mind. But, in fact, these floors are planned and articulated this way to achieve particular results, and remains true in environments that support trading beyond electronic processing.
Though overhead screens became part of the trading floor in the early 1980s, orders were placed by open outcry and recorded on paper. "There was no more live call trading once computers were used to process orders," says Principal Architect John Miesner, who has worked on countless trading floors over his 25 years with IA. "Trading desks used to have a really deep profile to accommodate CRTs (cathode ray tube monitors), but that, obviously, has changed dramatically." About 10 years ago, flat screens and hand held devices all but eliminated the need for these massive docking stations. Now, technology is light and support profiles are slim, freeing up lots of programmable square feet.
The opportunity for serendipitous interactions and chance run-ins to foster collaboration and enhance communication are one of the top requests from clients in all industries, but few appreciate the efficacy of proximity like commerce. "Trading floors are intentionally dense to maintain energy for positive outcomes," Miesner explains. "Now, we have to design that density because so much physical space has been made available."
Aptly Applied Agility
Technology, and its rapid advancement during the 21st century, is at the root of the trading transformation. Just like trading floors "get" the value of proximity, it's also one of the earliest work environments to understand the value of flexibility. "Trading floors are set up by the products they're selling," explains John Capobianco, a design director in IA's New York office who has designed workplaces for NASDAQ and State Street. "So you could have a commodity selling faster than it can be bought, requiring many brokers for support, but once that cycle of buying-and-selling is up, the team can contract from 50 to 5."
This was particularly problematic when trading desks were built to support CRTs, built-in CR monitors, and heavy infrastructure. Now, with technology enabling mobile on-site work, desking systems are less robust and instead optimized for flexibility. Where compliance officers were once restricted to one section of the trading floor—namely, their desks—they now move more freely throughout the floor. "They're dispersed instead of siloed," Capobianco explains.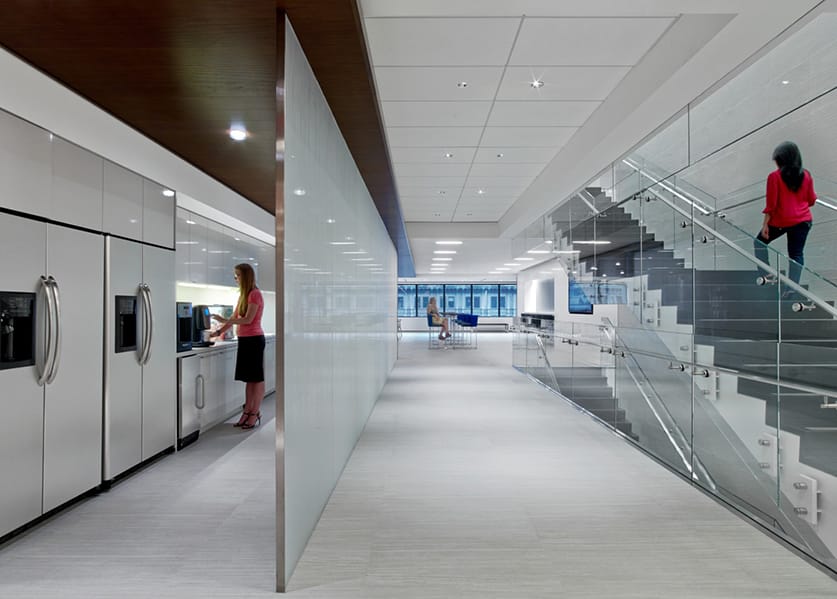 Wellness on the Floor
Technology is also enabling a healthier work environment for traders. With traditional communication methods rooted in open outcries, trading floors are loud. "Typically you stand up to see and shout over your monitor," Capobianco elaborates. "But by reducing the number of fixed monitors and installing height adjustable desks, we facilitate much easier communication." For an active workforce that already spends much of its time on its feet, sit-stand desking can easily rise to a round of trading, or lower to accommodate a moment of rest.
User-focused design elements such as food services adjacent to the trading floor are another way to improve upon the traditional trading environment. Planning a space to accommodate the transport and preparation of healthy food choices is paramount to supporting a healthy workforce that often cannot spare more than 5 minutes for a break off the floor. "Food must be at arm's length, and they have to stay on site," Capobianco says. Providing healthy choices can help support an able-bodied trading force that can maintain agility, and keep pace longer in a rapidly moving industry.