Patterns allow us to convey varying sets of information in a focused and harmonious way.
In a world of visual stimulation, it is one of our jobs as design practitioners to sort through the noise and distill the most important message. Patterns are a huge asset in the environmental graphic design (EGD) work we do because they allow us to visually represent many things, from people and beliefs to history and tradition. Patterns are more than polka dots and stripes. They help make sense of all that information through recurring and regular arrangements, and by creating a sense of harmony.
Patterns Embody Culture
At Expedia's Headquarters in Bellevue, Washington, our goal was to design a space that paralleled how the company revolutionized how we think about—and  actually do—travel. To express Expedia's passion for wanderlust, we used iconic cultural patterns from Africa, Morocco, Asia, and South America to create vignettes representing a specific destination or region. The pattern-specific settings, strategically located in small meeting rooms, reinforce a sense of discovery when navigating the open office. They also support the function of the rooms, which are typically for specific and focused work.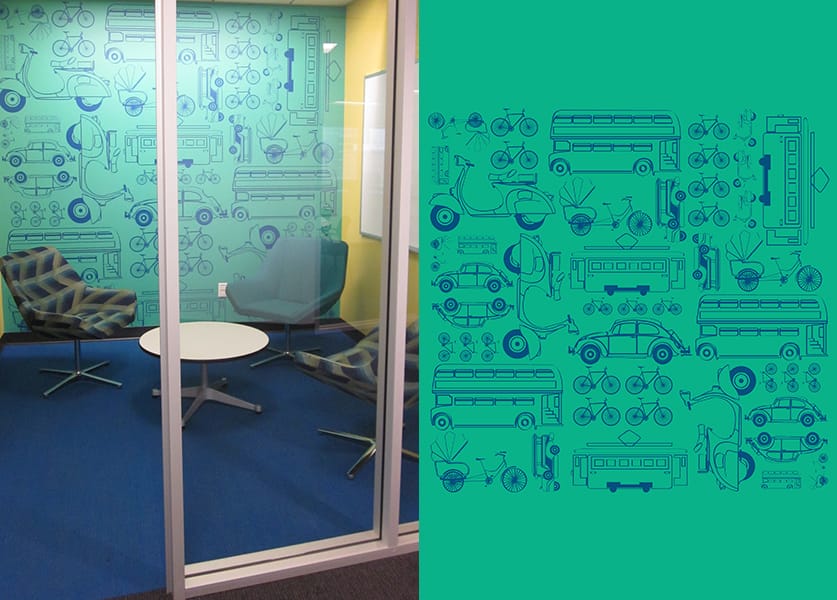 As integral components of nearly all global cultures, we also designed custom patterns incorporating different cultural foods and modes of transportation. Using these elements of the travel experience relate directly to the client's corporate culture  and mission. Integrating the various patterns connects the colorful finish palette and a variety of furniture for a dynamic and fun work space.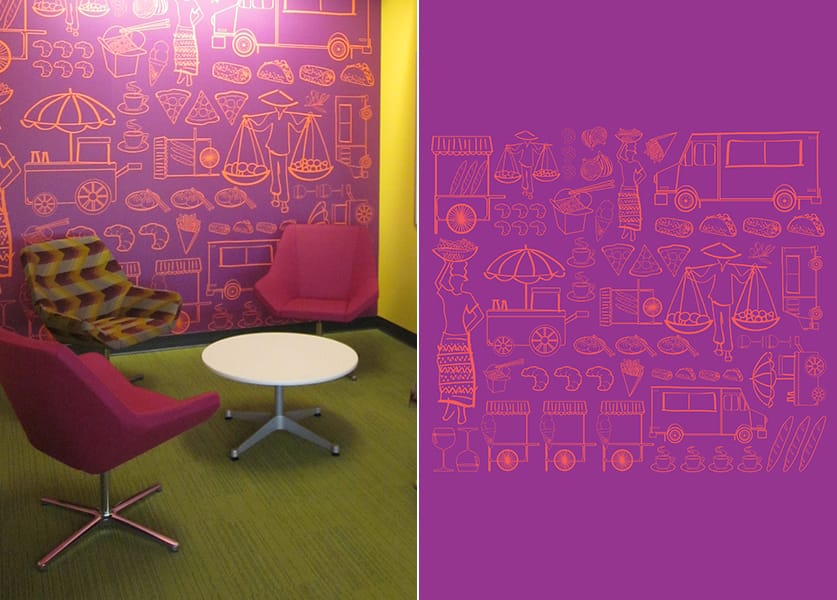 Patterns Can Connect
Pattern was also the solution for another client where the objective was very different. As this confidential client continues its growth trajectory across the globe, a consistent experience that is representative of the global company's mission and leadership principles, yet equally representative of the local culture, is paramount. Pattern has proven to be a unifying design element as we develop and deliver offices across Asia, India, and South America. When opening a new office in Beijing, China, the client wanted to ensure the new location felt connected to the company's Pacific Northwest headquarters.
Our EGD solution focuses on creating patterns with the circle, manipulating color, scale, and transparency to create various applications that illustrate connectivity, networks, and movement. Though all the applications were static, we were able to create the illusion of movement when we combined the pattern with color and changed the scale – whether it simulates a busy data server with flashing lights, or a game of ping-pong. The pattern gave us the flexibility to speak to the business, the local culture, and integrate seamlessly with the interior finishes.

Patterns Add Continuity
Inventive alterations of familiar shapes is an approach that works for clients outside China, too. For the Allsteel and Gunlocke furniture showroom in Chicago's Merchandise Mart, we layered graphic elements onto surfaces to drive engagement, and encourage potential customers to learn more about the products.  The unifying element within the various vignettes of the showroom became a herringbone pattern; a traditional, tailored pattern that we transformed through scale, color, and material.
The herringbone pattern is featured across glass and wallcovering graphics. We also designed a custom, wood-paneled wall that showcases Gunlocke's many stains and finishes. Individual wood pieces, fastened to the wall with magnets, can be removed for further exploration.
Copy and Paste this into a custom html box at the VERY end of the post:
why-are-we-so-drawn-to-patterns