More...
By John Hopkins, AIA, LEED AP | Design Director
FIRST IMPRESSIONS DEPEND ON ENERGY, ENGAGEMENT, AND EXPERIENCE.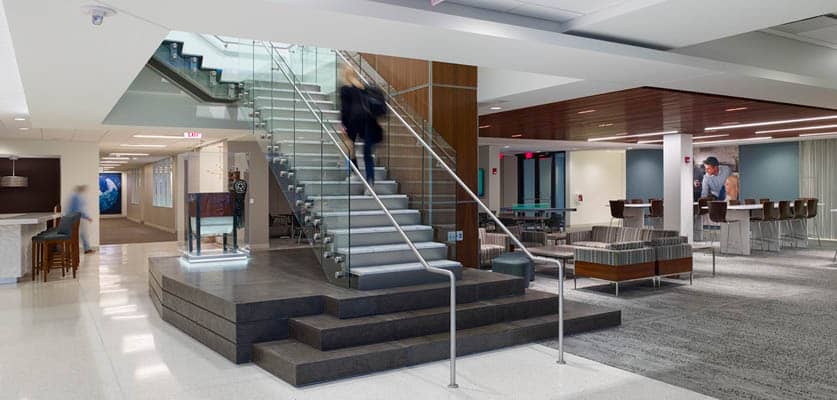 An inspiring workplace is the personification of a good story, a compilation of brand, culture, and mission brought to life within a space where first impression counts. The front door is the ideal place to promote company culture and create brand connections for both guests and employees. It is the face of the organization but also the host, suggesting what can be expected from the company going forward. The staid reception area is gone, replaced with a cluster of interactive features intended to welcome, gather, nourish, and resonate with both visitors and staff. Simplified, the components of a good front door create a synergy of engagement, energy, and experience. IA's renovation for Whirlpool's Global headquarters realizes all three.
Extending well beyond traditional boundaries, the Whirlpool reception area merges with adjacent areas and features. Technology, concierge services, design elements, and amenities deliver a heightened experience. A focus on visibility and movement creates energy, while an interplay of different functions supports interaction for engagement.
Aesthetics, architecture, and the extensive use of experiential graphic design come together to promote pride of place, express brand power, and educate. Seen from the main entrance, a 2000-sq.-ft., two-story addition and grand open stair is an inviting and inspiring "wow" factor, but also practical, creating movement and connection.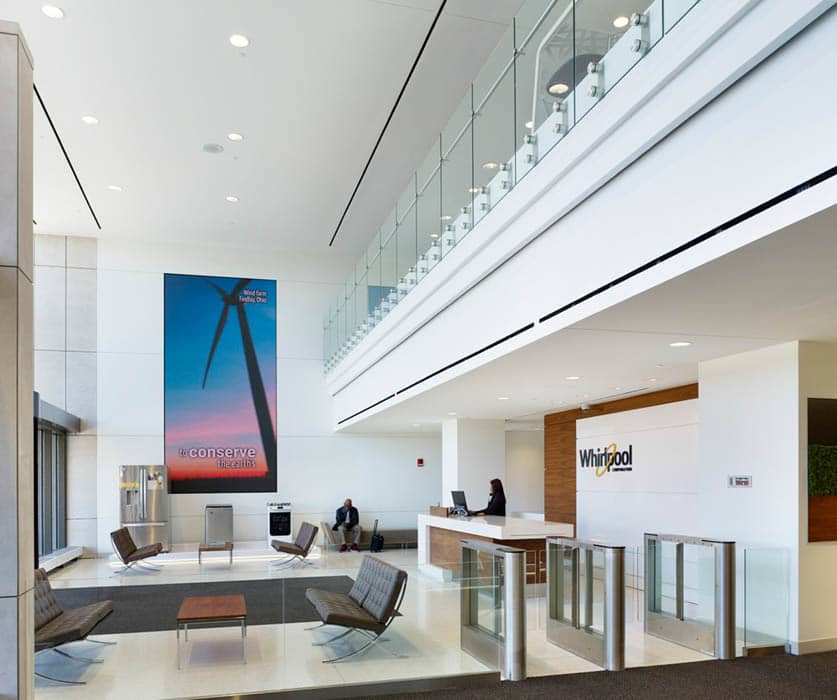 The stair rises from a stone base featuring an iconic artifact—an original 1910 Upton Machine Company wringer-washer, an early Whirlpool offering. Nearby, the logos of well-known Whirlpool brands are displayed on easily updated transparent panels that overlay a global map. Across from the map, a large vertical video wall showcases up-to-date content about Whirlpool, keeping it fresh.
Increasing employee encounters was a goal for the 2000 person headquarters. New amenities added to the front door area do just that, including a self-serve convenience shop and a staffed coffee bar that serves fresh cookies in the afternoon—aroma attracts. Their adjacency to the reception area underscores the company's regard for its people.
Flexible design elements can stand alone or be combined in a variety of ways to create dynamic venues for both Whirlpool staff and the community. For example, a lounge focused around a fireplace and large hearth, cozy with a low wood-slat ceiling, sits next to the conference center and the dining area. All three spaces can easily be adjusted to create one large gathering area for all-hands meetings and evening events, as well as fundraisers hosted by local charities.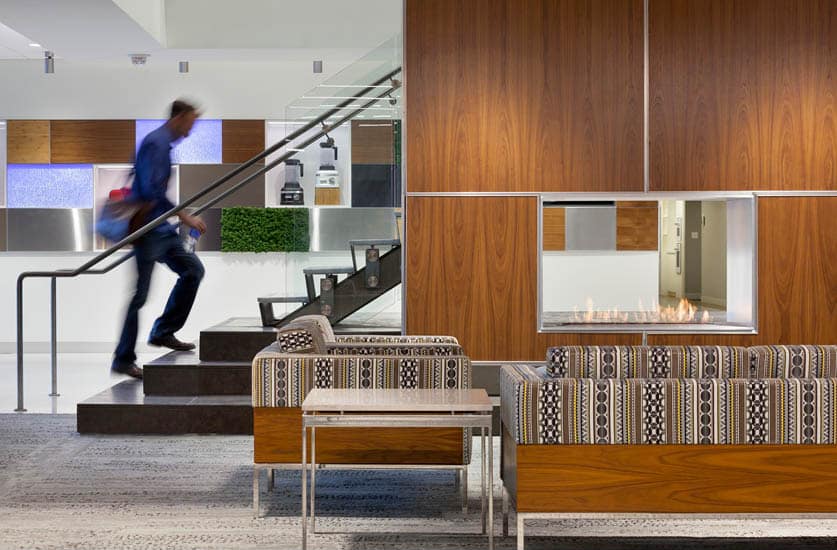 Although Whirlpool is a robust example of a vibrant front door design, there are many in the IA portfolio, each tuned to client culture, story, and mission. Some, like Bullhorn, in Boston, begin the experience even before the front door is reached, but all ensure the energy, engagement, and experience required to inspire and welcome anyone who enters.
John Hopkins, AIA, LEED AP
Design Director and Principal, John Hopkins has provided interior design and architectural services to major organizations and Fortune 500 companies for over 22 years. Recent highlights include design direction of Whirlpool's North American Headquarters and the American Medical Association Headquarters relocation. John is based in IA's Chicago office. He holds a Master of Architecture from the University of Illinois at Chicago and a Bachelor of Science in Architecture from the University of Michigan. He is a registered architect and active member of the AIA and a board member of the non-profit ReBuilding Exchange. John has contributed to multiple LEED certified projects; the Whirlpool headquarters earned LEED Platinum.